Be Deliciously Nourished by this Winter Power Bowl!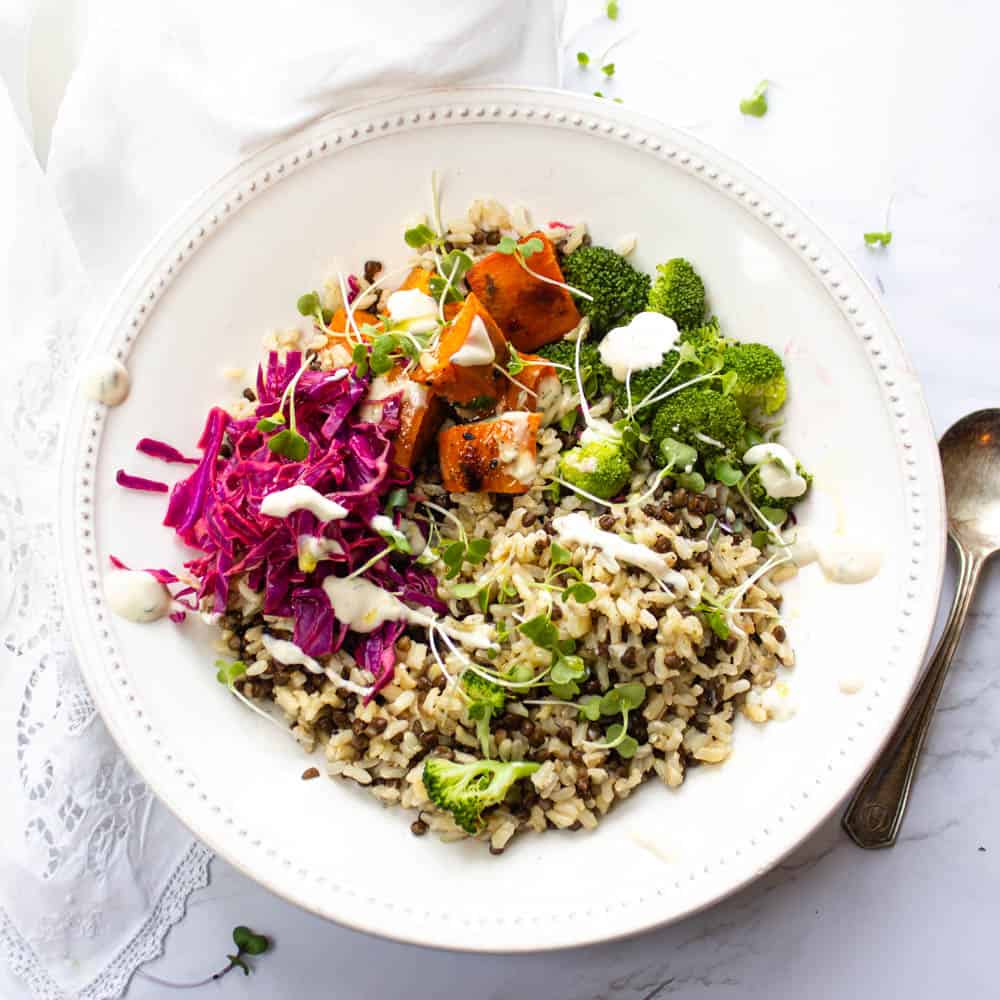 A Winter Power Bowl is a meal to savor when the temperatures plunge. This is true plant power! The combination of brown rice and lentils provides plenty of protein, combined with cleansing red cabbage, strengthening sweet potato, and plenty of green goodness. Let's not forget the gorgeously creamy tahini sauce drizzled over the top to complete the meal. See what I mean? Plants have POWER!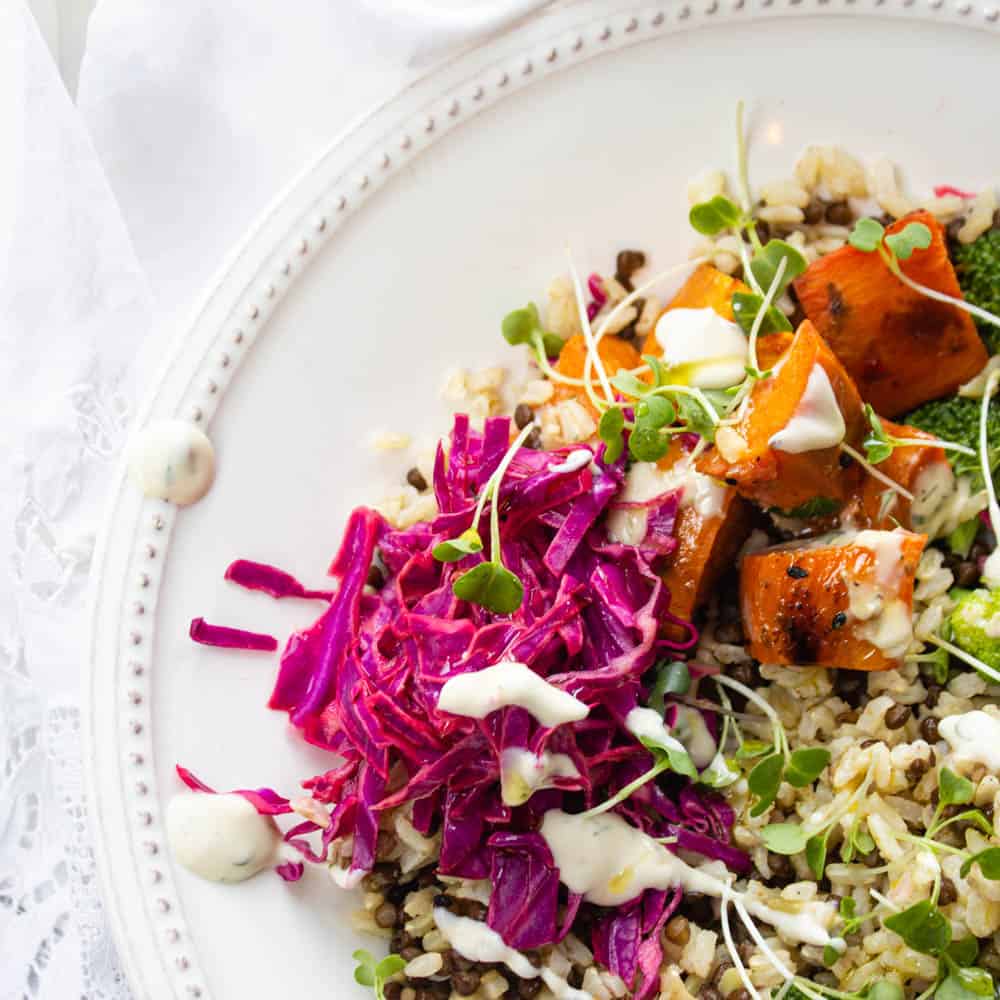 We really only need to look at the vibrant colors to see all the goodness in these ingredients. Eat the rainbow they say, there's a reason for that! The brighter and richer the color of the veggies, the more they're filled with plant-powered goodness, such as antioxidants, minerals, vitamins, and polyphenols. Creating a Winter Power Bowl is an easy way to incorporate multi-colored ingredients! These are the ingredients that deeply nourish and sustain us.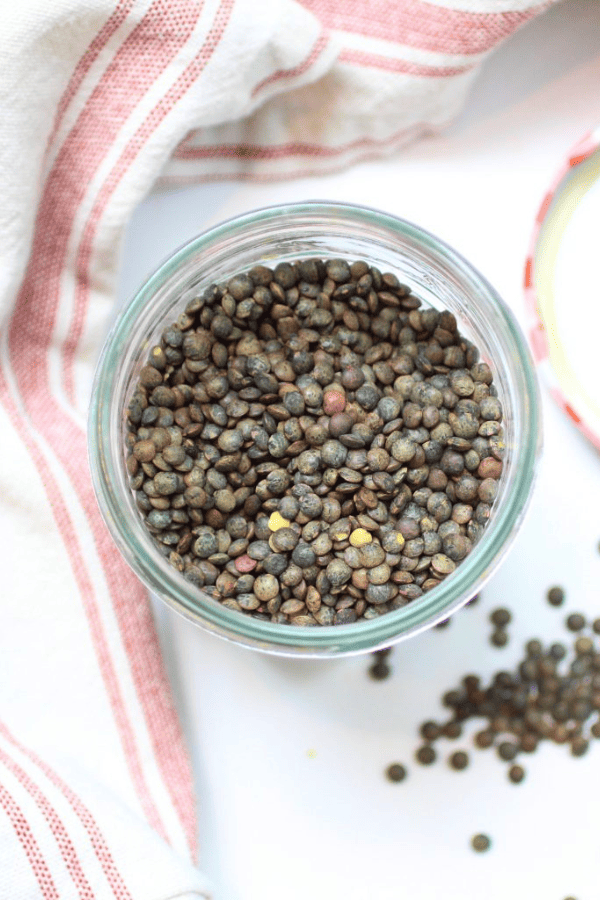 Let's not forget the FIBER!!! Did you know that we should be aiming for at least 30 grams of fiber a day? To put that into perspective, the average American consumes a measly 11 grams. That will make for a very sad colon! Did you know there are 15 grams of fiber in just 1 cup of cooked lentils? The good bacteria in our gut does a happy dance when we feed them a variety of plant food with plenty of fiber. This is what we need to THRIVE! Remember, there is zero fiber in animal products 🙁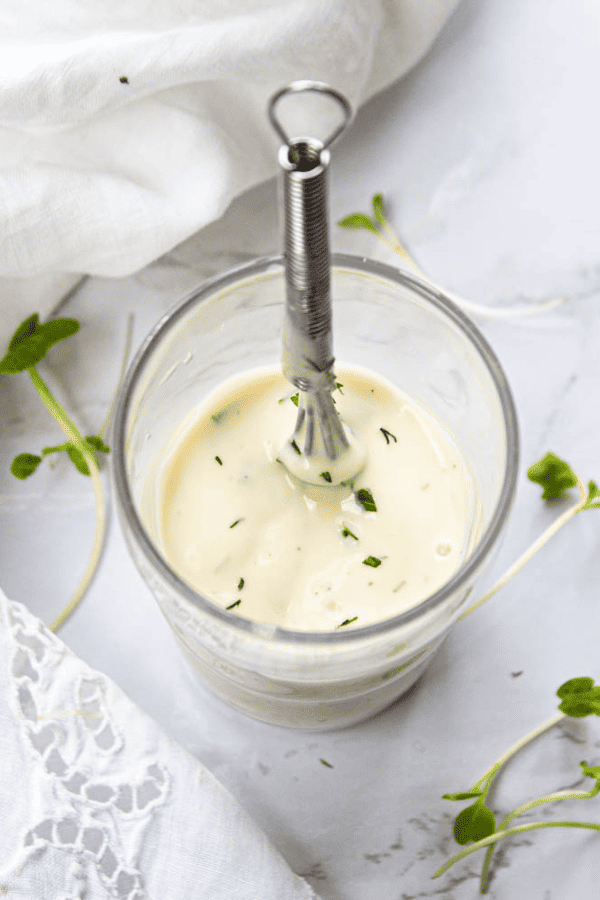 Now, let's get back to that dressing! Look at this luxuriously "creamy" delicious creation. Who needs mayonnaise made from eggs when you can use tahini? It's SOOOOO easy to whip up, and you can flavor it to your heart's content, adding just the right balance of acid and sweet to find that perfect healthy bliss point! See the recipe below.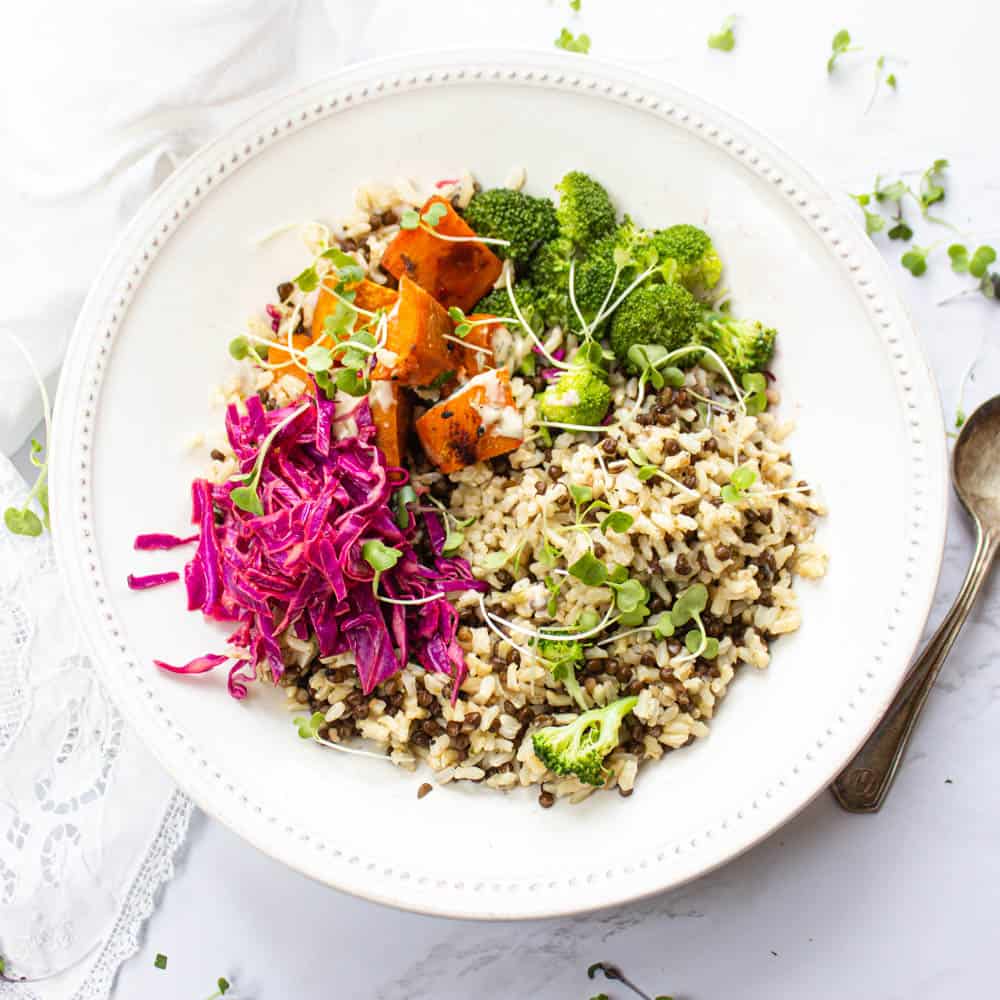 What substitutions could you make in a Winter Power Bowl?
The list is almost endless! Let's take a look.
For the base: 
Wild rice, farro, quinoa, barley, kamut, amaranth,
For the protein:
Any bean, legume, baked tofu or tempeh, edamame beans
Greens:
Broccoli, broccoli rabe, broccoli sprouts, edamame beans, kale, spinach, micro greens,
Root vegetables:
Sweet potatoes, parsnips, any type of squash
Other veggies:
Absolutely any you desire, red or green cabbage, Brussels sprouts, green beans, garden peas, cauliflower, bell peppers, cucumbers, mushrooms, etc, etc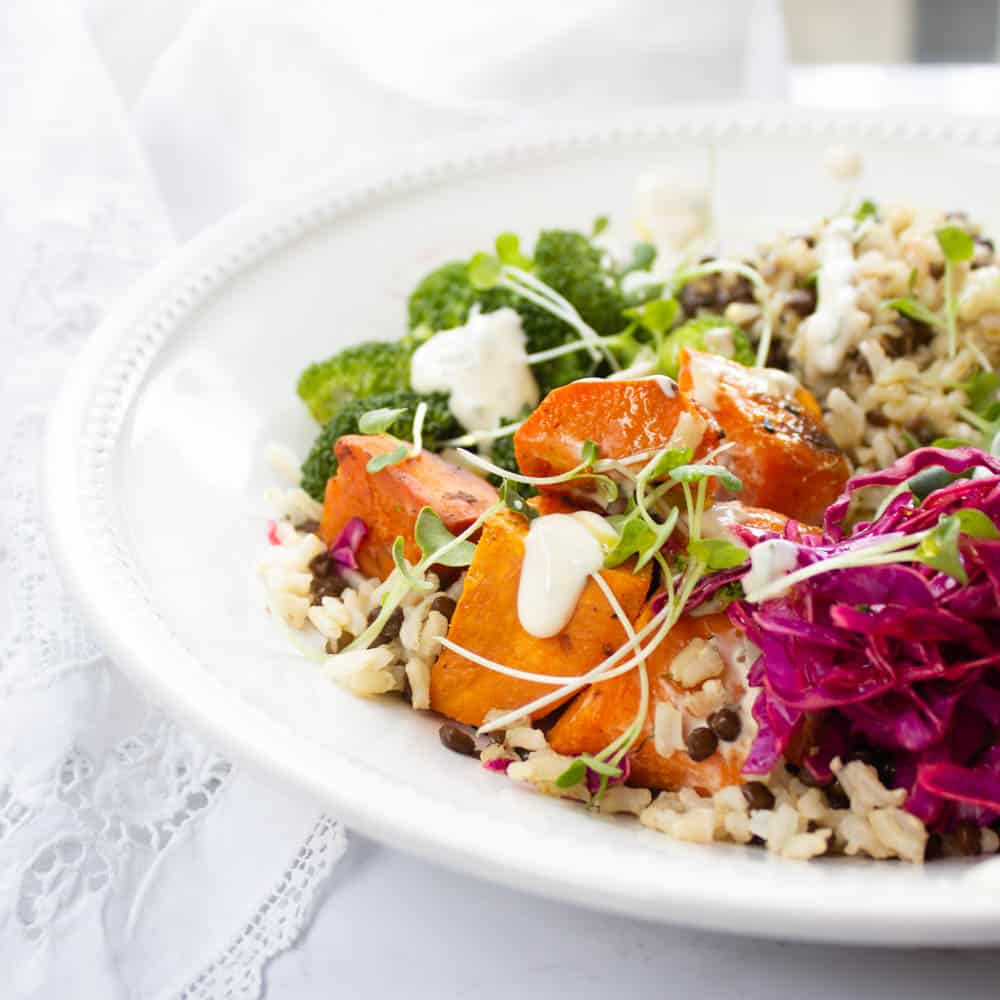 Print
Winter Power Bowl
A deliciously, healthy, satisfying Winter Veggie Bowl
Author:
Prep Time:

30 minutes

Cook Time:

40 - 50 minutes

Total Time:

37 minute

Yield:

4

servings

1

x
Category:

dinner

Diet:

Vegan
For the root vegetables:
2 cups butternut squash, peeled and cut into cubes, or 2 sweet potatoes, peeled and cut into cubes
2 tablespoons olive oil
1 teaspoon Herbes de Provence
1 teaspoon ground cumin
1 teaspoon garlic powder
1 teaspoon onion powder
For the lentils and rice:
2 cups brown rice COOKED
1, 15oz can lentils, drained and rinsed
Pinch of black pepper
1/2 teaspoon Herbes de Provence
1 tablespoon rice vinegar
1/2 teaspoon garlic powder
1 tablespoon low-sodium Tamari
For the cabbage slaw:
2 cups red cabbage, very thinly sliced
The juice of 1 lime
1 tablespoon maple syrup or date syrup
1 pinch red pepper flakes
1/4 cup chopped cilantro (optional)
For the Dressing:
1/2 cup tahini
Juice of a lemon OR 1 – 2 tablespoons Apple Cider Vinegar
1 – 2 cloves garlic
1/2 teaspoon of Herbes de Provence,
1/2 teaspoon ground cumin,
1/2 teaspoon garlic powder,
1/2 teaspoon onion powder.
1/2 – 1 teaspoon Dijon mustard
Pinch of black pepper
Iced water too thin to a smooth consistency.
For the greens:
1 bunch of broccoli or broccoli rabe
Microgreens or broccoli sprouts
1/2 cup fresh chopped parsley for serving.
Fresh parsley
Instructions
1. Preheat the oven to 425 F  Line a sheet pan with parchment paper or a silicone baking mat
2. Chop the peeled sweet potato OR butternut squash into bite-sized cubes. Toss in the olive oil, Herbes de Provence, ground cumin, garlic powder, and onion powder.  Place on a lined sheet pan and place in the oven to roast for about 30-45 minutes until tender.
3. While the root vegetables are roasting, in a medium bowl mix together the COOKED rice and drained lentils. Add the black pepper, Herbes de Provence, rice vinegar, garlic powder, and 1 tablespoon of low-sodium Tamari. Set aside.
4. To make the slaw, slice the cabbage VERY thinly. You could use a mandoline slicer, but please be very careful with your fingers!! Place the cabbage in a bowl, and add the lime juice, maple or date syrup, a pinch of red pepper flakes, and chopped cilantro if using. Toss well to combine and set aside.
5. To make the dressing: Mix all the ingredients except the water in a bowl. Pour in the water, 1 tablespoon at a time, stirring well. The texture will be very thick at first, then it will look curdled, keep adding water and stirring well until it's smooth and pourable.
6. Steam the broccoli until just tender.
7. To assemble the bowl, simply spoon the cooked rice and lentils into a bowl, add the roasted and steamed vegetables, add the cabbage on the side and pour over the dressing, sprinkle with fresh parsley. Give thanks for the abundance and enjoy.
Keywords: Winter Power Bowl
I hope you love this Winter Power Bowl as much as I do! If you do make it, please take a picture and share it on Instagram and I'll repost it on my stories. I'd love to hear from you! Please leave a comment and rate the recipe! Thanks so much and happy cooking:)
Hungry for more? Try these!