A deliciously satisfying Winter Farro Salad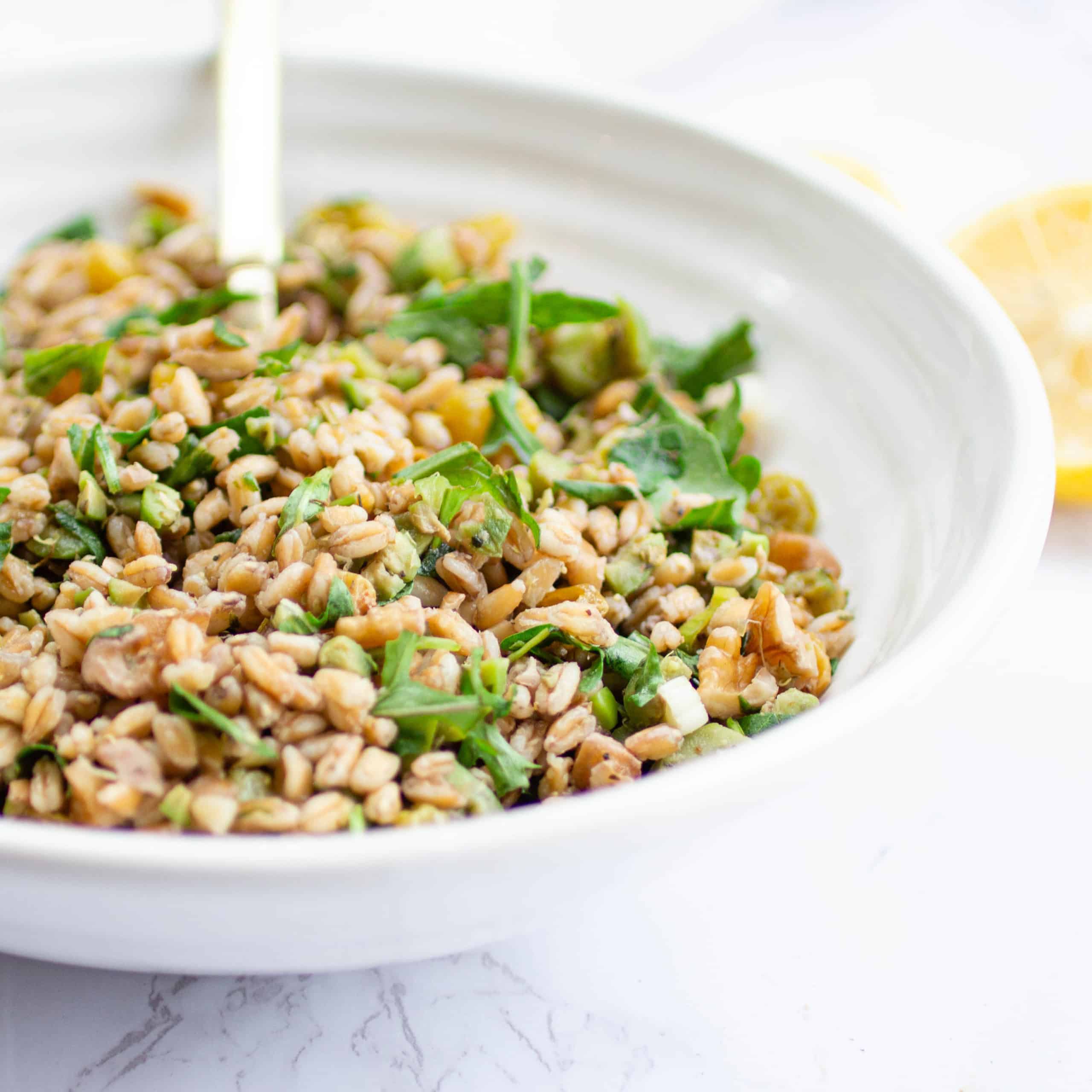 This Winter Farro Salad is a dance of bold flavors making it a bolstering, nourishing dish. The idea of a salad in the depths of the New York winter can be a shivery turn-off but not, in this case, nothing flimsy here! It's particularly delicious served immediately after the farro has just finished cooking so it's still warm.
I think it's so delicious as there's a lovely balance between acid and sweet from the balsamic vinegar, lemon juice, and dried fruit and date syrup.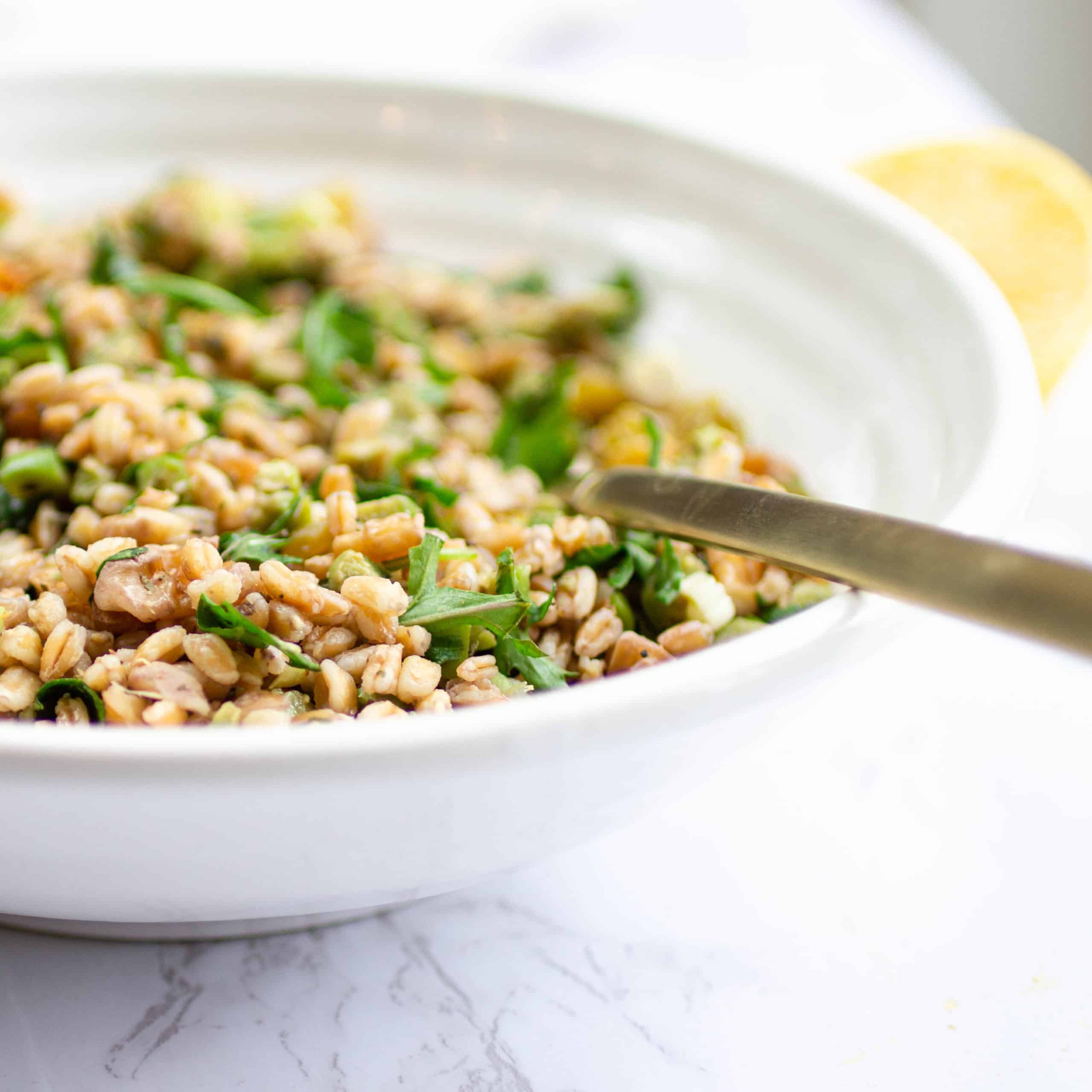 Farro is an ancient Italian grain with a lovely nutty, satisfyingly chewy taste. Nutritionally it's a winner, with nearly double the amount of protein than brown rice, filled with fiber, and a decent amount of manganese, B3, and zinc.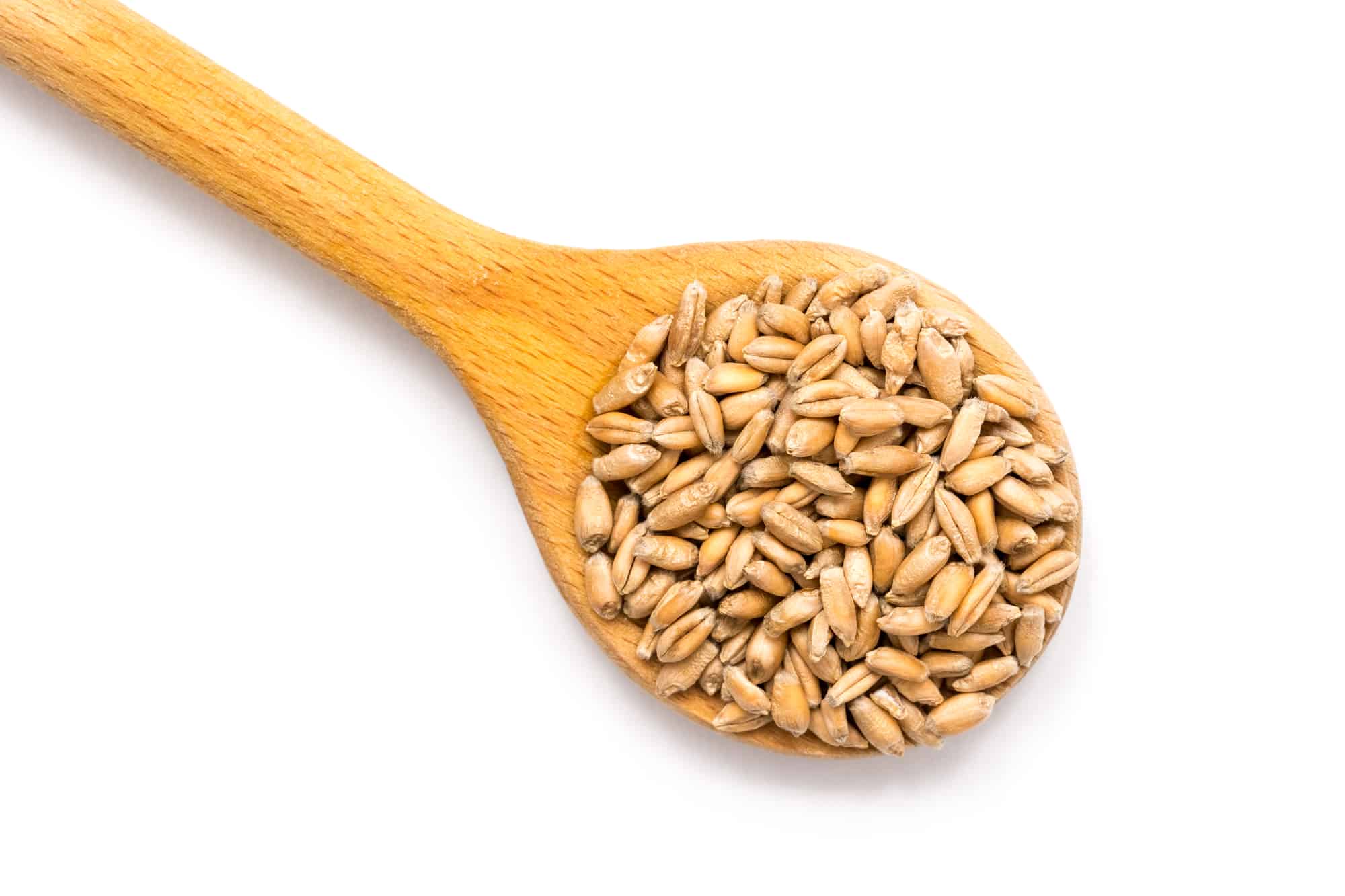 Tips for making the best Winter Farro Salad
Don't overcook the farro, you want a lovely chewy texture.
A really good balsamic vinegar 

makes a difference.

Serve slightly warm or at room temperature.
Don't be stingy with the fresh herbs 🙂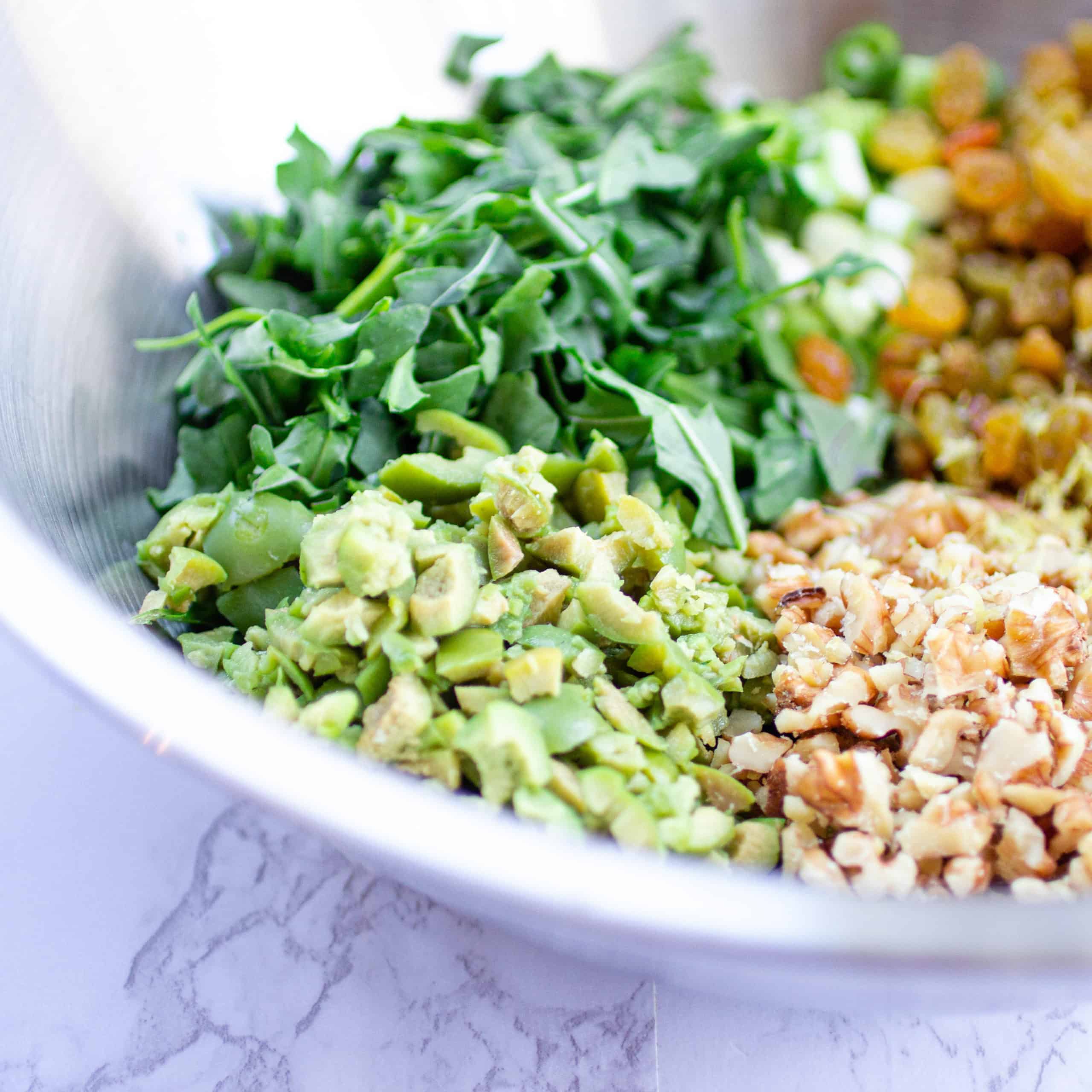 The salad keeps very well in the fridge for up to 4 days. If you like, squeeze a little extra lemon juice over it, and a sprinkling of fresh herbs just before serving to "wake it up" a little.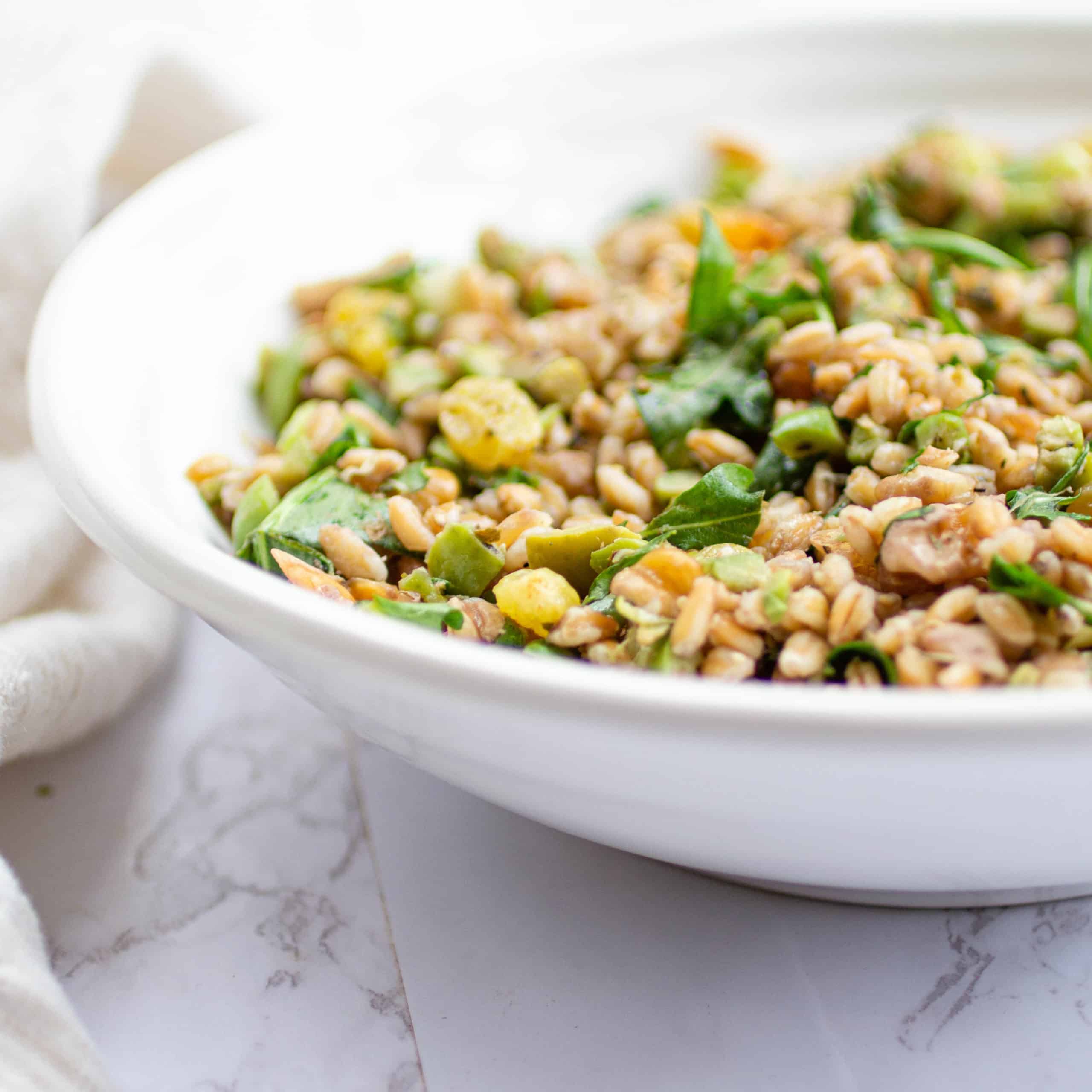 Looking for other satisfying salads? Try these!
Don't forget to Pin it for later!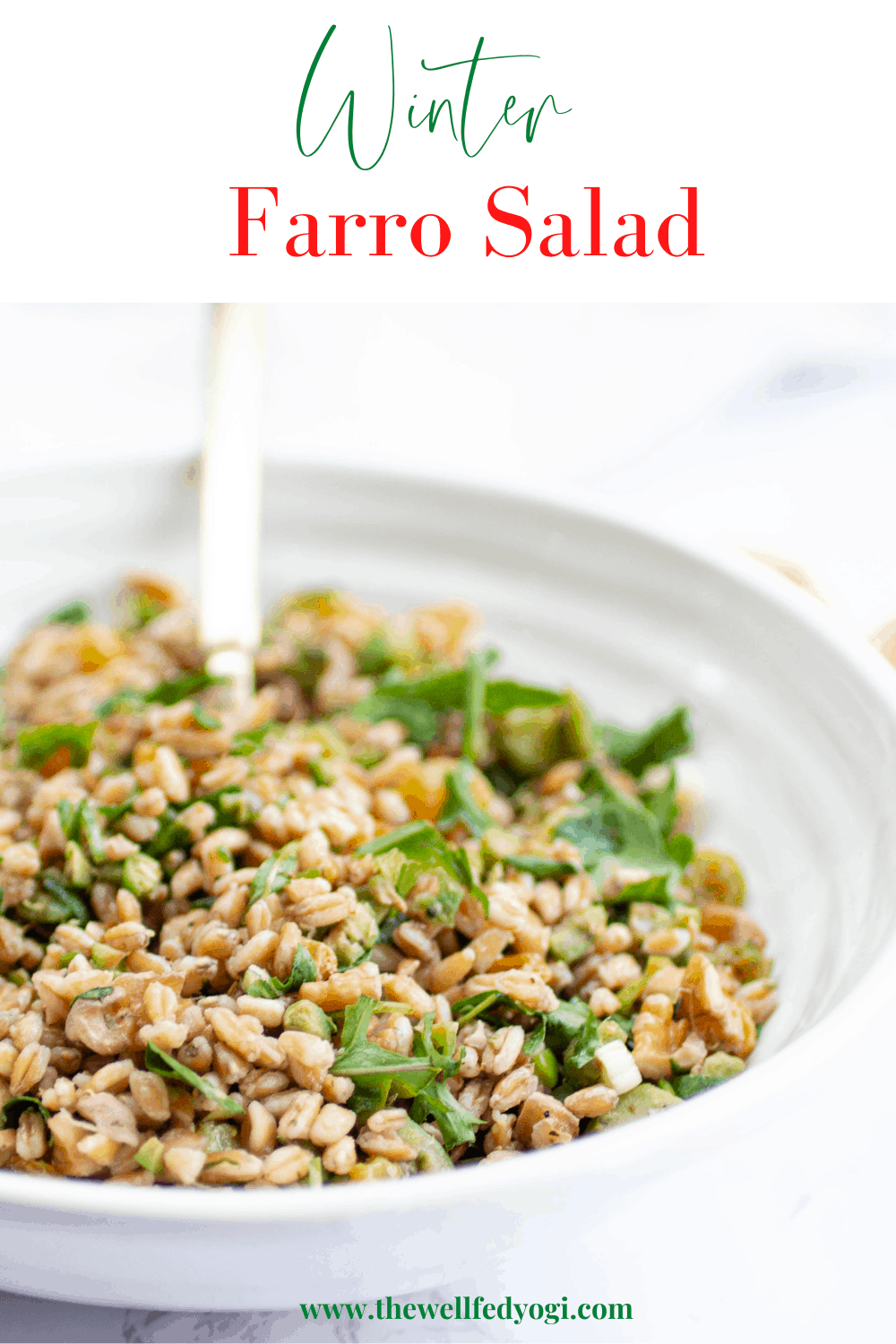 I hope you love this Winter Farro Salad! If you do make it, please take a picture and share it on Instagram and I'll repost it on my stories. I'd love to hear from you, please leave a comment and rate the recipe! Thanks so much and happy cooking:)
Print
Winter Farro Salad
1 cup farro
1 cup pitted green olives, roughly chopped
1/3 cup green onions, roughly chopped
1 cup walnuts, roughly chopped
1/4 cup white raisins/sultanas (regular raisins if you prefer)
Zest and juice of a lemon
1 – 2 tablespoon date syrup or maple syrup
1–2 tablespoon good quality balsamic vinegar
1 teaspoon freshly ground black pepper
1/2 teaspoon Herbes de Provence (optional)
2 cups arugula
1/4 cup fresh finely chopped parsley
1/4 cup fresh finely chopped mint
Instructions
Cook the farro according to the package directions.
In a large bowl combine all the ingredients except the farro, stir well to combine. Start with 1 tablespoon of balsamic vinegar and date syrup, you can add more later if desired.
When the farro is cooked (make sure it's al dente) drain well and add to the salad ingredients. Combine well, the ingredients will warm in the heat of the cooked farro.
Taste! Add more vinegar, date syrup, pepper, etc as needed.