Vegan White Bean Chili is a deliciously hearty, flavorful, nourishing meal!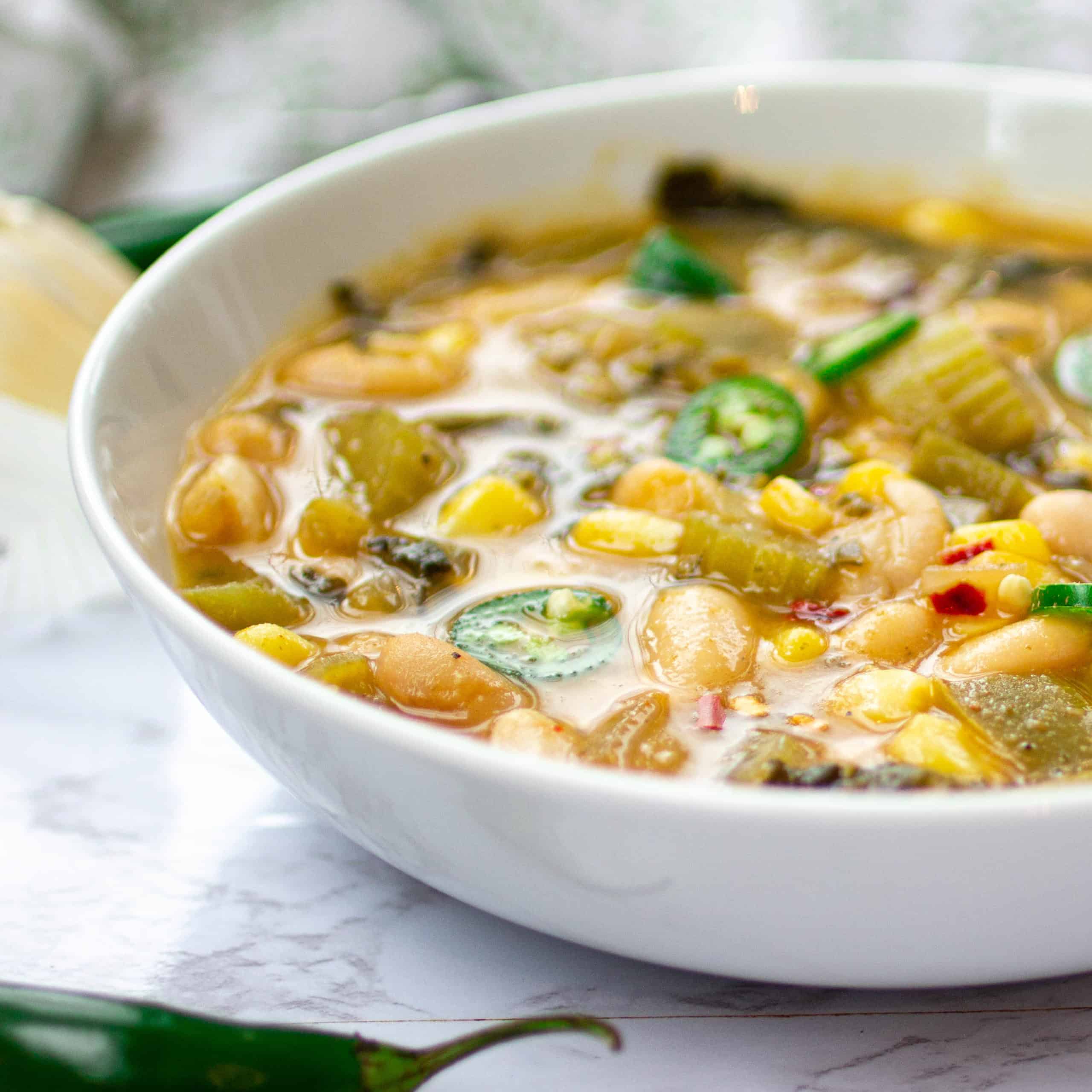 Even carnivores will love this Vegan White Bean Chili. It's beautifully flavored, got great texture, and just the right amount of spice. Being quick and easy to make, it will become a weeknight favorite in no-time. There's plenty of nourishment in this recipe, with a variety of veggies, including kale, and hearty protein from the beans. The corn adds sweetness, as well as some pretty sunshine yellow:)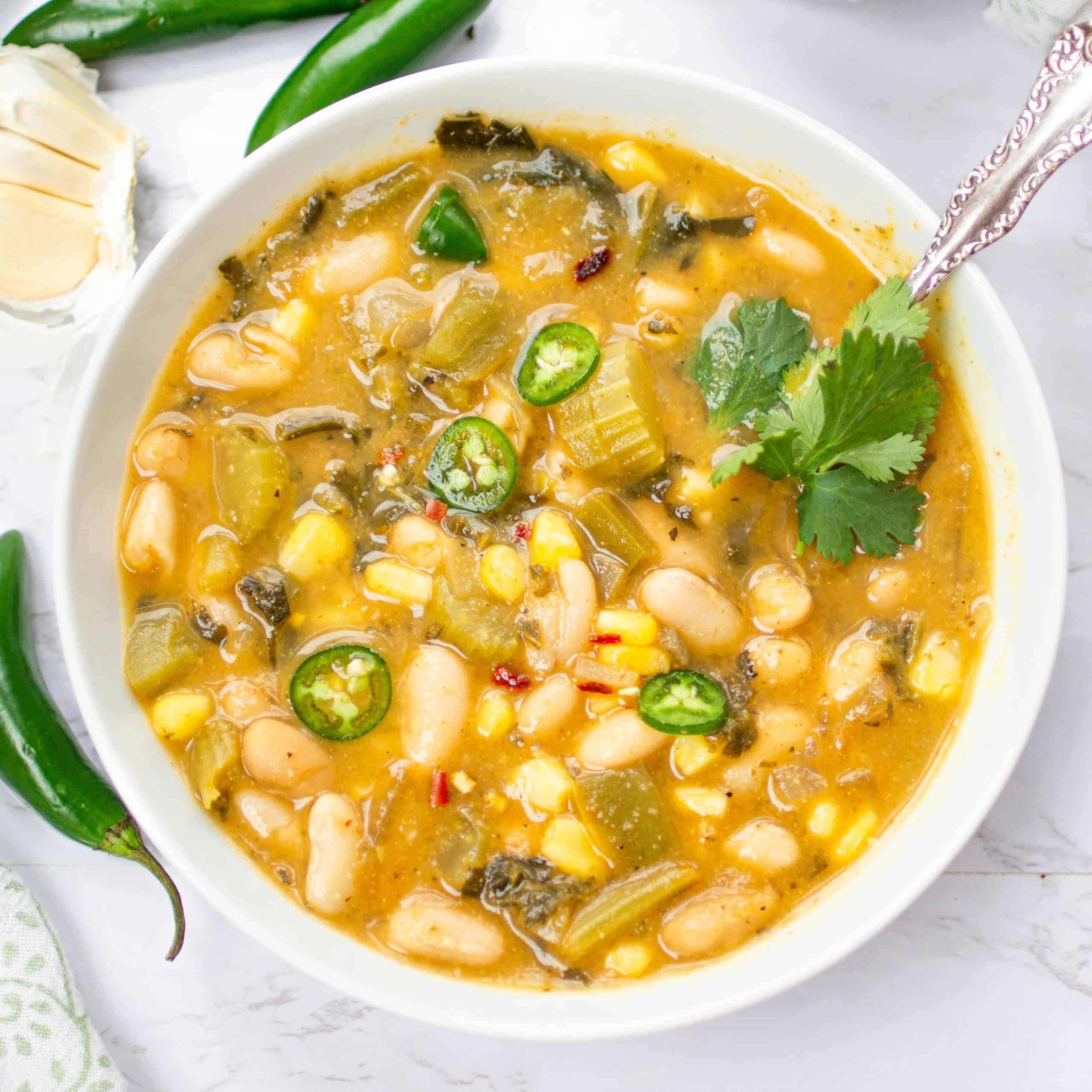 This is a perfect "make-ahead" recipe. It keeps well in the fridge for about 3 days, the flavors meld beautifully.

What type of beans are used?
You have options! I used canned. Any of the following will work beautifully, or use a combination if you wish.
Cannellini
Great Northern Bean
Hominy
Navy
Baby Lima Beans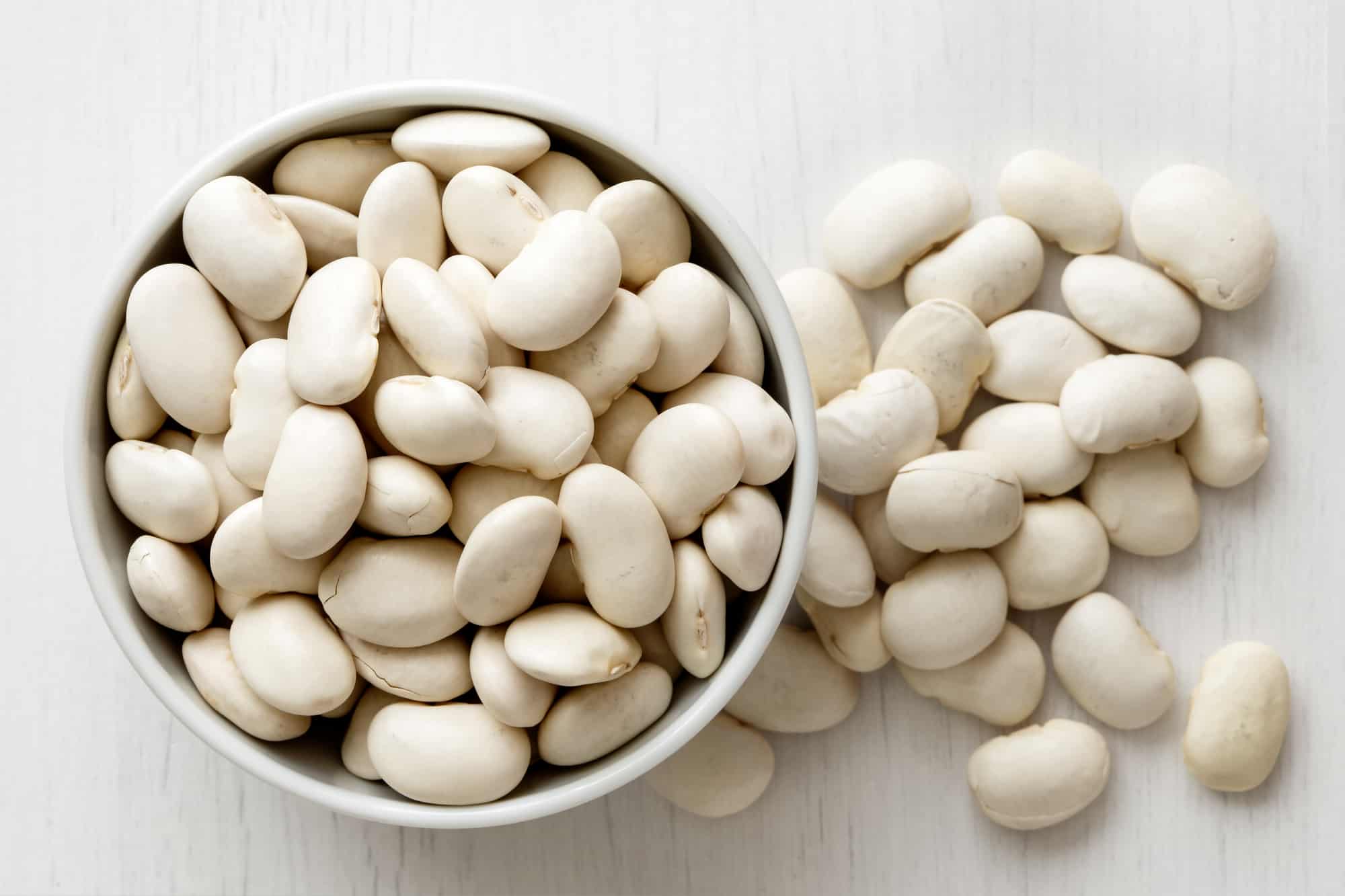 What herbs and spices are used and what can I substitute?
I used the following which provided a delicious depth of flavor. However, it's important to know your tastes and act accordingly. For instance, maybe you might want to substitute cayenne, oregano, and cloves? If you can't stand cilantro use parsley:)
ground cumin
chili powder
paprika
cilantro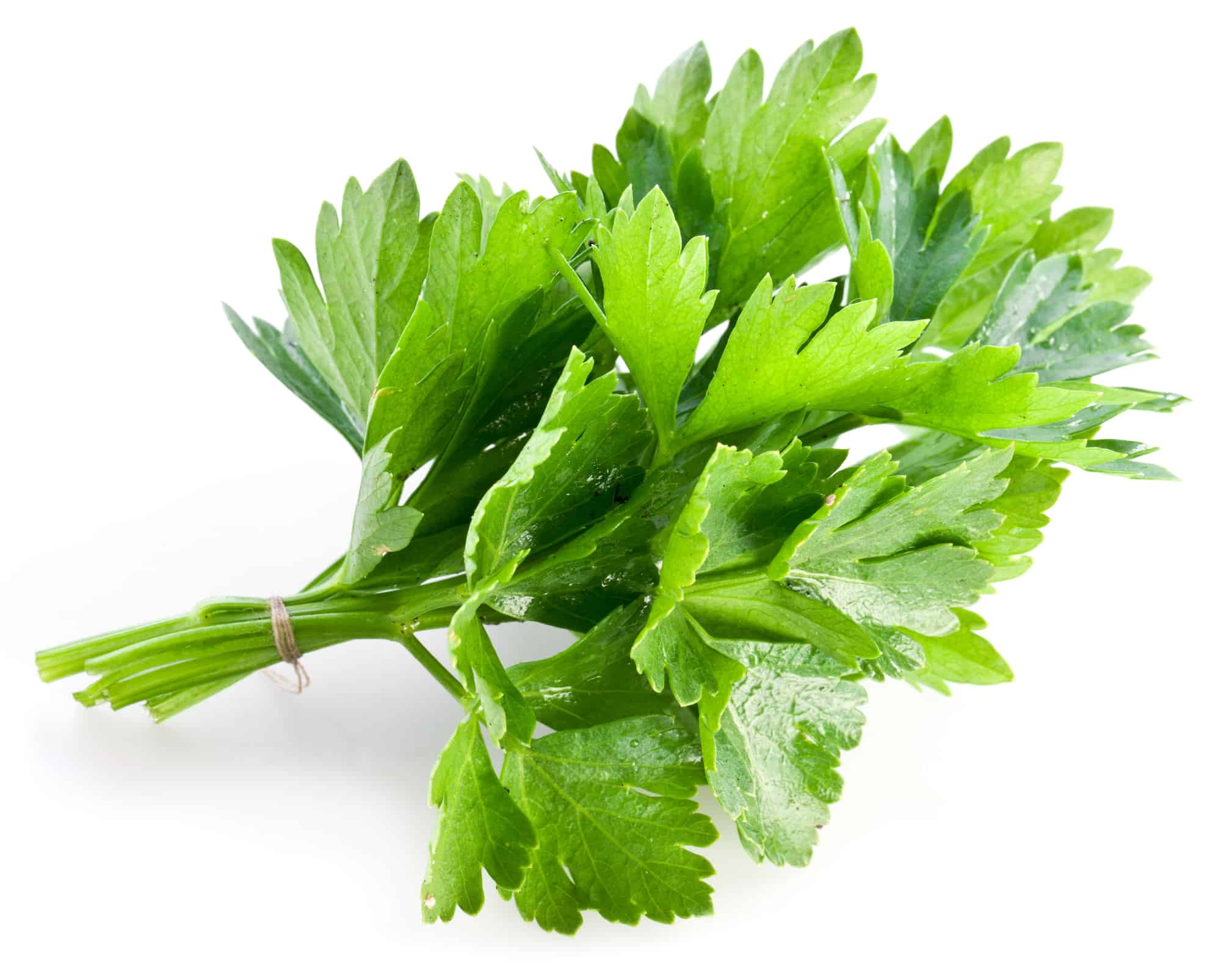 Can I freeze the Chili?
Absolutely YES! It's a fabulous dish to freeze for up to 3 months. Just make sure to label it.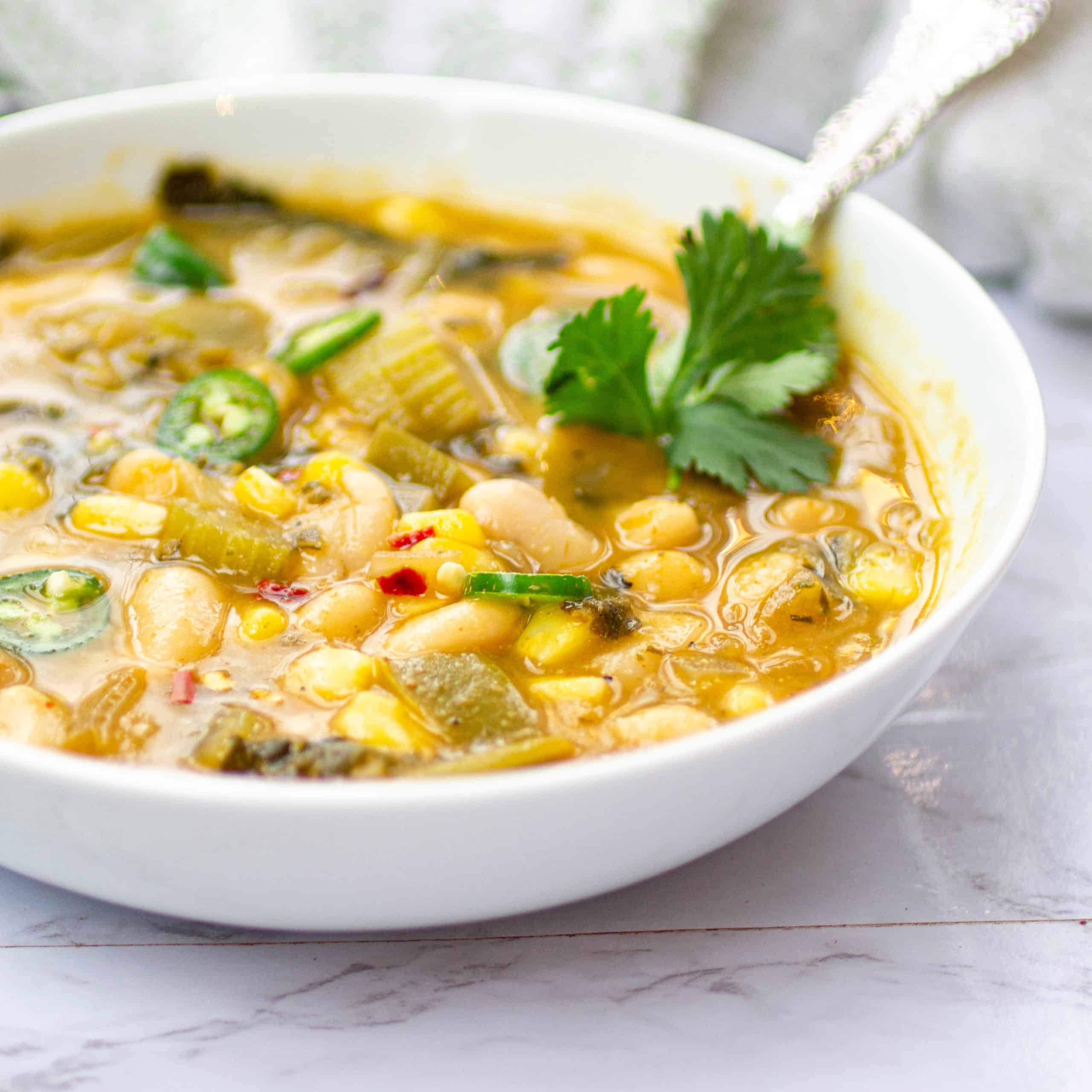 What equipment do I need to make Vegan White Bean Chili?
A really fantastic Dutch Oven is very helpful.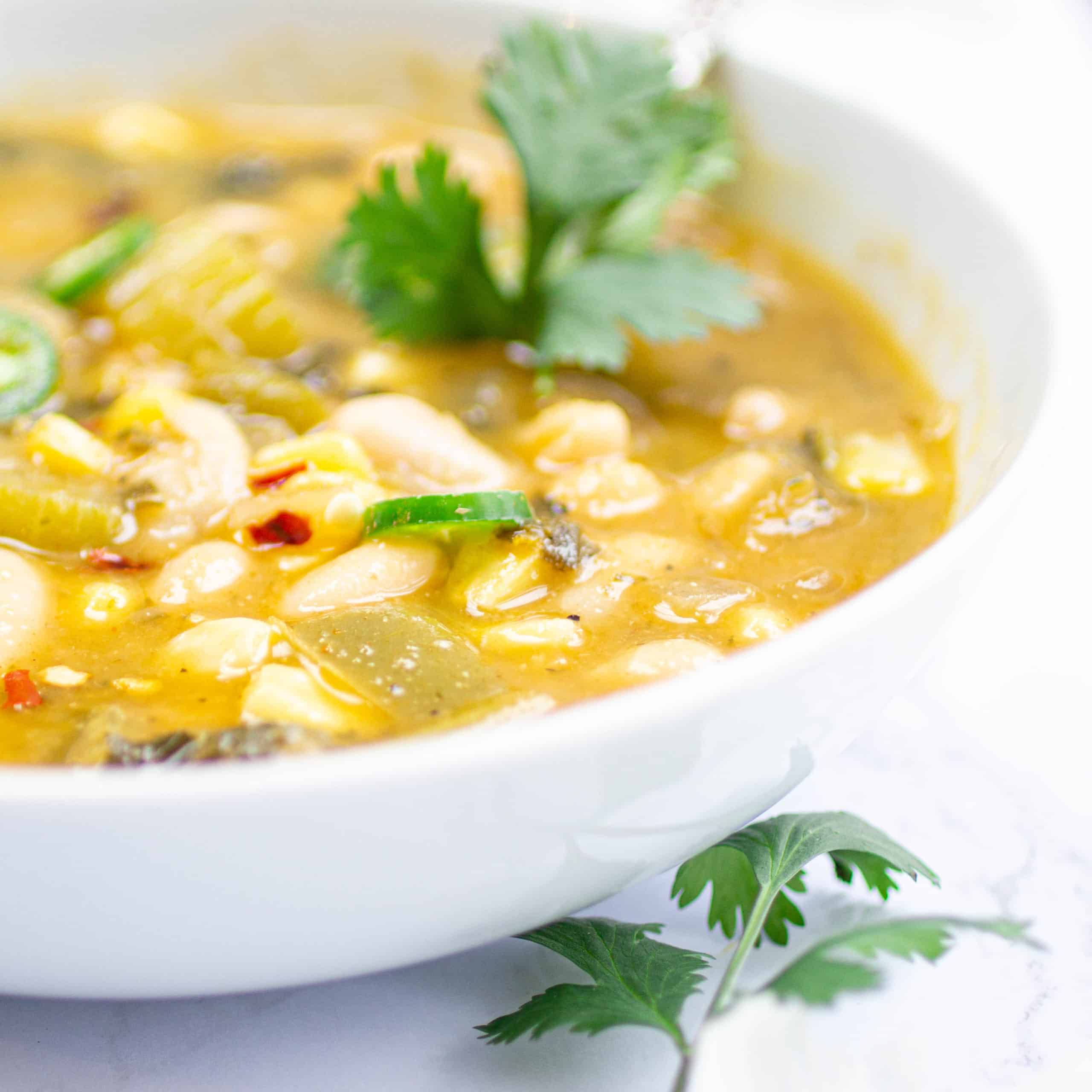 Looking for more nourishing meals? Try these!
Baked Farro in Tomatoes and Wine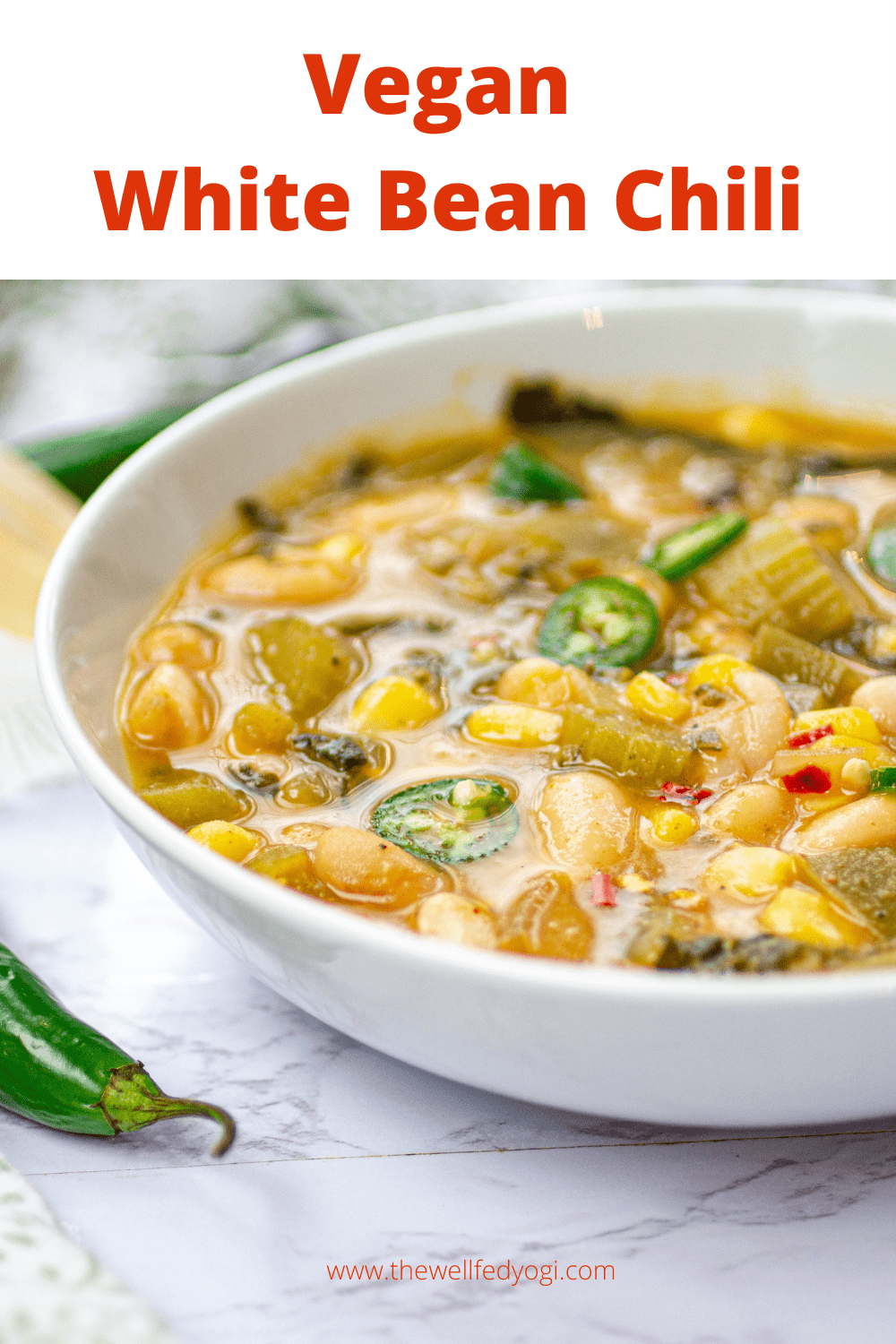 I hope you love this chili! If you do make it, please take a picture and share it on Instagram and I'll repost it on my stories. I'd love to hear from you, please leave a comment and rate the recipe! Thanks so much and happy cooking:)
Print
Vegan White Bean Chili
1/4 cup best-quality vegetable stock
1 large yellow onion, peeled and diced
3 sticks celery, diced
3 cloves garlic, diced or minced
1 green pepper, diced
1 poblano pepper, diced
1 jalapeno pepper, diced
2 1/2 teaspoons ground cumin
1 teaspoon chili powder
1 teaspoon paprika
1 1/2 teaspoons black pepper
2, 15 oz can Cannellini beans, Great Northern or Navy beans, drained and rinsed
2 1/2 cups best quality vegetable stock
1 1/2 cups kale, stems removed and finely chopped (frozen is fine!)
1 cup frozen corn
Toppings:
Fresh cilantro
Juice of a lime
Instructions
Heat 1/4 cup vegetable stock in a Dutch oven or large pan. Add the diced onion and cook until tender. Keep an eye on the pan and add more stock if it becomes dry.
Add the celery, garlic, green pepper, poblano pepper, jalapeno pepper, ground cumin, chili powder, paprika, and black pepper. Stir well and cook for a further 5-7 minutes adding more stock as necessary.
Pour the drained beans into the mixture, stir well to coat with the vegetables.
Add the stock and the kale, bring to the boil, turn down to a simmer and partially cover the pot. Cook for about 20 – 30 minutes until the veggies are tender. If the mixture is too thin, use an immersion blender and blend a little to thicken it up. Alternatively, take 1 cup of liquid, blend it in an upright blender, then return to the pot and stir well to combine.
Add the frozen corn and lime juice. The corn will cook in the heat of the sauce.
Serve with fresh cilantro and extra lime wedges.