A Vegan Shepherd's Pie is the perfect comfort food supper and I PROMISE you won't miss the meat.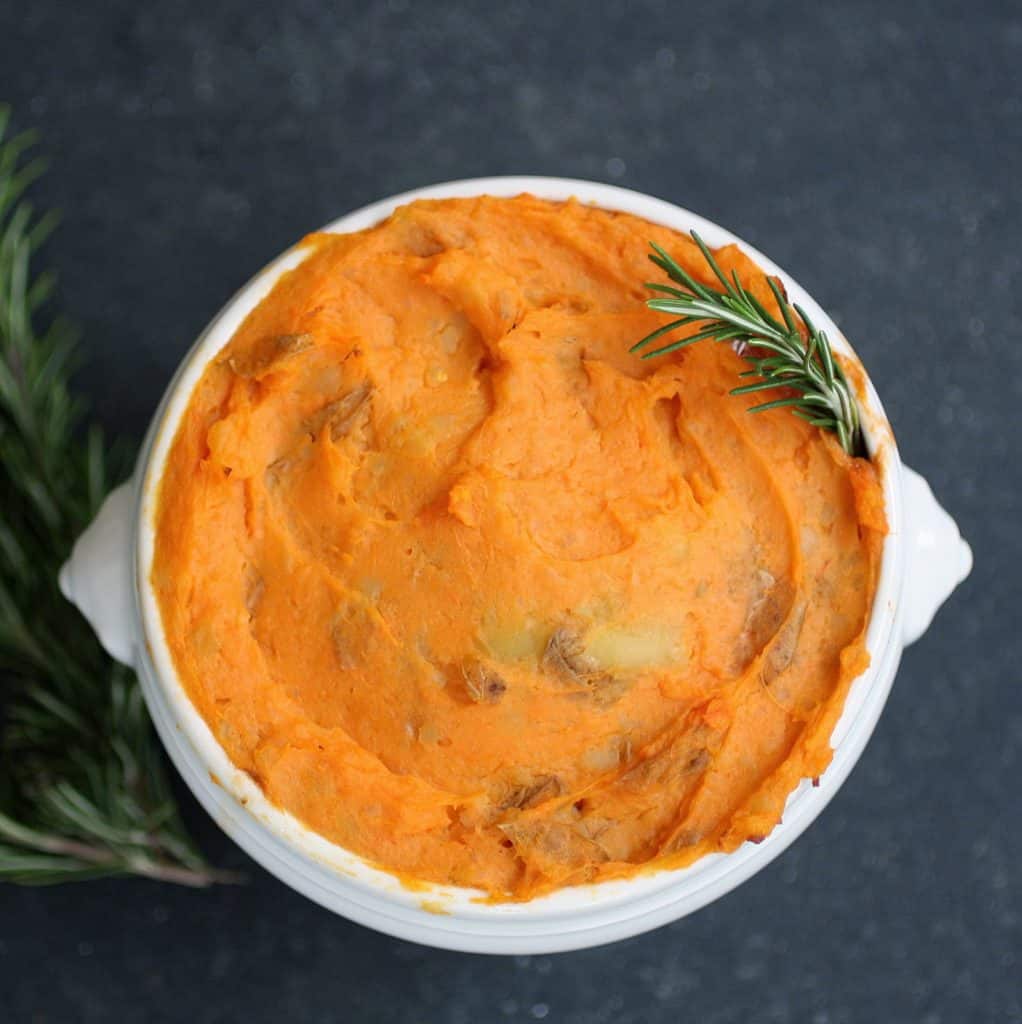 It's comfort food at it's best, very delicious, very good for you and 100% vegan. The le puy lentils are a fabulous protein boost nestled in a tomato, red wine sauce with onions, celery, carrots, parsnips, peas and fresh rosemary – yum!!!. Instead of the traditional mashed white potato topping, I opted for a sweet potato and celery root mash.
Vegan Shepherd's Pie is a real crowdpleaser. Make it in one large dish or go for small individual pots, always a hit for the kids! It also freezes very well, which is lovely to have tucked away for busy night.
What's in a Vegan Shepherd's Pie?
All the good stuff!
Lentils: I used French Le Puy lentils but which are a little more "meaty" with than red or regular green.
Plenty of Veggies: onions, celery, carrots, mushrooms, tomatoes, garlic, to name a few.
Red Wine: purely optional, but it does add a lovely flavor.
Fresh Herbs: I used rosemary but use whatever you have on hand and you love. Parsley and thyme are great options.
The topping: As mentioned you have options, go for a lovely sweet potato mash or the traditional white potato.
Can I make it ahead or freeze it?
Absolutely yes.
This is great made a day ahead.
This can be frozen: After baking, let pan cool to room temperature, then cover tightly with foil and place in the freezer for up to 2 months. When ready to eat, reheat the shepherd's pie (still covered with the foil) for 1 hour in a 350ºF oven.
Print
Vegan Shepherd's Pie
A delicious, easy to cook vegan comfort food classic.
Author:
Prep Time:

30 minutes

Cook Time:

20 minutes

Total Time:

40 minutes

Category:

vegan, dinner
Topping: 
2 large sweet potatoes, peeled and cut into large chunks
1–2 celery roots, peeled and cut into large chunks
2–3 tablespoons cooking water to thin the mash
A splash of almond milk
Sea salt and freshly ground black pepper
Filling:
3–4 tablespoons vegetable stock
1 large onion, peeled and finely chopped
2 sticks celery, finely chopped
2–3 carrots, peeled and chopped
2 garlic cloves, crushed
1 teaspoons freshly ground black pepper
2 teaspoons ground cumin
1–2 fresh sprigs rosemary
1 1/2 cups le puy lentils
1 packet of sliced mushrooms (I used shiitake)
1 – 2 tablespoons tomato puree
1, 14 oz can crushed tomatoes
1/2 cup red wine
1 cup frozen peas
A generous splash of good balsamic vinegar (optional)
Instructions
Heat the oven to 400 F
1. Place the lentils in a large heat proof dish, pour boiling water over, place a plate over the top of the dish to cover and allow to soak for 20 minutes. This will soften up the lentils to make sure they are fully cooked by then end of the dish.
2. Place the sweet potatoes and celery root in a large pan of boiling water and cook until tender. Drain reserving a couple of tablespoons of the cooking water, add the almond milk and mash well. If the mixture is too thick add some of the reserved cooking water.
3. Meanwhile, heat 3-4 tablespoons vegetable stock in a large saute pan, add the onions and cook on a low heat until translucent, add the celery, carrots, garlic, rosemary, pepper and cumin. Continue cooking for another 3-4 minutes. Add the drained lentils, tomato paste, mushrooms, crushed tomatoes and red wine. Stir well to combine. If the mixture is very thick add some water or vegetable stock.
4. Bring to the boil, turn down to a simmer and partially cover. Allow to simmer away on the stove for about 40-50 minutes or until the lentils are cooked through. Add the frozen peas. Remove from heat and add the balsamic vinegar, stir well.
5. Place either a large baking dish or individual small dishes on a baking tray, spoon in the lentil mixture about 3/4 the way up the dish and top with the mashed potato mixture. Place in the oven and cook for about 20 minutes until the top is just crisping.
6. Remove from oven, allow to rest for 5-10 minutes then serve and enjoy.
Don't forget to Pin it!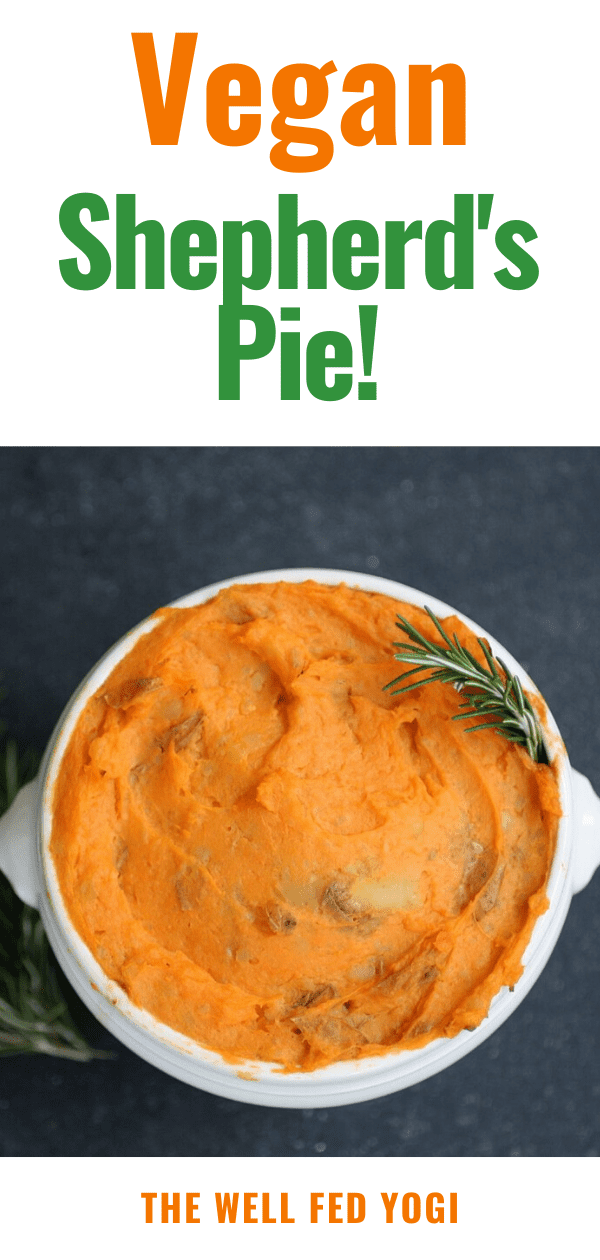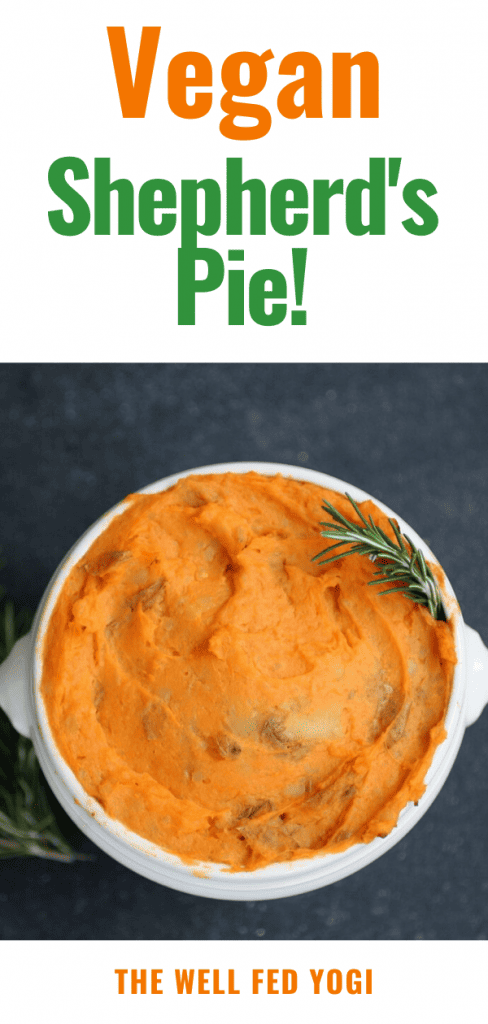 Looking for other comfort recipes?