This Vegan Lentil Shepherd's Pie is a deliciously hearty meal!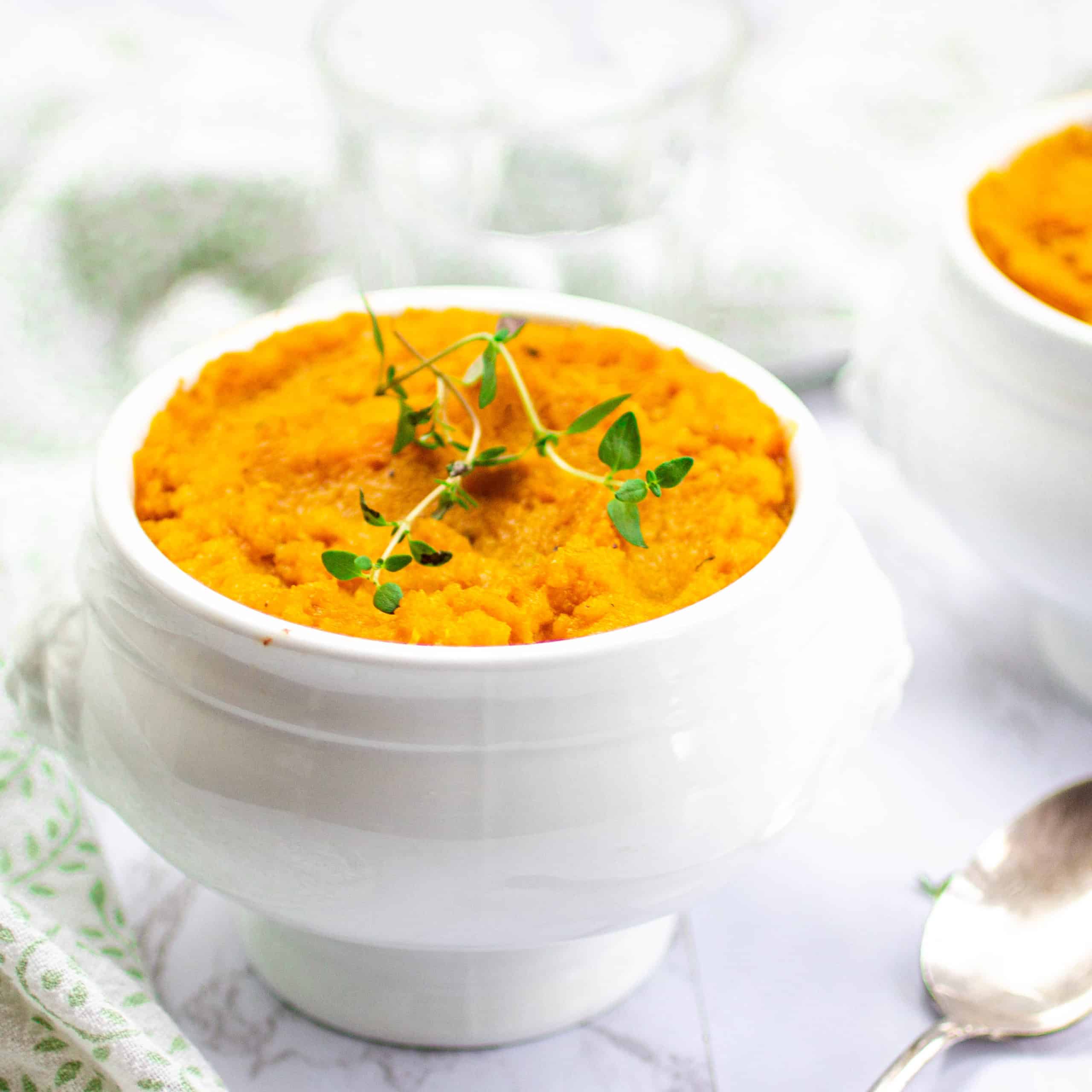 Vegan Lentil Shepherd's Pie is a cozy winter warmer that everyone loves. It's filled with nourishing plant protein and is deliciously deep flavored. Even carnivores love this. If you're dealing with some family members who are not fully on board with plant-based eating, make this for them, it should do the trick!
What type of Lentils do I use in this Shepherd's Pie?
My favorite is the  French Le Puy. They're deliciously "meaty" and filling. I would stay away from yellow lentils as they tend to break down a little too much for this dish, but brown, green, black, and red will all work fine. If you're in a rush try using a ready-cooked variety. They're great to have on hand and it cuts down on the cooking time.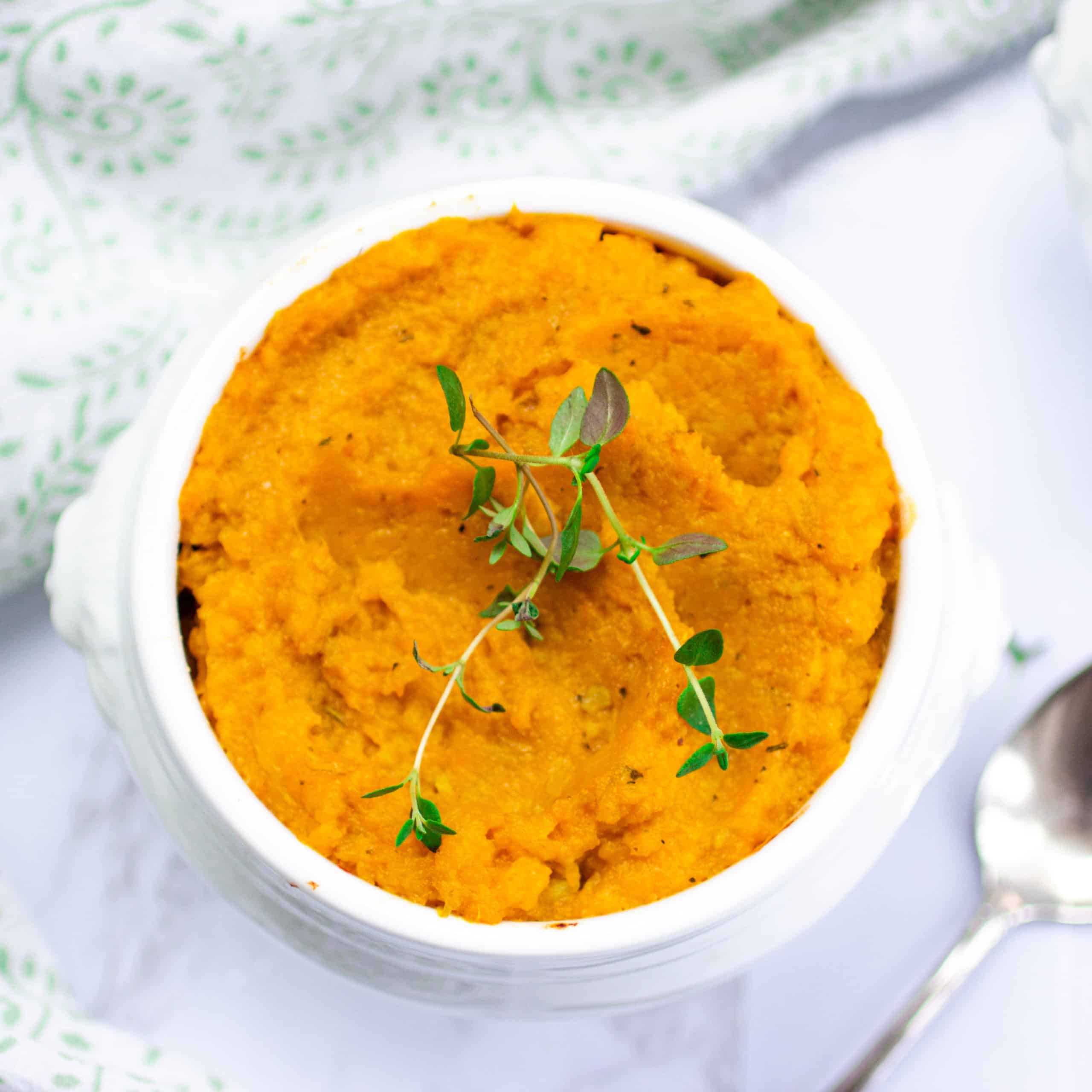 Extra Goodness!
I've snuck in a couple of extra healthy ingredients to boost immunity and plant-powered nutrition.
Turmeric: the anti-inflammatory superstar! Adding 1 1/2 teaspoons of ground turmeric, or 1 tablespoon of the freshly grated root into the mashed potatoes not only adds nutrition but also a glorious golden color:)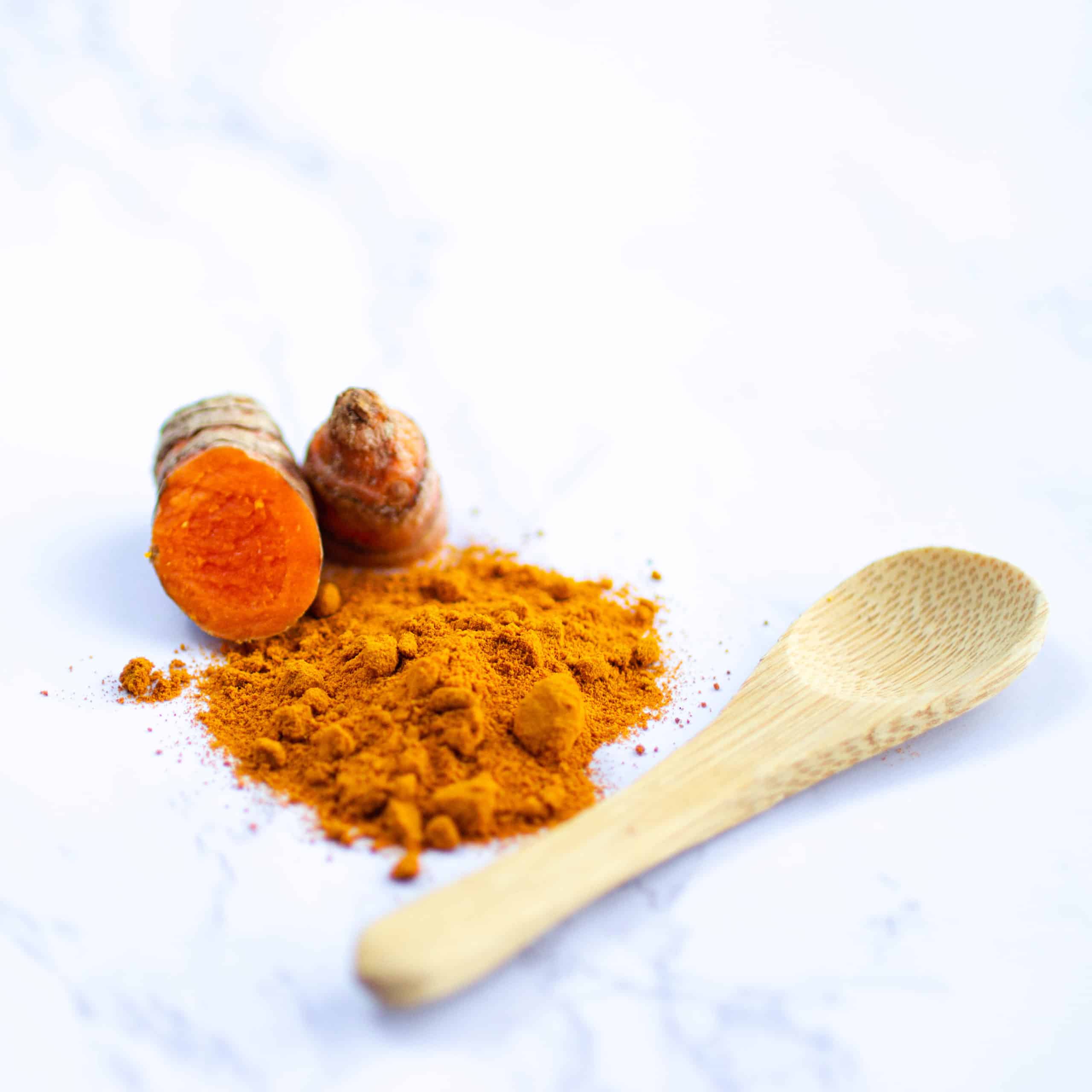 2. Cauliflower: we should aim to eat cruciferous veggies every day. Cauliflower is known for its cancer-fighting properties, containing high amounts of Vitamin C and fiber. Incorporating it into the mashed topping is a deliciously easy way to add your daily dose!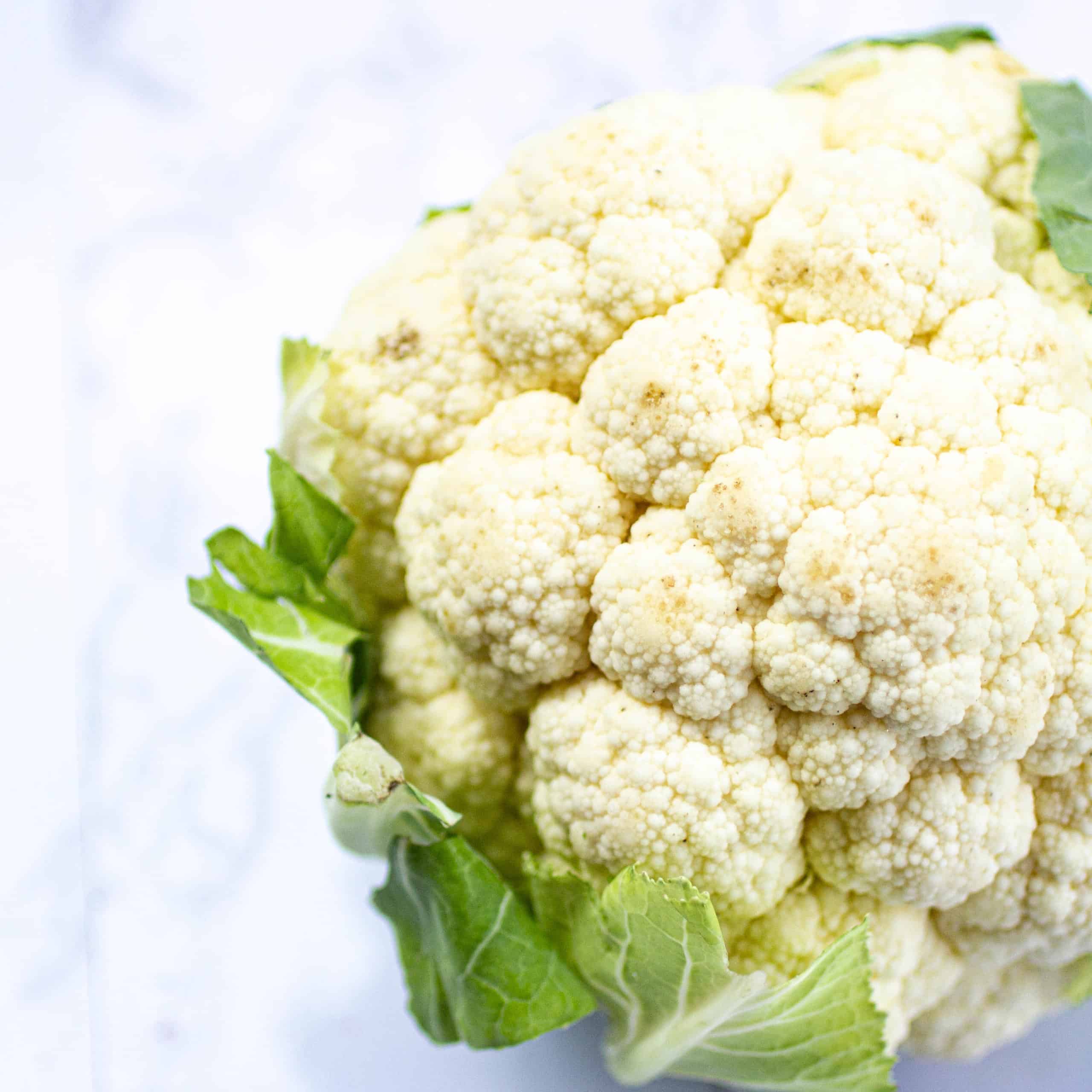 Why you'll LOVE this!
you can make it ahead of time and freeze it
it's completely satisfying
deliciously full of flavor
great family meal
make it in individual servings for picky eaters
high in plant protein, low in fat
heart-healthy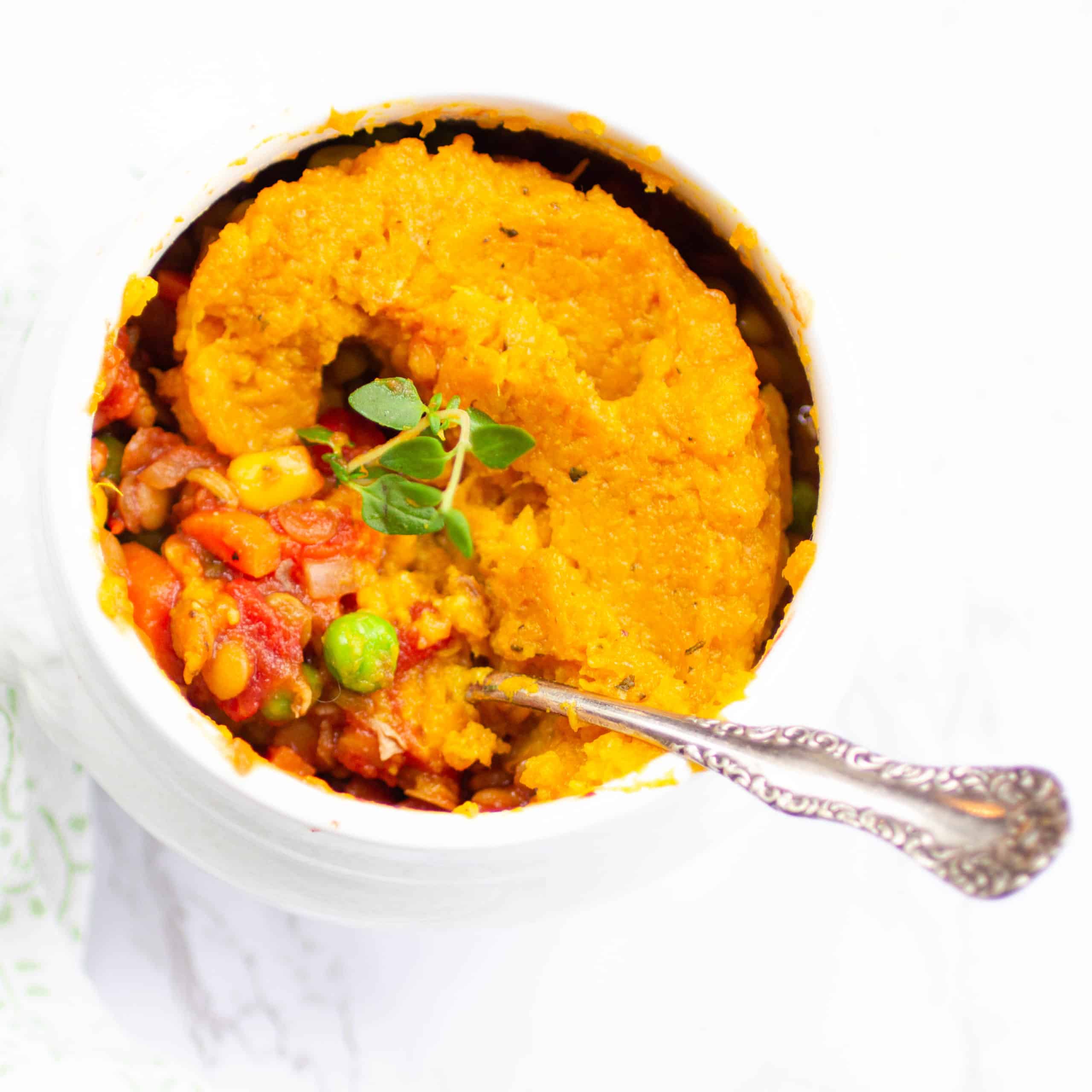 How do I make the Lentil Shepherd's Pie?
It's very simple.
Saute the onion in broth, add the other filling ingredients. Allow it all to simmer gently while you're preparing the topping.
Cook the cauliflower and potatoes, in a covered pan at a high simmer until tender. Drain, then mash adding a little plant milk, nutritional yeast, black pepper, and dried herbs for interest.
Place the filling in an ovenproof dish or dishes, top with the mash then bake until the filling is bubbling up the side of the dish.
You may want to broil it for 2-3 minutes for a lovely crusty top!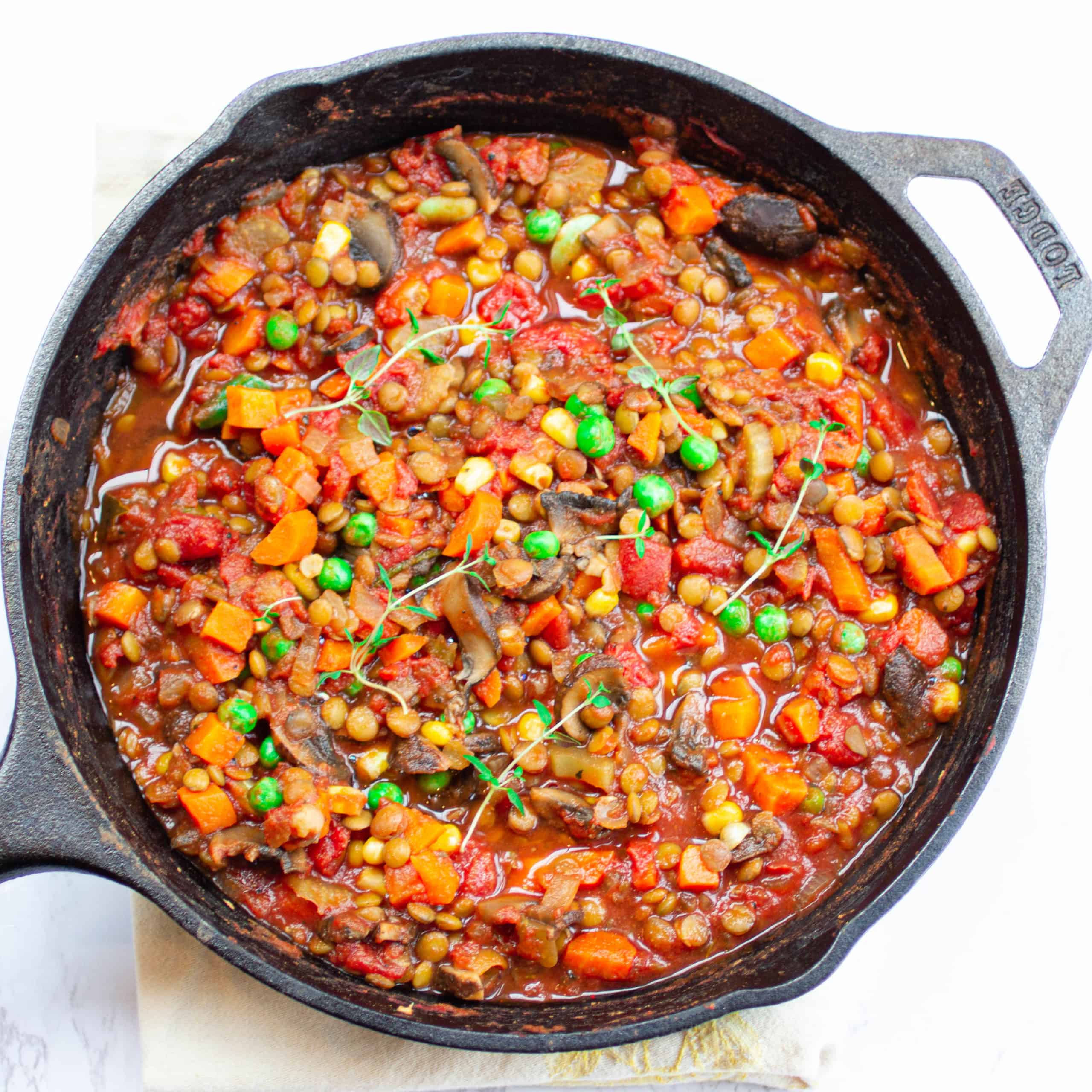 What equipment do I need?
Having an assortment of ovenproof individual bowls is very handy. If you prefer one large dish, Emile Henry has a really lovely collection.
Can I make the Vegan Lentil Shepherd's Pie ahead of time and can I freeze it?
Absolutely yes.
This is great made a day ahead, just store well covered in the fridge.
This can be frozen: After baking, let the pan cool to room temperature, then cover tightly with foil and place in the freezer for up to 2 months. When ready to eat, reheat the shepherd's pie (still covered with the foil) for 1 hour in a 350ºF oven.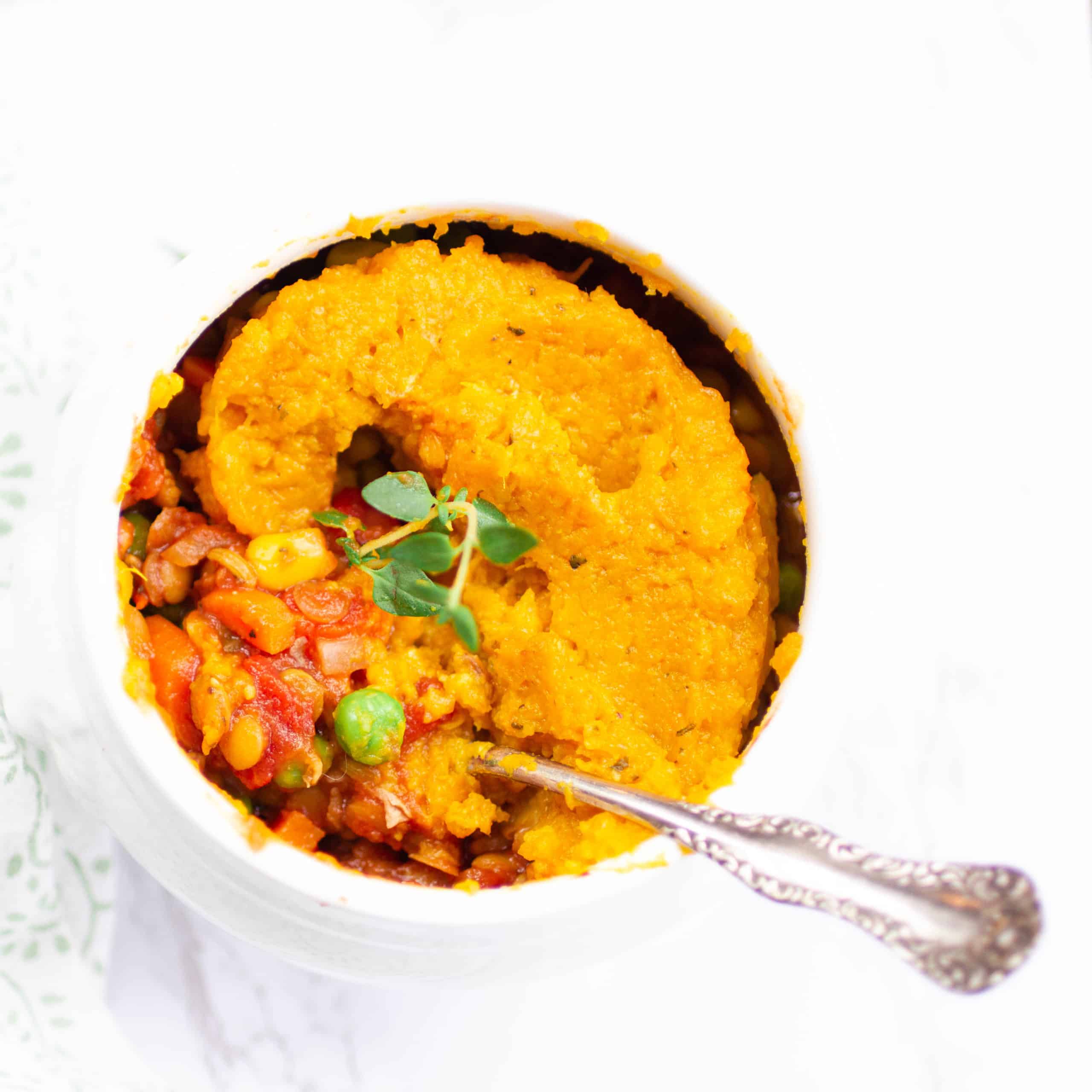 Looking for other Lentil Recipes? Try these!
I hope you LOVE this Vegan Lentil Shepherd's Pie! If you make it do please take a picture and post it on Instagram, tag me @ The Well Fed Yogi.
Leave a comment and rate the recipe:) If you're looking for recipes with a specific ingredient or a particular dish, please do let me know and I'll post one! Thank you so much 🙂
Print
Vegan Lentil Shepherd's Pie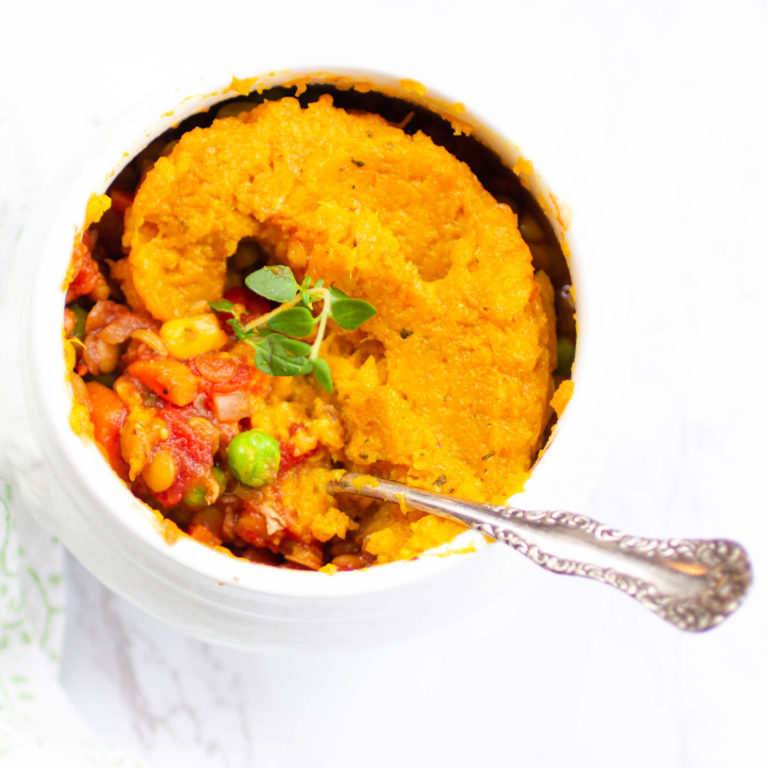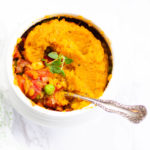 A deliciously cozy Winter warmer!
Author:
Prep Time:

20 minutes

Cook Time:

1 hour

Total Time:

1 hour 20 minutes

Yield:

4

servings

1

x
Category:

dinner

Cuisine:

British

Diet:

Vegan
Scale
Ingredients
1/4 cup vegetable stock
1 yellow onion, peeled and diced
1 tablespoon dried savory herbs
1 1/2 teaspoons freshly ground black pepper
2 sticks celery, diced
1 large carrot, peeled and diced
3 cloves garlic, minced
1 cup lentils – Le Puy are lovely, otherwise use green, brown, or red (rinsed)
1, 28 oz can chopped tomatoes
1/3 cup tomato paste
2 1/2 cups vegetable stock
2 tablespoons low sodium Tamari
1 tablespoon Balsamic vinegar
1 large packet mushrooms (cremini, white, button, or a mix)
1 tablespoon cornstarch
1 cup frozen peas
1 cup of frozen corn
1/2 small cauliflower, broken into small florets, stock, and leaves discarded,
2 Yukon Gold  or Russet Or sweet potatoes, large dice
1 teaspoon ground turmeric or 1 tablespoon freshly grated turmeric root
1/3 cup non-dairy milk
1 tablespoon nutritional yeast (optional)
Instructions
Preheat the oven to 425F. Line a baking sheet with parchment paper.
Heat 1/4 cup vegetable stock in a large pan, add the prepared onions and cook on medium heat until they begin to soften. About 5-7 minutes, add more stock to the pan if it becomes too dry.
Add the herbs, black pepper, celery, carrot, and garlic and cook for a further 5 minutes adding more stock as necessary.
Stir in the lentils, tomatoes, and tomato paste, stir well.
Add the stock, Tamari, balsamic vinegar, and mushrooms. Bring to the boil, turn down to a simmer and partially cover the pot. Allow to simmer while preparing the potato and cauliflower.
Place the potatoes, cauliflower, and turmeric in a medium-sized pot and cover with water. Bring to the boil, turn down to a simmer, cover and cook until both potatoes and cauliflower are tender, about 15 minutes.
Drain very well. Mash the cauliflower and potatoes with a splash of non-dairy milk, black pepper, nutritional yeast, and another pinch of dried herbs.
Measure 1 tablespoon of cornstarch into a small bowl. Add 2 tablespoons of the lentil mixture and stir into a paste. Pour this paste back into the lentil mixture and stir to combine. This will thicken the mixture into a glossy sauce.
Add the frozen peas and corn to the lentil mixture, stir well, then transfer to an oven-proof dish.
 Spread a layer of the cauliflower/potato mixture over the top. Place the dish on a lined baking tray and bake in the preheated oven for about 30-40 minutes, or until the topping is golden and the lentils are bubbling up around the side.
Place the pie under the broiler for 3-4 minutes or until it has crisped up a little.
Serve and enjoy.
Keywords: Vegan Lentil Shepherd's Pie