Deliciously hearty Tuscan Ribollita Soup is guaranteed to nourish and warm you to your core!
Tuscan Ribollita Soup is the ultimate in pantry staple comfort food. Hugely flavorful, it's easily whipped up with a few vegetables from the fridge and a couple of boxes and cans from the pantry. Cook this up – it's fabulous! Made without oil, it's heart-healthy and deeply flavorful from balsamic vinegar, fresh herbs, fennel seeds, and red pepper flakes. Oh, and it keeps in the fridge for 3-4 days:)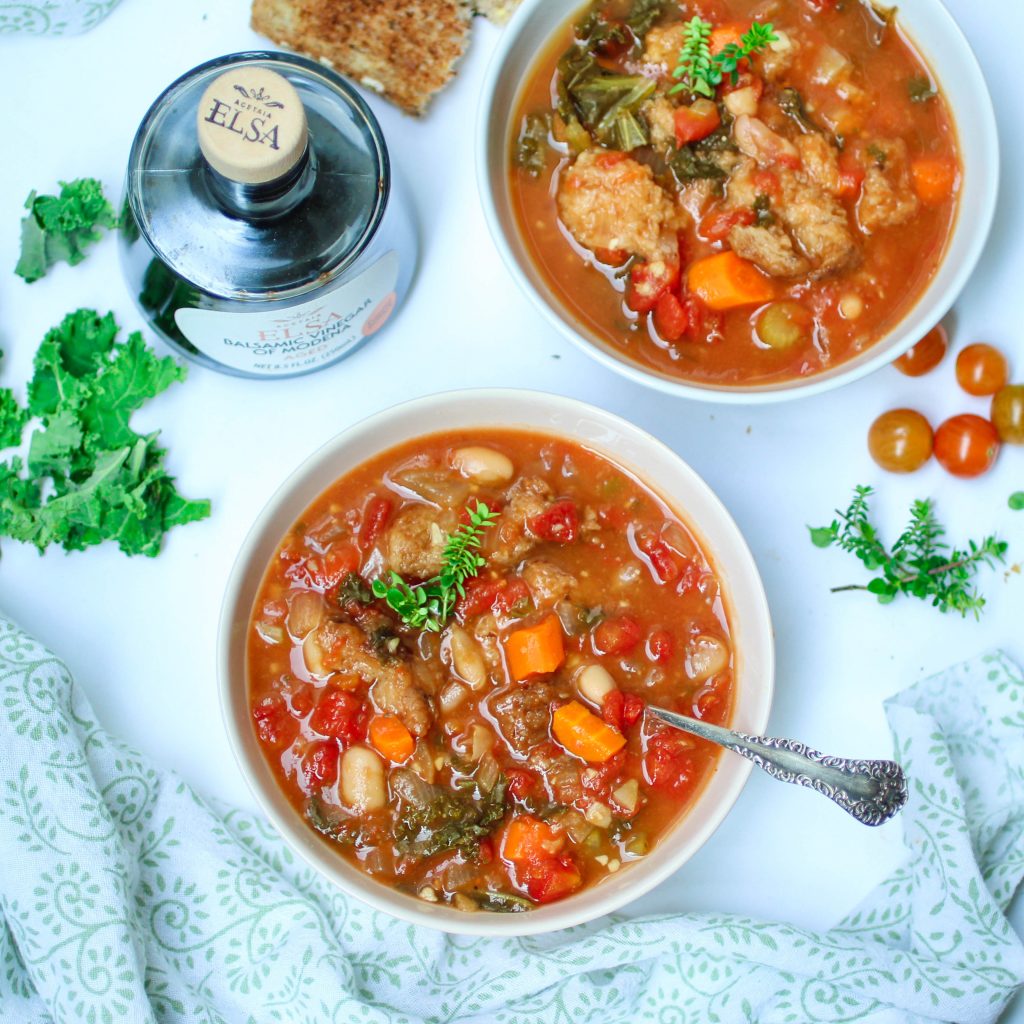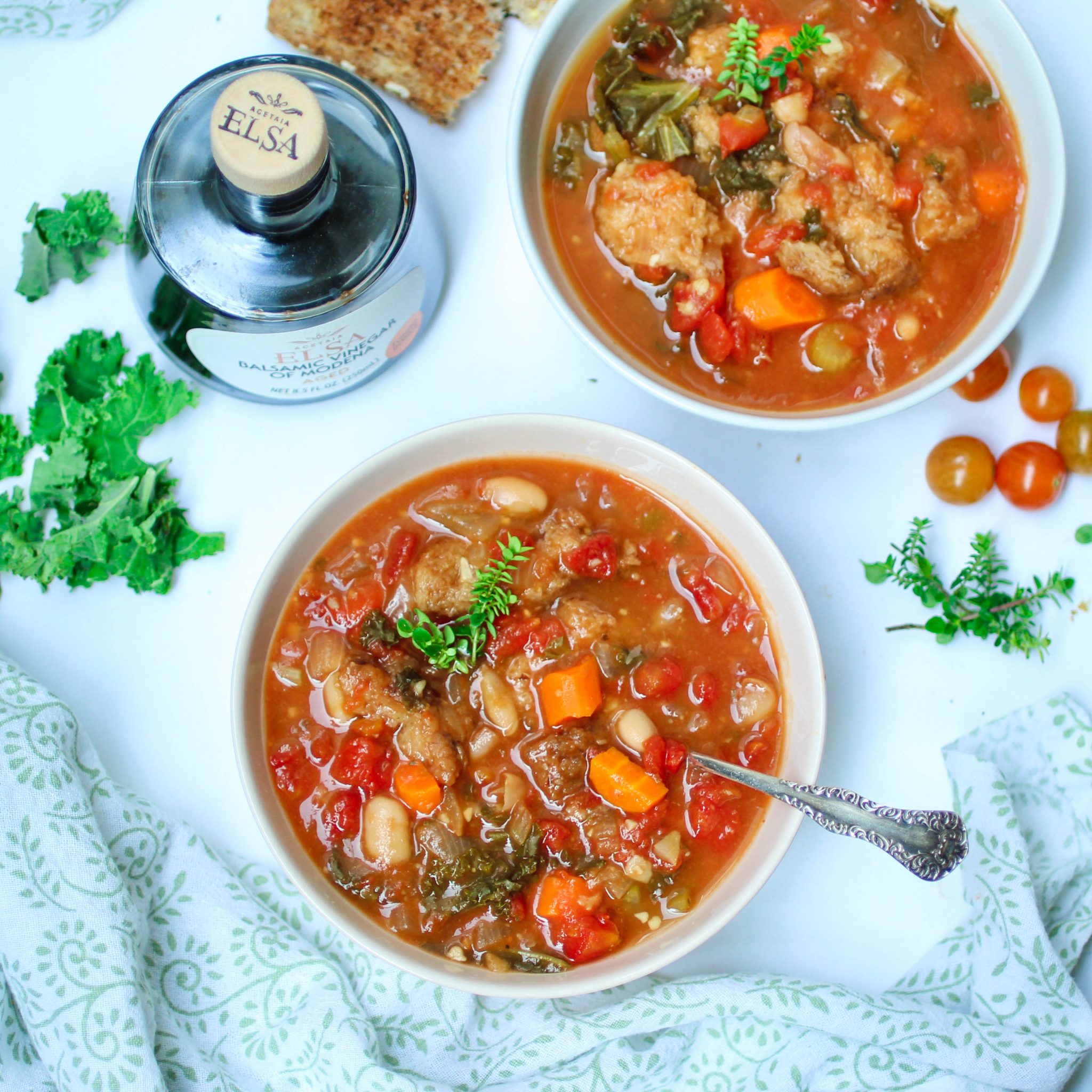 You could use dried cannellini beans if you're organized enough to soak them overnight, then boil them up for an hour or so before adding them to the soup. Sadly, that's out of my organizational skill set, I rely almost exclusively on canned beans which thankfully work beautifully.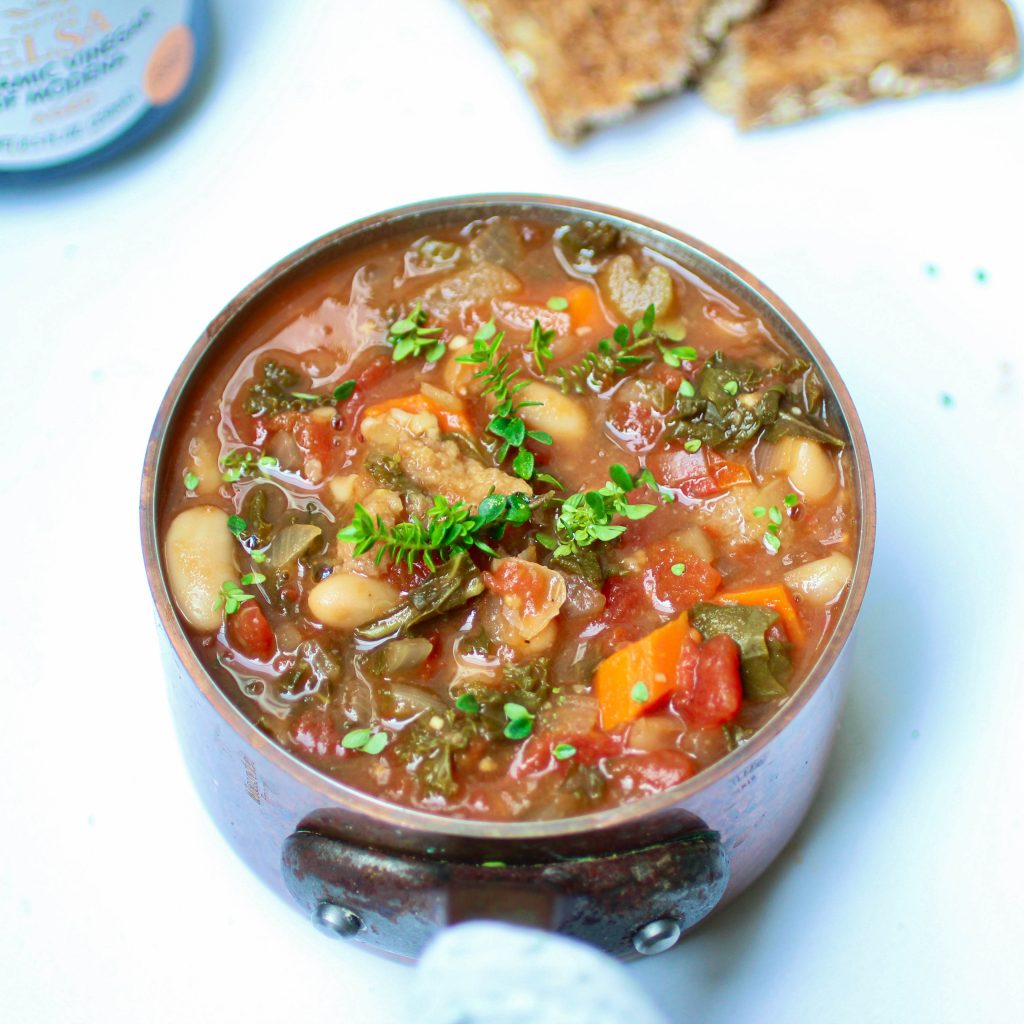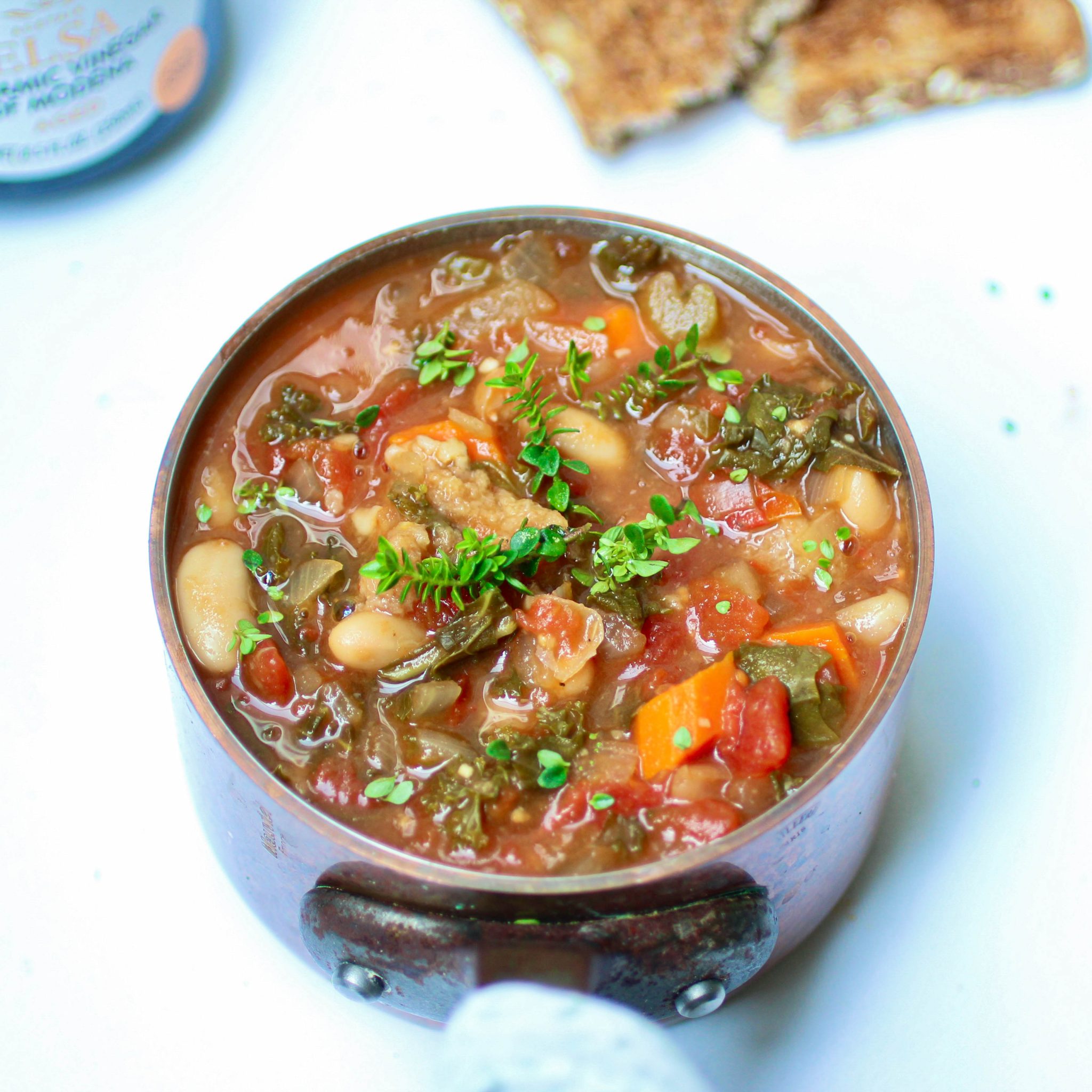 Ribollita I gather means "twice boiled." The story goes, frugal hard-working peasants long ago in Tuscany would make a stew from homegrown vegetables and beans adding stale bread to make it stretch.  These days it's been glorified into an offering you would find at a fancy Italian restaurant. A hearty, warming and highly nutritious soup filled with gorgeous flavors.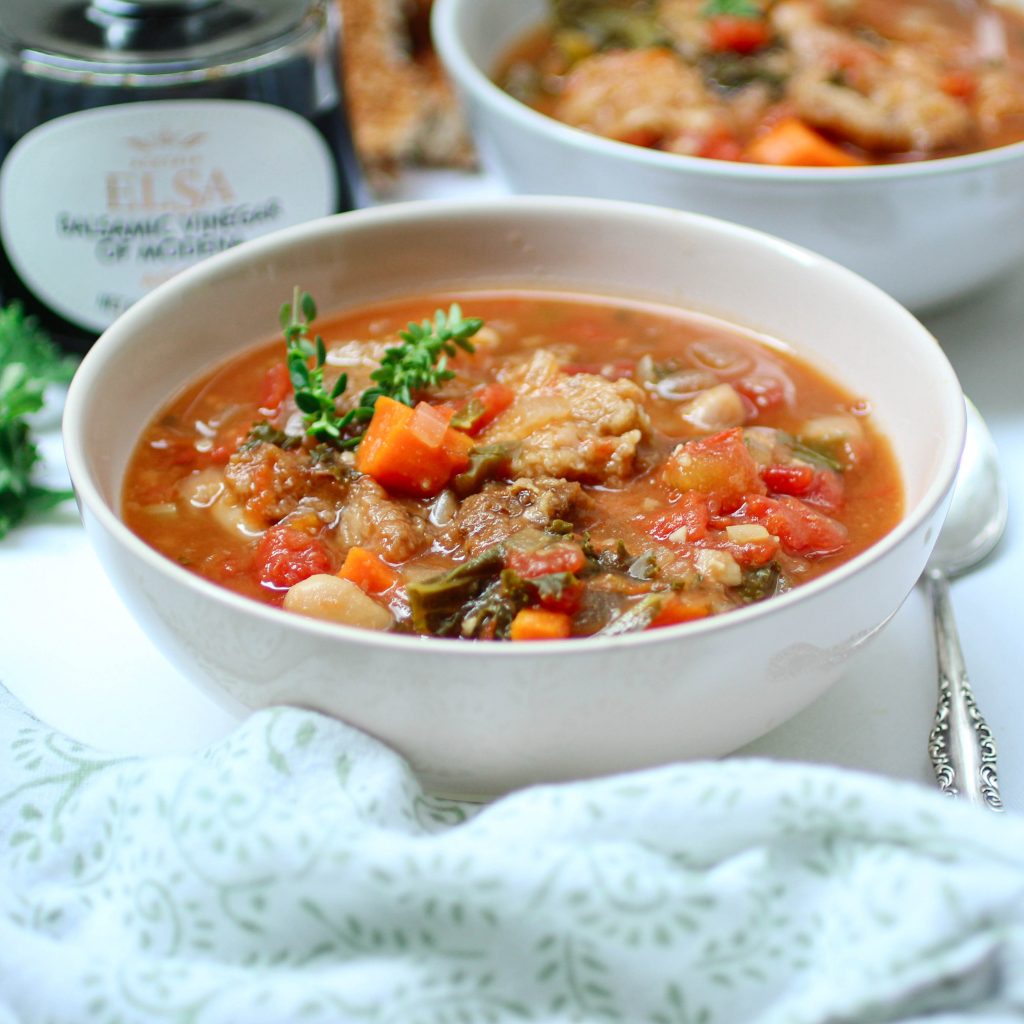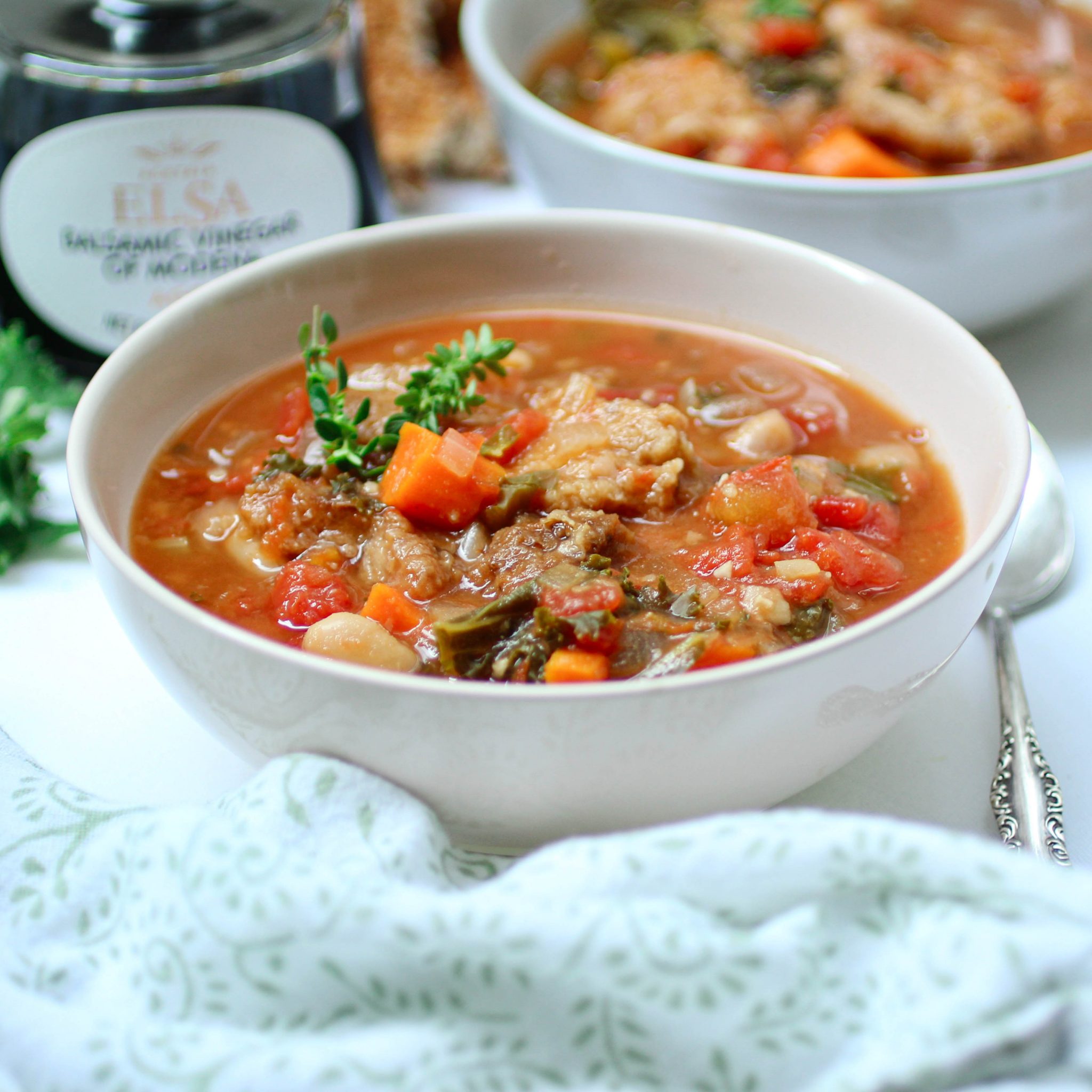 What's in Tuscan Ribollita Soup?
best quality vegetable soup
canned tomatoes
cannellini beans
a variety of vegetables – onion, garlic, carrots, celery, kale – or whatever you have on hand
best quality vegetable stock
dried herbs and spices – fennel seeds, red pepper flakes, and black pepper
fresh herbs – basil and thyme, again whatever you have on hand
balsamic vinegar
whole wheat sourdough bread – stale!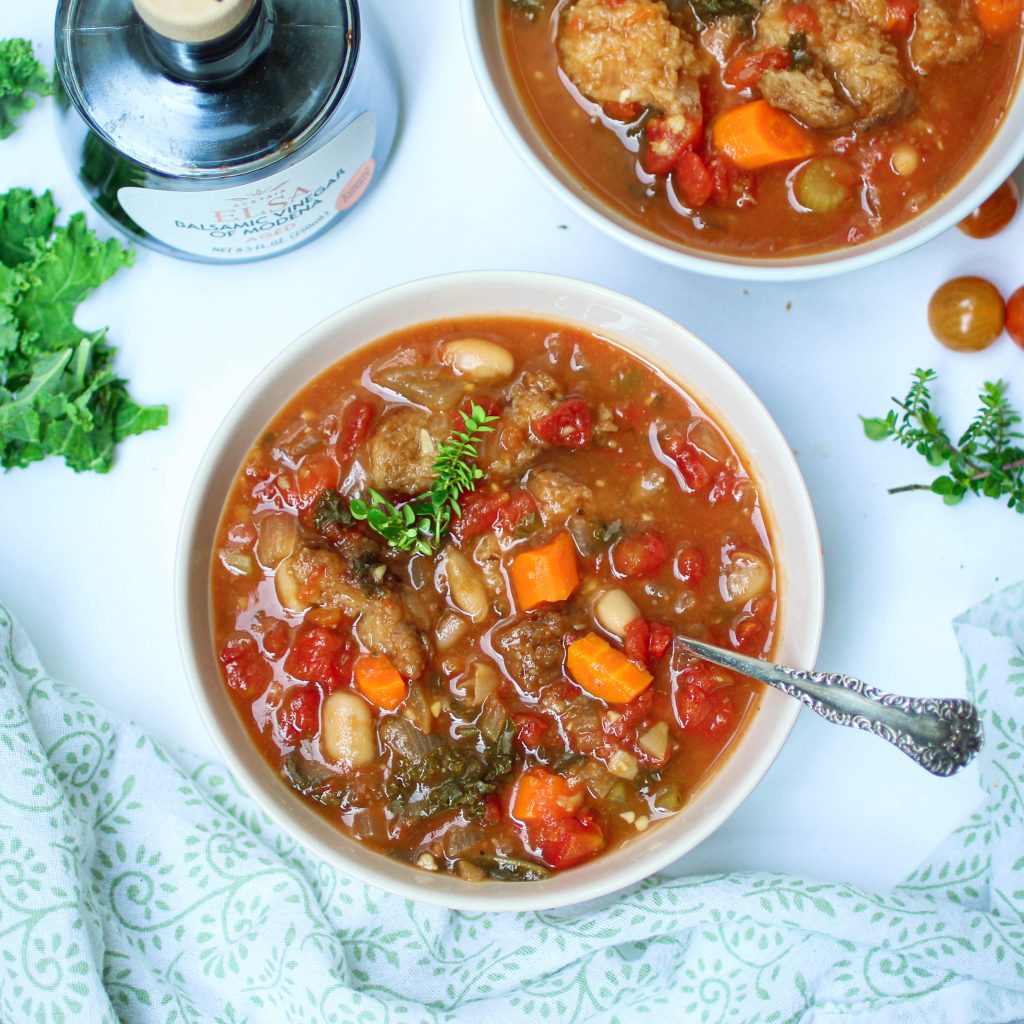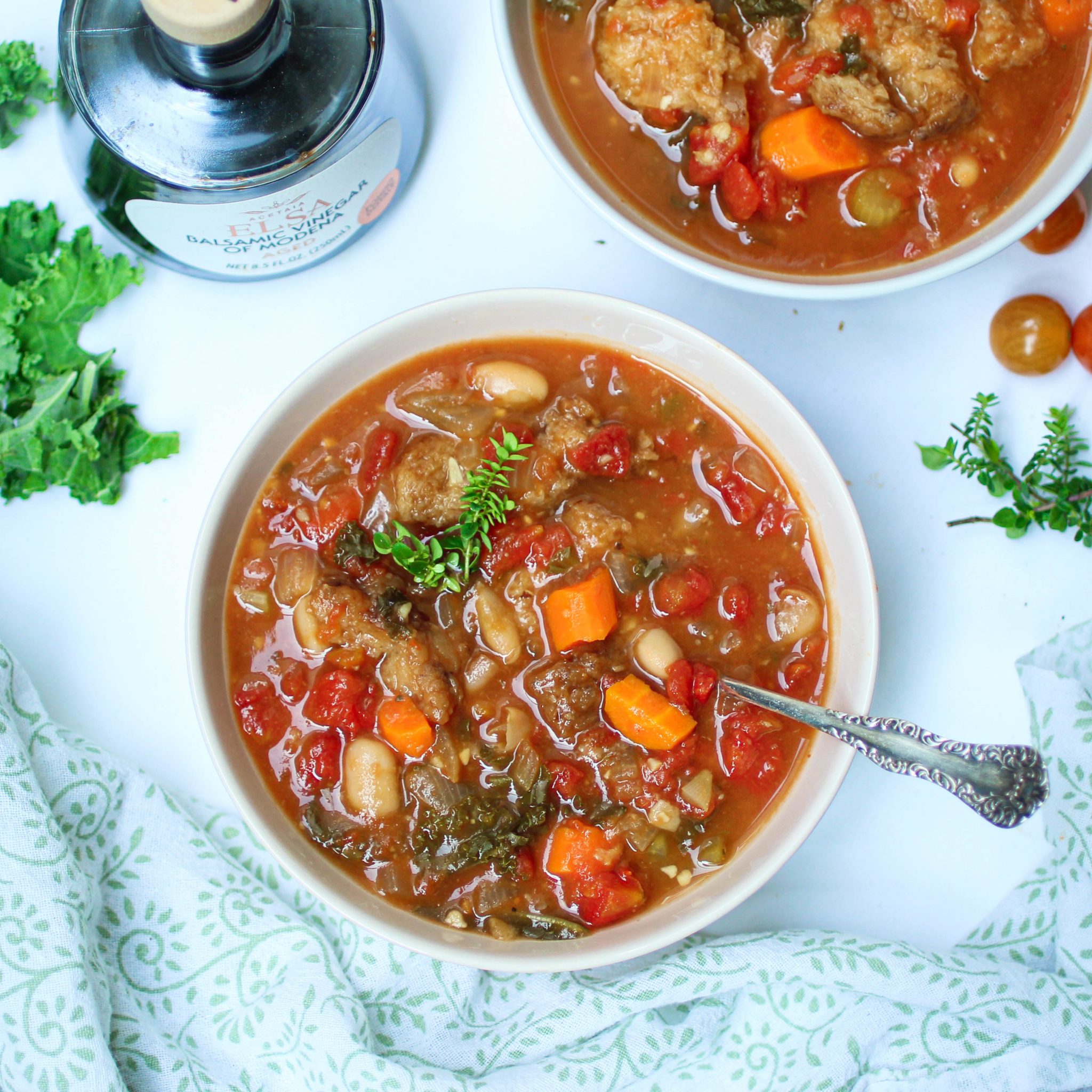 What can I add or substitute?
Remember this is an ancient frugal stew. Those poor Tuscans didn't worry if they didn't have fennel seeds! Use what you have and you love.
don't have kale? try any leafy green, spinach, Swiss chard, cabbage, beet greens, sprinkle over microgreens!
fresh herbs – if you don't have any try some dried herbs such as basil, thyme, oregano or any savory blend.
any root vegetables will work for the base, try parsnips, celery root, potatoes, sweet potatoes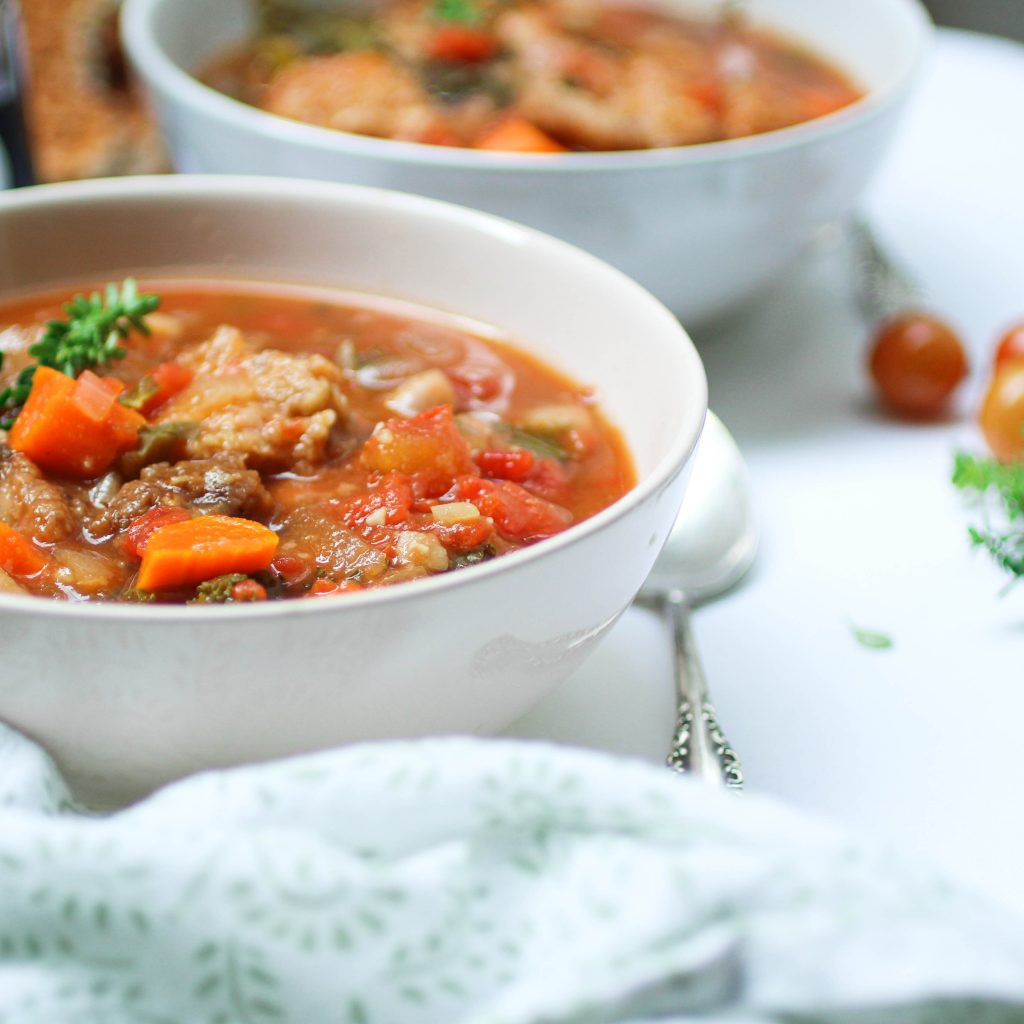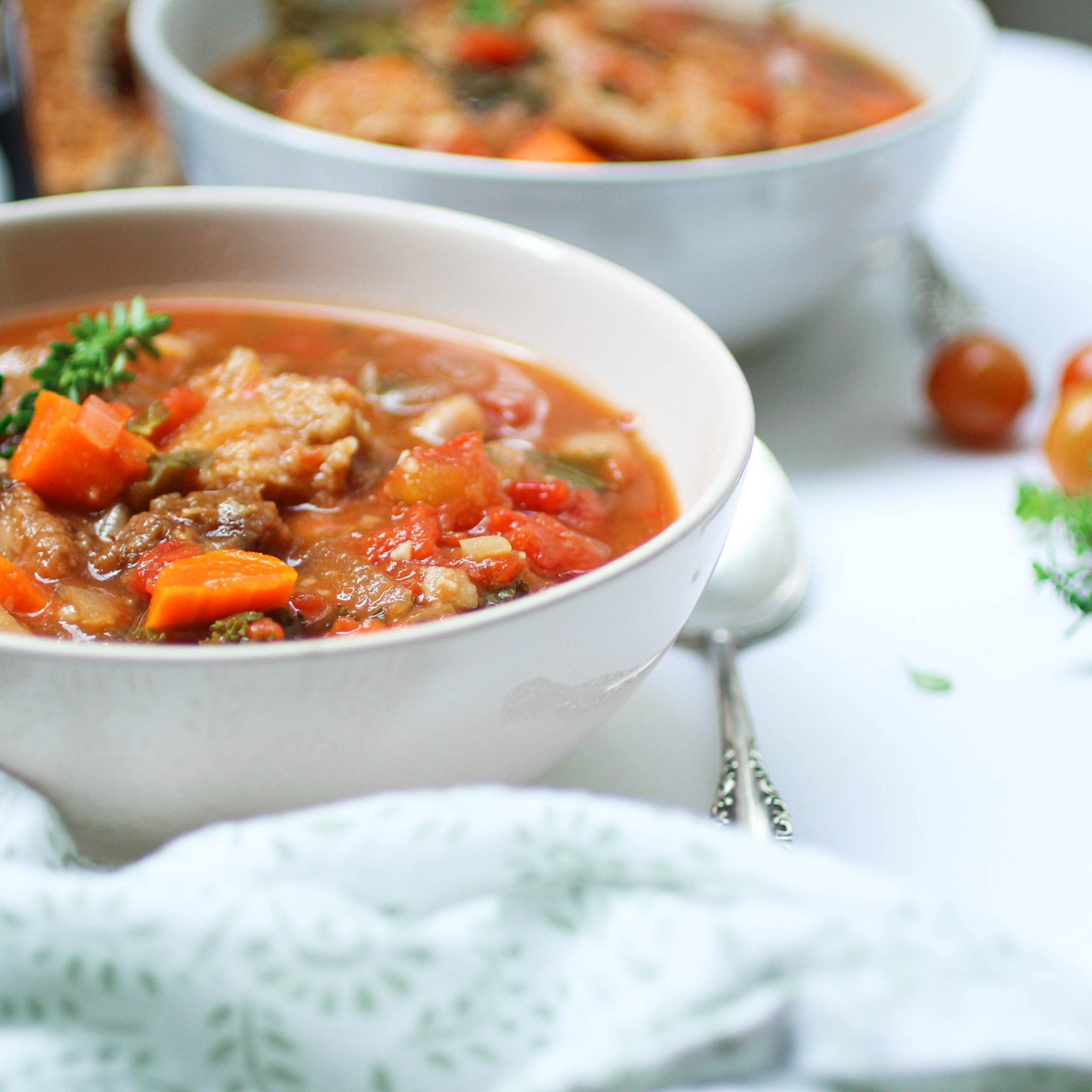 How do I make Tuscan Ribollita Soup?
Easy!
Cook the onion in a little vegetable stock.
Add the carrots, celery and garlic. Cook a little more.
Pour in all the other ingredients except the bread and balsamic vinegar. Bring to the boil, turn down to a simmer, partially cover the pot.
Cook until the veggies are tender.
Add the torn-up bread and a tablespoon of balsamic vinegar.
Serve with a garnish of fresh herbs and a drizzle of balsamic vinegar.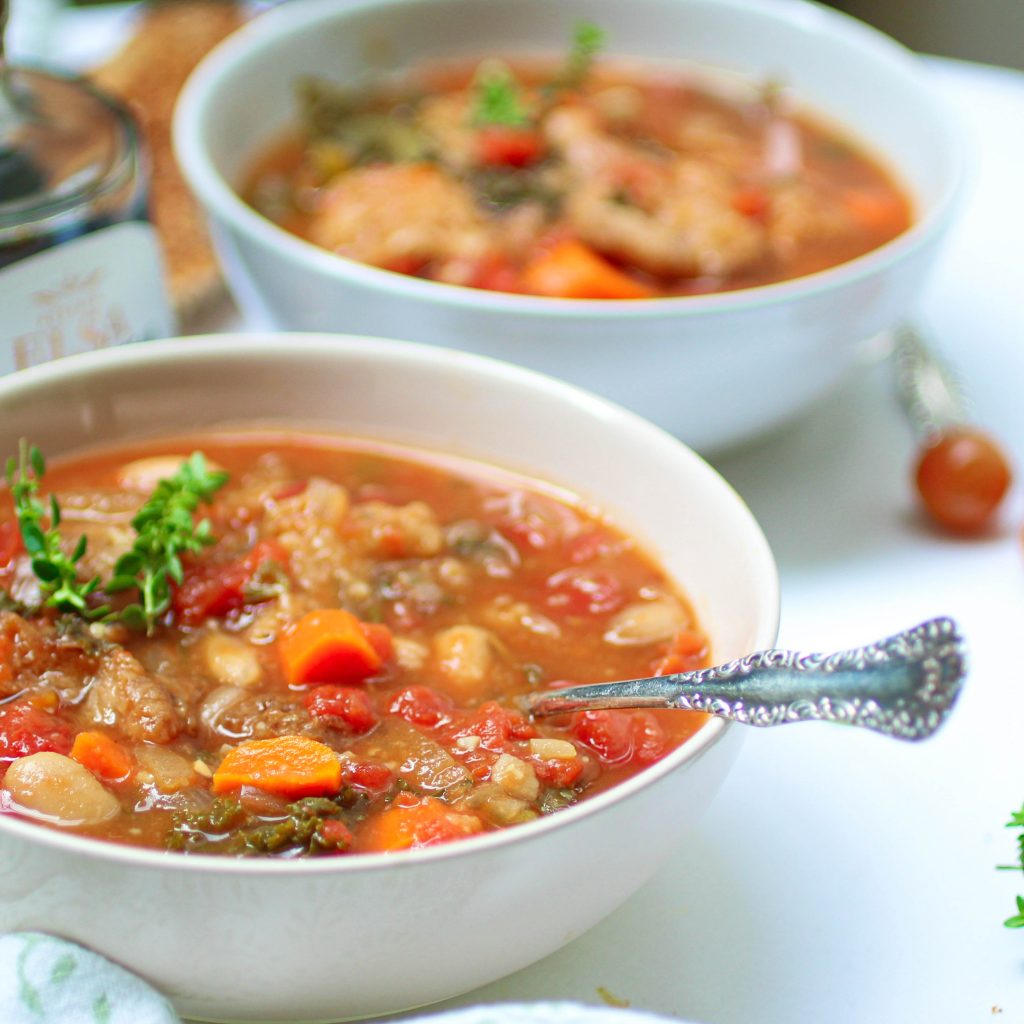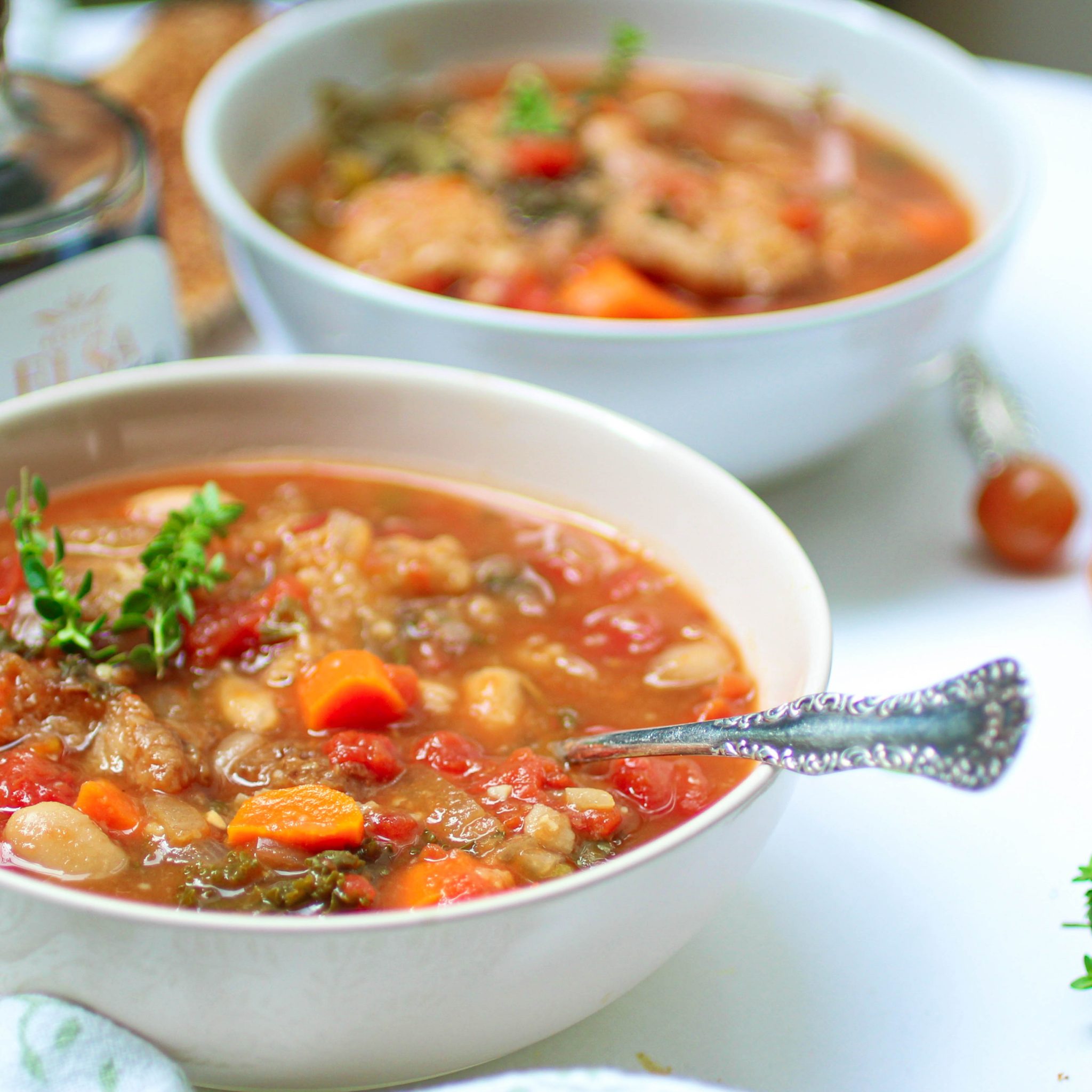 Looking for more Quick and Easy Nourishing Soups? Try these!
Butternut Squash and Apple Soup
I so hope you enjoy this recipe, please do let me know in the comments below how it worked out for you and rate the recipe! Happy Cooking:)
Print
Tuscan Ribolitta Soup!
A hearty Tuscan white bean vegetable soup with wholewheat sourdough bread
Author:
Prep Time:

10 minutes

Cook Time:

35 minutes

Total Time:

45 minutes

Yield:

4

servings

1

x
Category:

soup

Cuisine:

italian

Diet:

Vegan
3–4 tablespoons of best quality vegetable stock
1 large onion, peeled and finely diced
4 medium carrots, peeled and diced
3 celery stalks, peeled and diced
6 garlic cloves, minced
1, 14-oz. can cannellini beans
1 teaspoon red pepper flakes
1 teaspoon fresh thyme
1 cup fresh basil, roughly chopped
1 teaspoon freshly ground black pepper
1 teaspoon fennel seeds (optional)
1, 28-oz. can whole peeled tomatoes
3 cups well chopped kale
4 cups good quality vegetable stock
4 pieces wholewheat sourdough
2 tablespoons balsamic vinegar
Instructions
Heat 3-4 tablespoons of best quality vegetable stock in a large saucepan. Add the diced onion and cook for approximately 5-7 minutes or until soft. Add more stock if the pan becomes dry.
Add the prepared carrots, celery and garlic. Cook for a further 5 – 7 minutes adding more stock if necessary.
Pour in the cannellini beans, red pepper flakes, fresh thyme, basil, fennel seeds, freshly ground black pepper, tomatoes and kale. Stir well to combine. Cook for a minute or two.
Pour over the stock, bring to the boil, turn down to a simmer and allow to bubble away for 20 minutes. Partially cover the pot.
Tear the pieces of bread into chunks and add to the pot along with 1 tablespoon of the balsamic vinegar. Stir well, then partially cover the pot and cook for a further 10 minutes.
The soup can be served straight away with a drizzle of balsamic vinegar or it can be kept in the fridge for up to 4 days. Reheat to serve.
Keywords: Tuscan Ribollita Soup