Don't be scared of tempeh! Just crumble it up and put it in this fabulously delicious chili.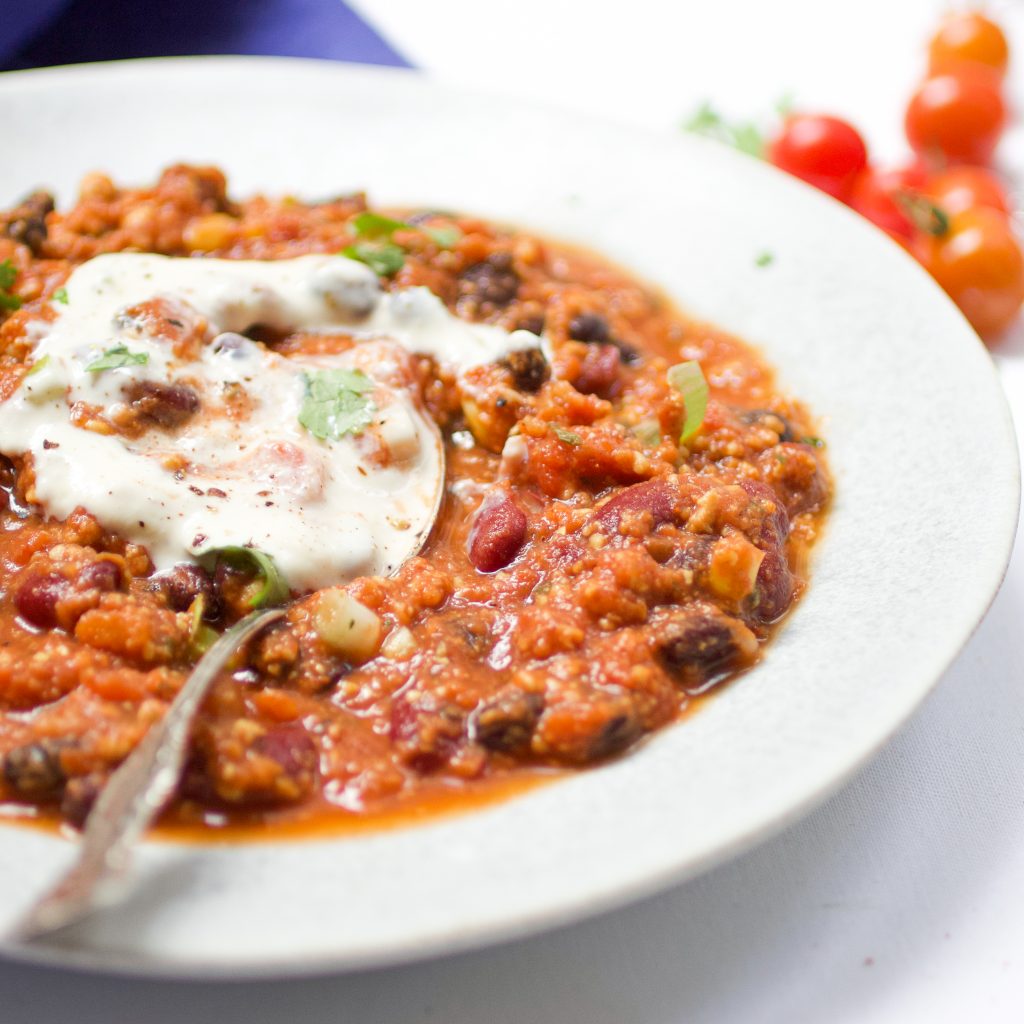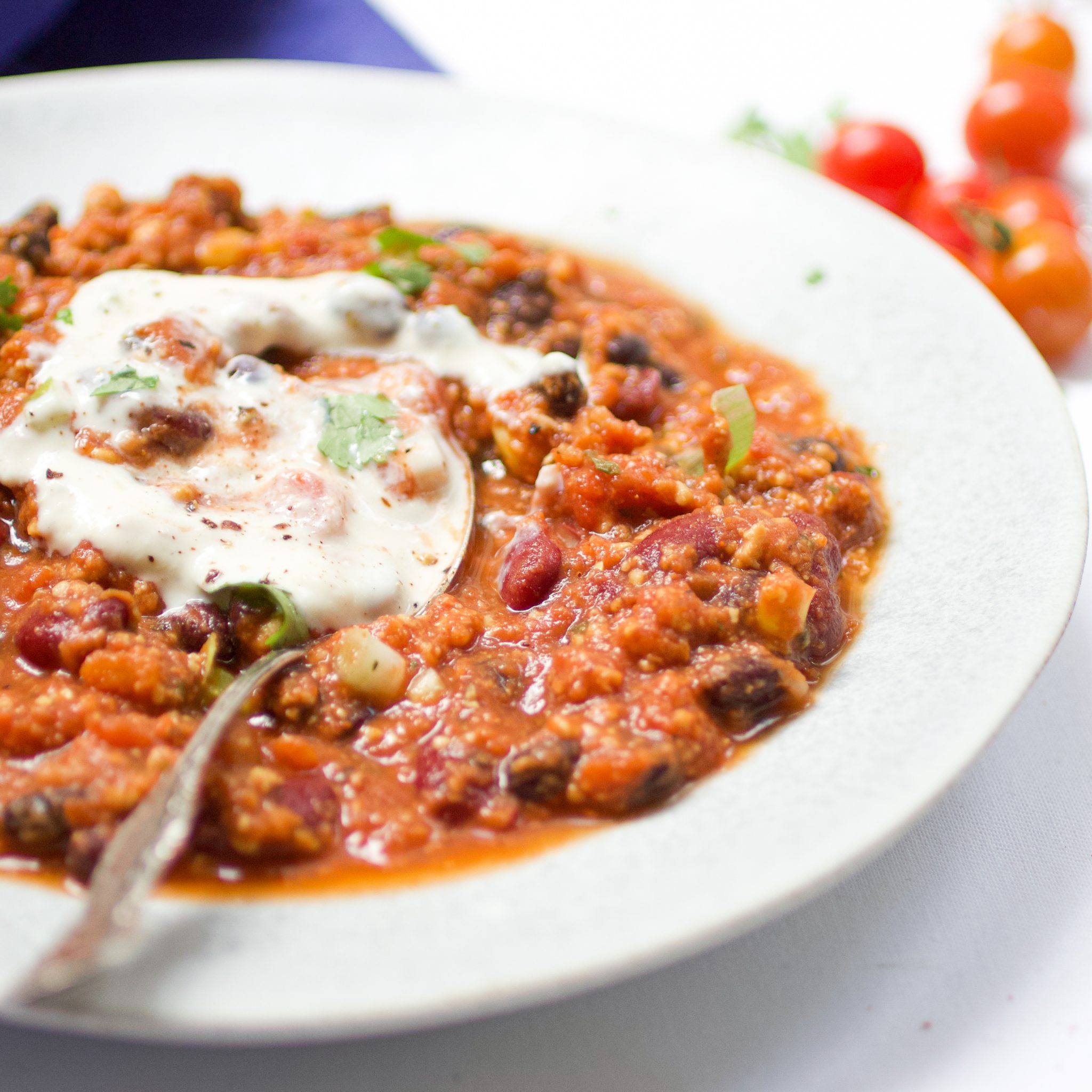 Tempeh Chili is quick and easy to whip up and it's a sure fire crowd pleaser. The secret here is to grate the tempeh giving the appearance of meat but instead of course it's gloriously meat (and grease) free! Tempeh Chili just may become one of your staple weeknight meals. It certainly has in my house:)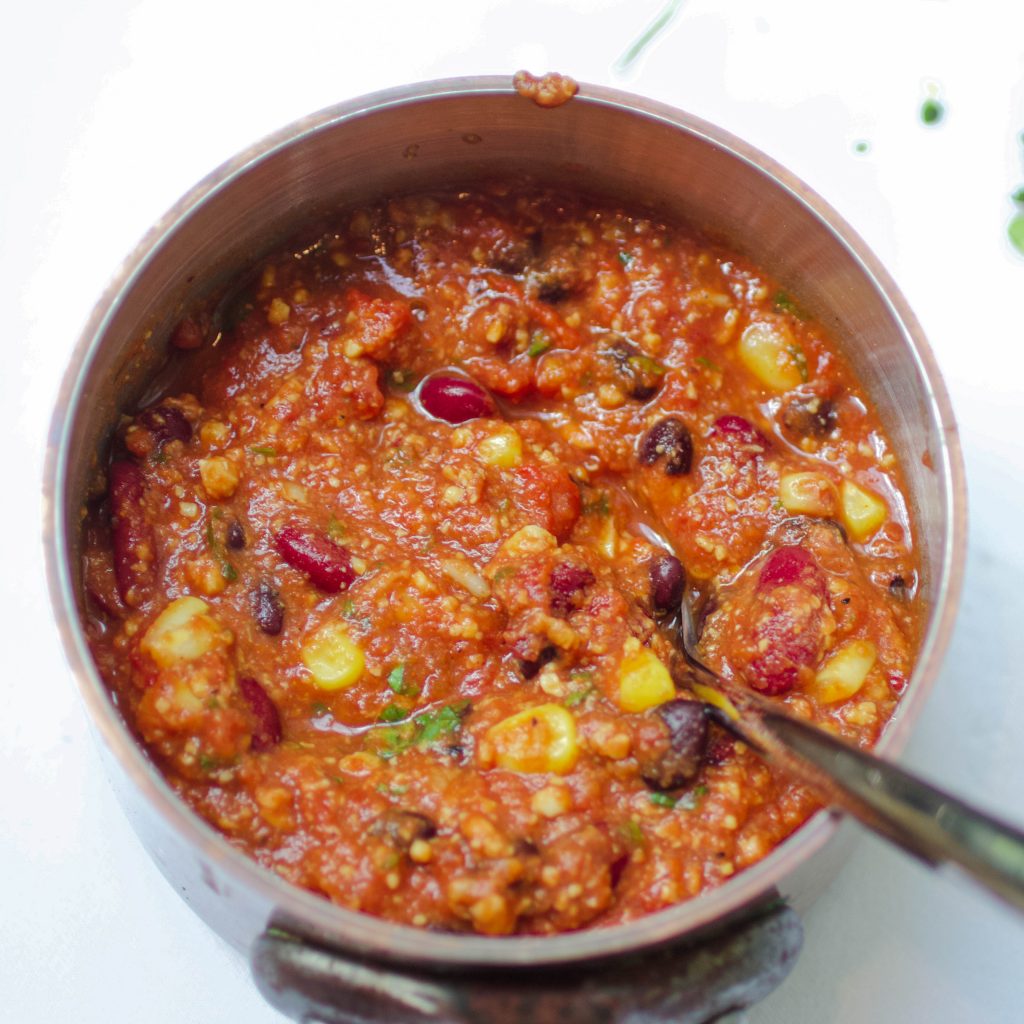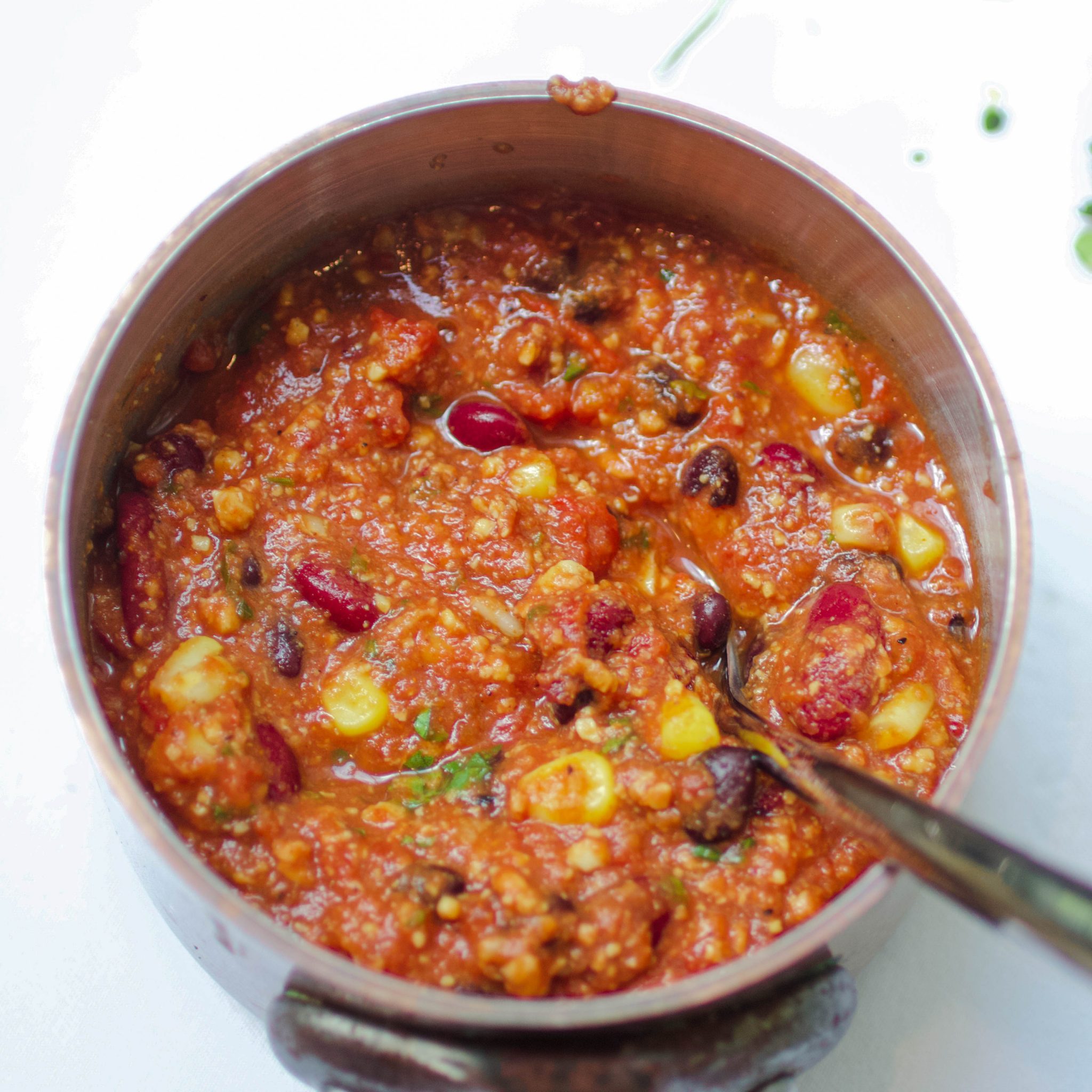 What on earth is Tempeh?
Tempeh is a plant based protein packed fermented soy bean product. You buy it in a block then slice, cube, crumble or grate as you please. It has a pleasant chewy, almost nutty taste making it a fabulous meat substitute as it stands up to some pretty rough treatment and holds its own in hefty sauces.
Most supermarkets carry tempeh these days, try to get the original unflavored variety so you can add the flavors you wish. Nutritionally not only is it high in protein, it's also packed with calcium, phosphorous, manganese and iron:)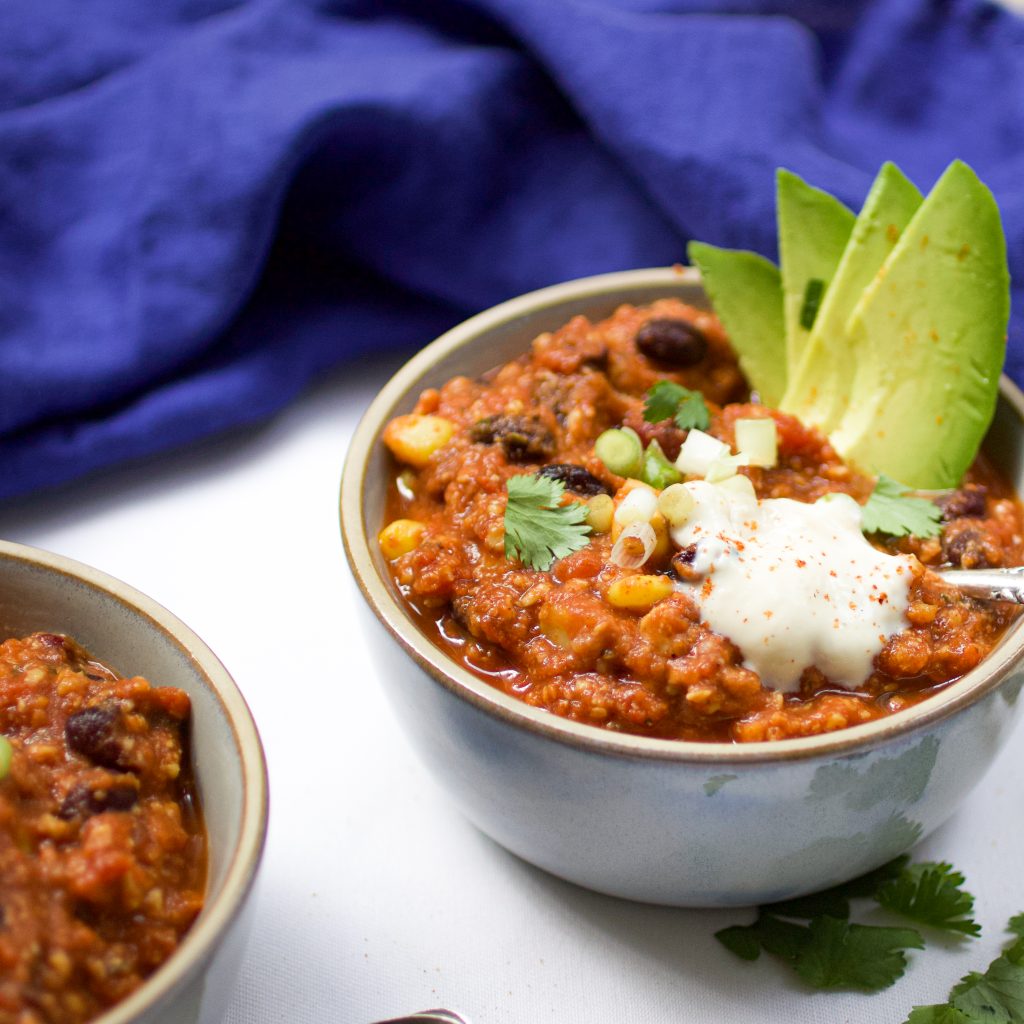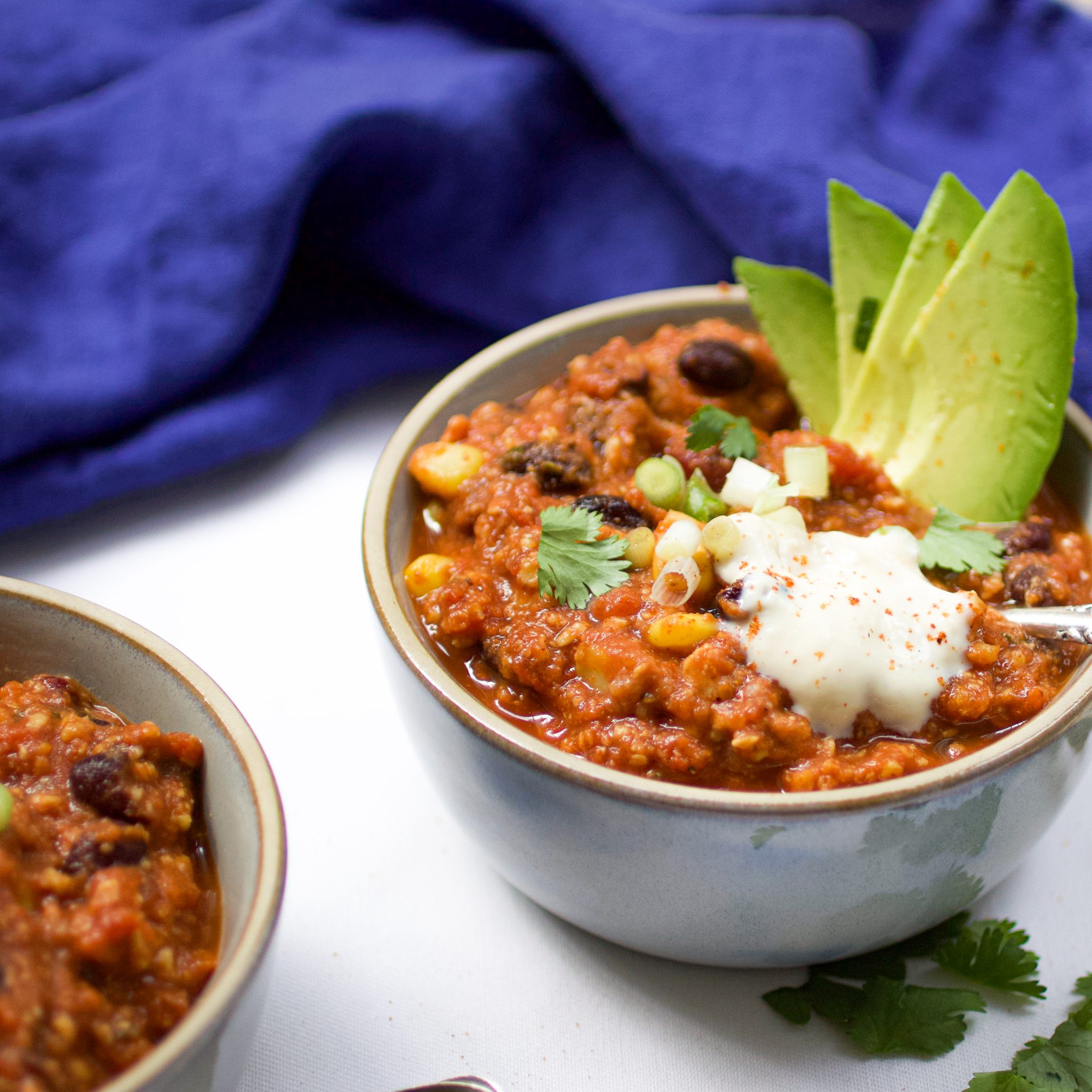 How do I cook Tempeh?
Before you add it to a recipe please be sure to steam it for 10 minutes. Don't be put off by this, I know we're all super busy but it's an easy step and makes a big difference to the result. Just cut it into 3 slabs, pop it in a steamer basket and while it's steaming you can chop the vegetables for the chili – easy!
Steaming the tofu prior to cooking dissolves a slightly bitter taste it can have. Also I find the flavors from the dish permeate the tempeh better post steaming.
In this recipe the steamed tempeh is grated into the dish to resemble the texture of ground meat. Don't be shy with your flavorings, use plenty of spices sprinkled directly over the grated tempeh then combined well to give the look of "browned " meat and infuse the flavors.
Let the chili bubble away on the stove for a good 30 minutes or so to produce a hearty rich sauce.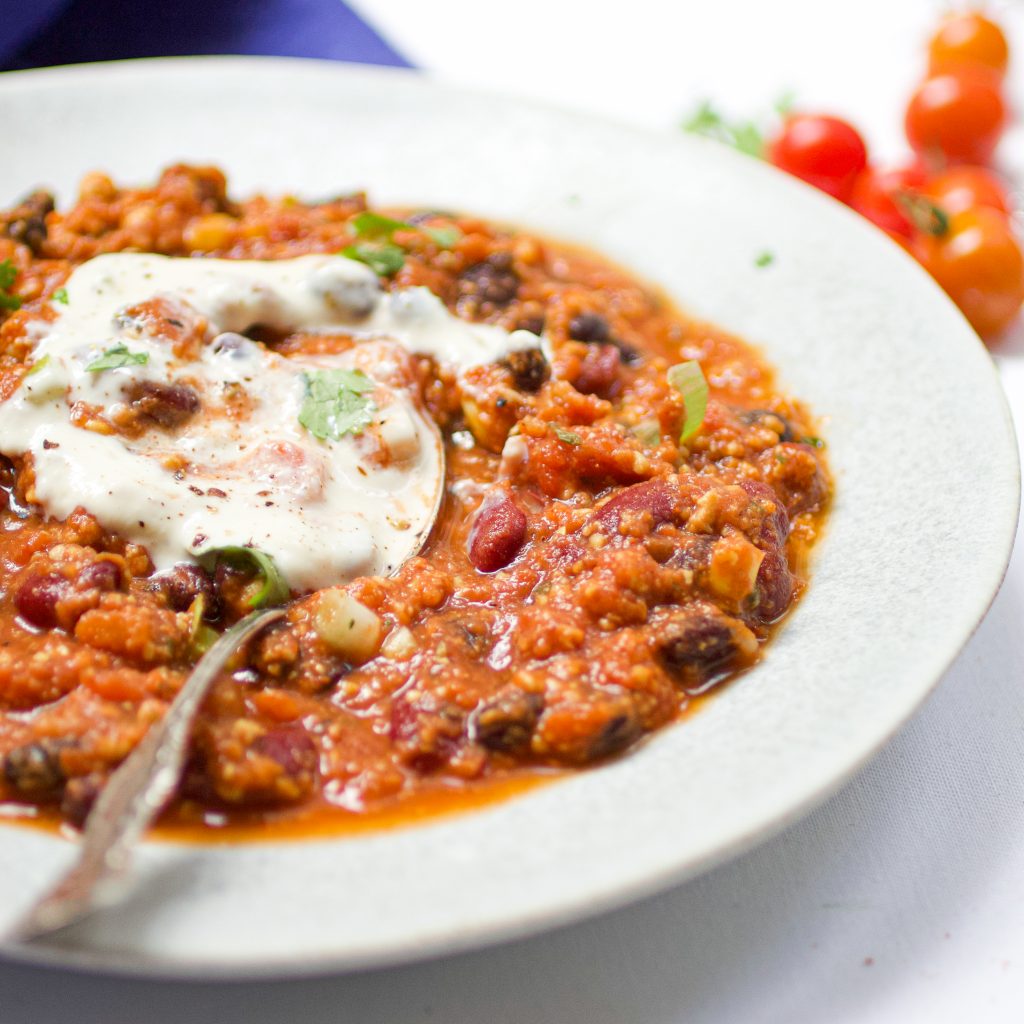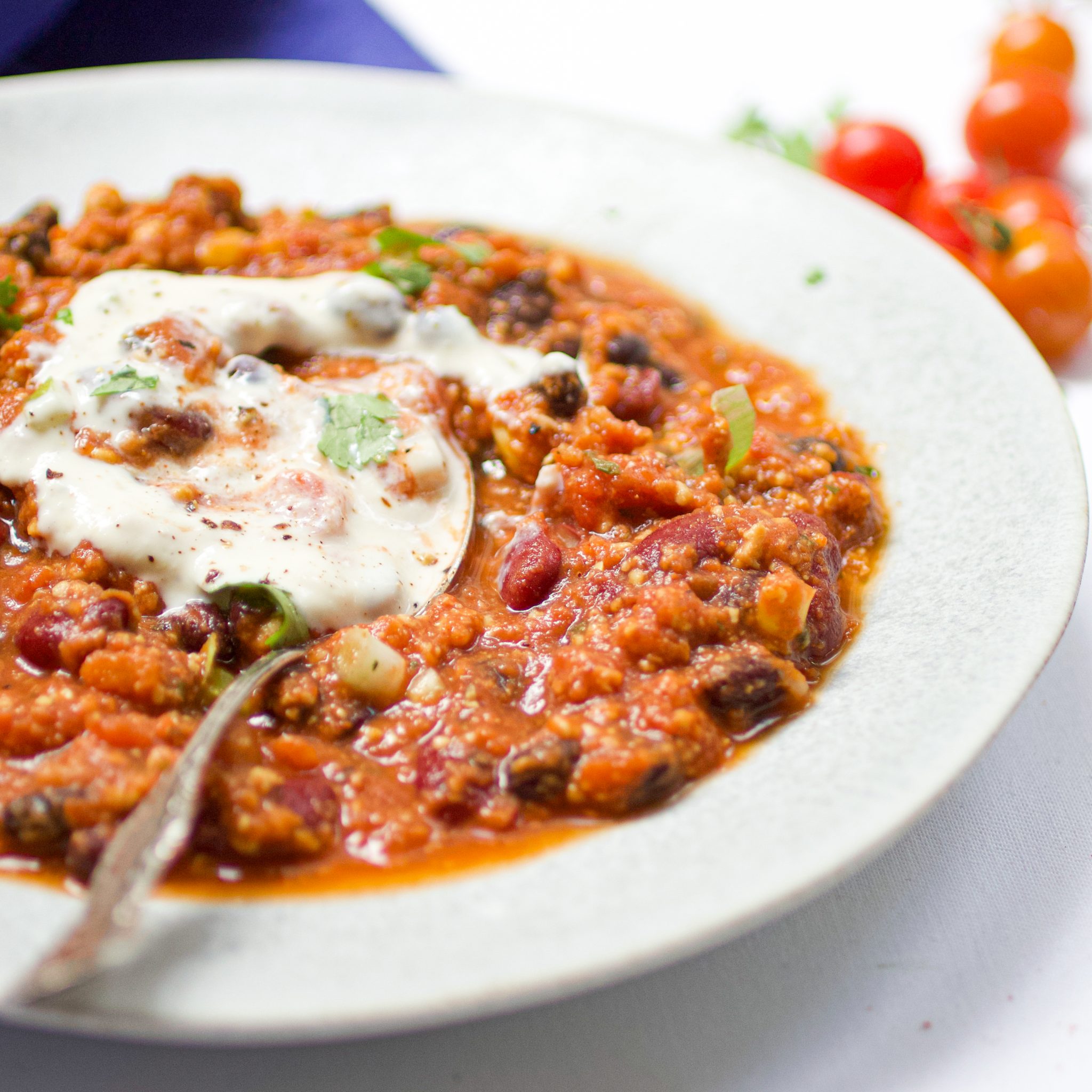 This chili is all about the flavor! 
Be guided by your palette as far as spices are concerned. If you love heat add some seeds of the jalapeno pepper or add more chili powder, if you don't, use less! I used a tablespoon of Date Syrup to add a little sweetness and balance out the heat of the spices.  In addition I added: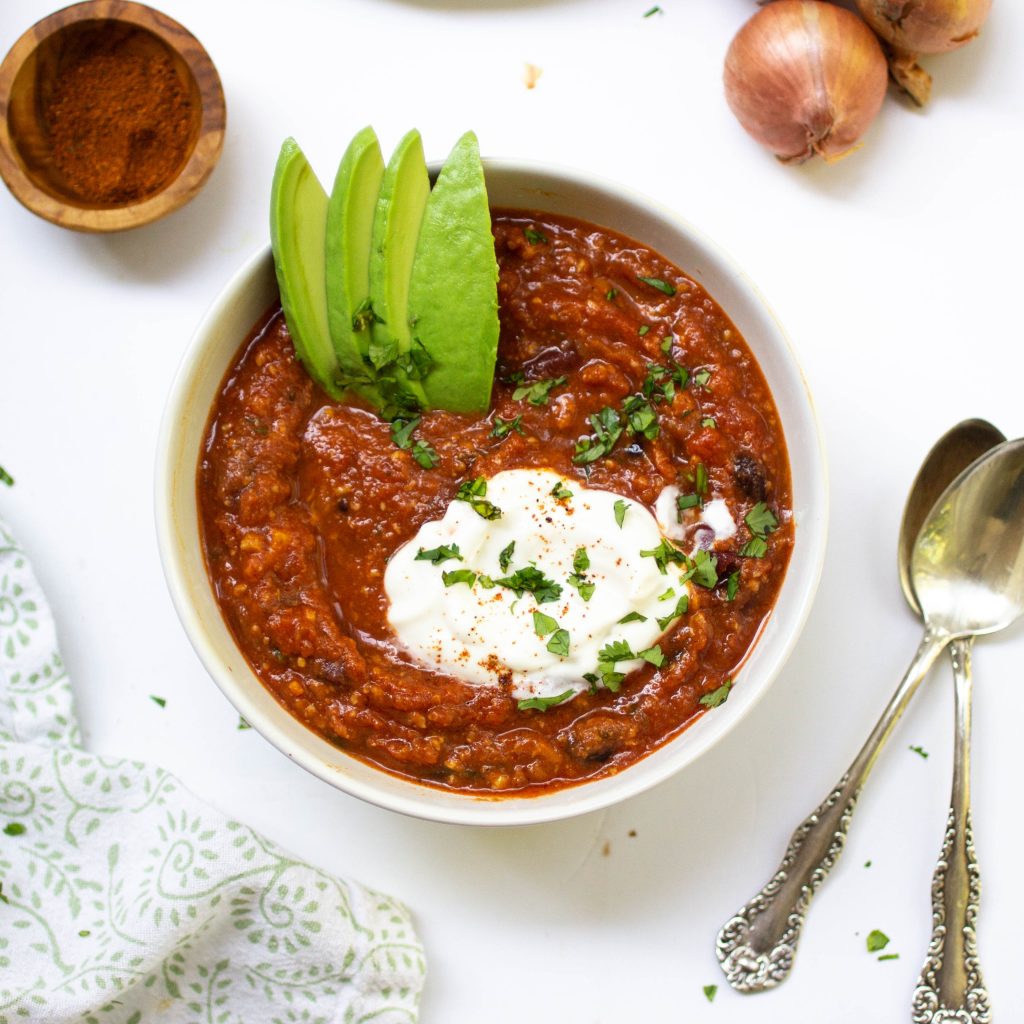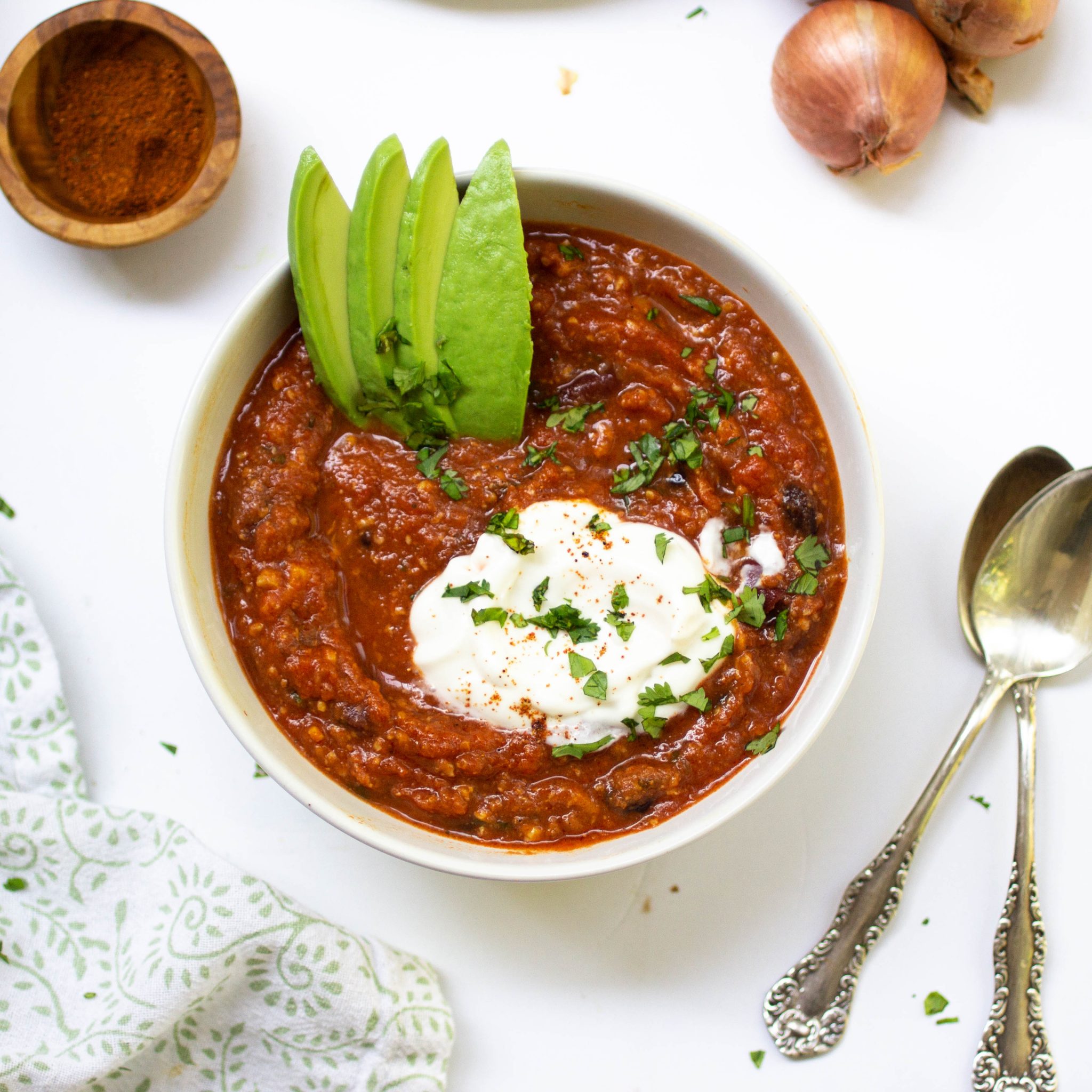 How long will the leftovers last?
4 days in the fridge is just fine, if it's any longer pop it in the freezer.
Can I freeze Tempeh Chili?
YES! It freezes beautifully for up to 3 months. Don't you just LOVE having a deliciously nourishing meal waiting to be pulled from the freezer and warmed up on a crazy busy night!
I hope you love this recipe and find it as deliciously nourishing as I do. Please do leave a comment and rate the recipe:)
Print
Tempeh Chili
Author:
Prep Time:

10 minutes

Cook Time:

40 minutes

Total Time:

50 minutes

Yield:

6

servings

1

x
Category:

dinner

Diet:

Vegan
4–5 tablespoons best quality vegetable stock
1 large yellow onion, peeled and diced
4 cloves garlic, peeled and minced
1, 8oz packet original tempeh,  grated – please see instructions above regarding tempeh!
1 teaspoon freshly ground black pepper
2 tablespoons Chili powder
1 tablespoon Smoked Paprika
2 teaspoons ground cumin
1 teaspoon ground cinnamon
1 tablespoon low sodium tamari
1, 15 oz can black beans, drained and rinsed
1, 15 oz can dark red kidney beans, drained and rinsed
1 green pepper OR jalapeno pepper, diced
1, 26 oz box chopped tomatoes
2 cups best quality vegetable stock
2 bay leaves
2 tablespoons tomato paste
1 tablespoon Date Syrup  (optional)
1 cup frozen or fresh corn
Toppings
Sliced green onions
Vegan sour cream
Tortilla chips
Fresh cilantro
Lime wedges
Instructions
Heat 3-4 tablespoons vegetable stock in a large skillet or Dutch oven, add the diced onions and cook them until translucent, add a little more stock if the pan becomes dry.
Add the garlic and cook for a further 2-3 minutes.
Stir in the tempeh and stir well.
Sprinkle over the black pepper, chili powder, smoked paprika, cumin and cinnamon. Stir well until the tempeh is covered with the spices. You will find it turns a golden brown color.
Pour in the Tamari, stir well, then add the drained and rinsed black and dark red kidney beans. Combine well.
Stir in the green pepper or jalapeno pepper if using. If you like a lot of heat add some or all of the seeds of the jalapeno – adjust to your palette!
Pour in the tomatoes, 1 1/2 cups of the stock, bay leaves, tomato paste and date syrup if using. Stir well.
Bring to the boil, turn down to a simmer and partially cover the pot.
Allow to simmer away for a good 40 minutes, check periodically and stir the chili, if it's looking a little dry add the last 1/2 cup of stock.
When cooked add the corn, it will cook in the heat of the sauce.
Serve immediately or keep in the fridge for up to 4 days.
Top with sliced green onions, fresh cilantro, lime wedges, tortilla chips and a dollop of vegan sour cream.
Keywords: whole food plant based, tempeh, chili,
Don't forget to Pin it for later!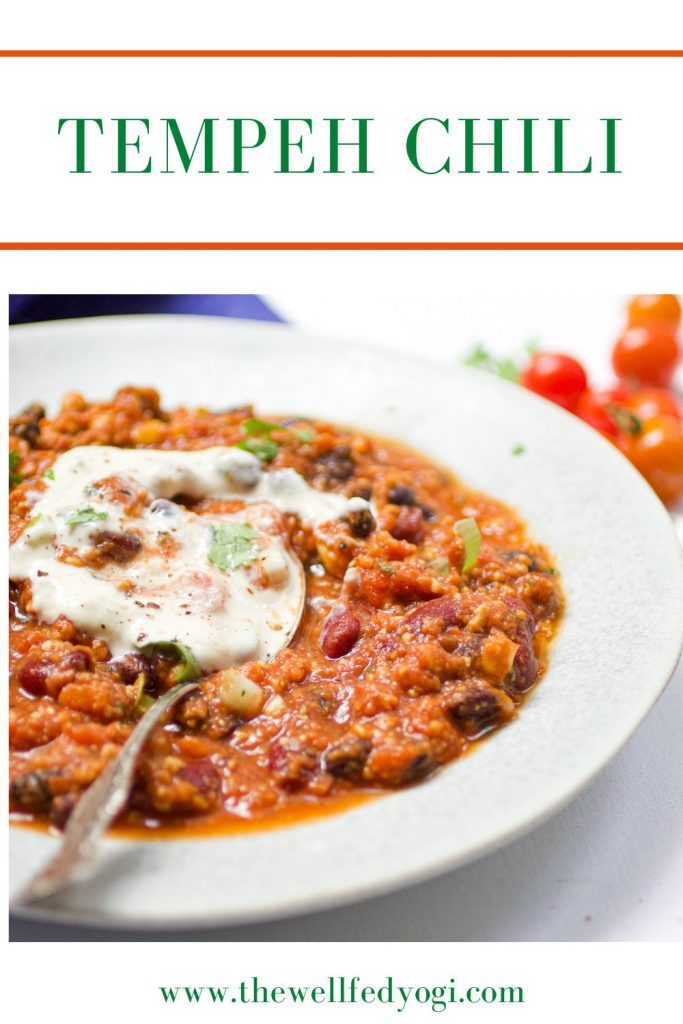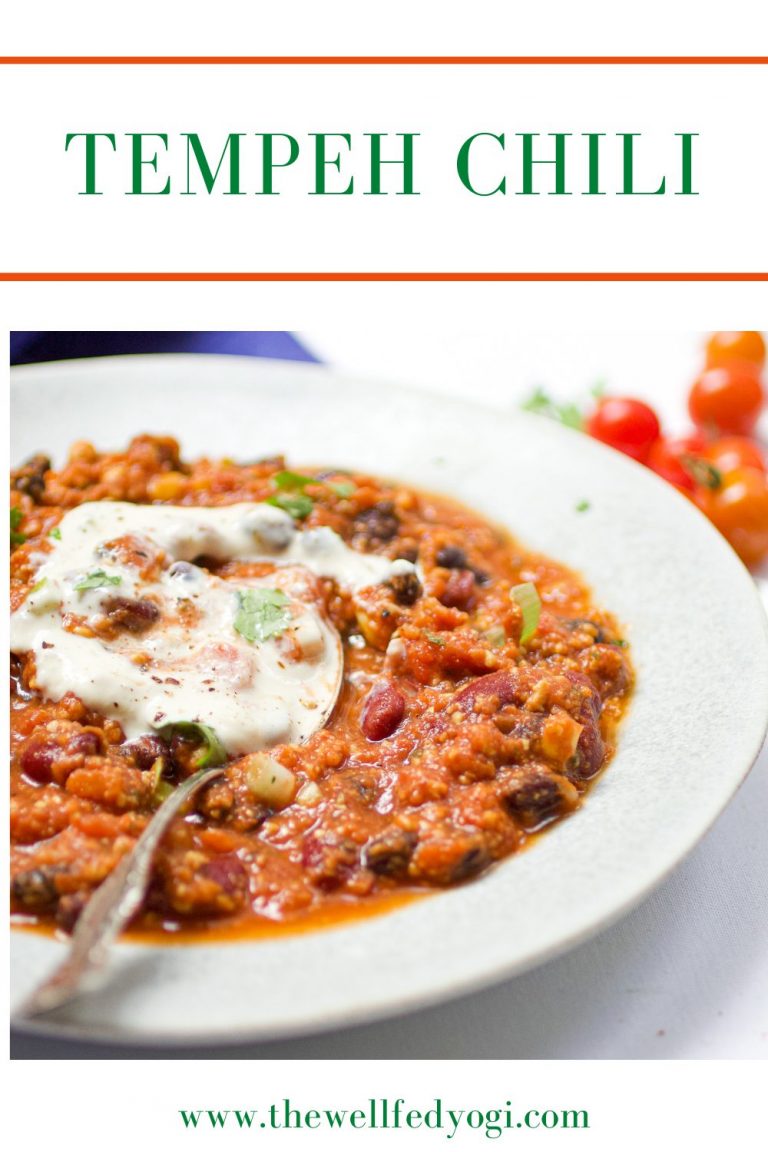 If you've whipped up this Tempeh Chili or any other recipe on The Well Fed Yogi, please do rate the recipe and leave me a comment below, I would love to hear from you! If you snapped some shots of the dish, please do share it with me on Instagram so I can repost on my stories!