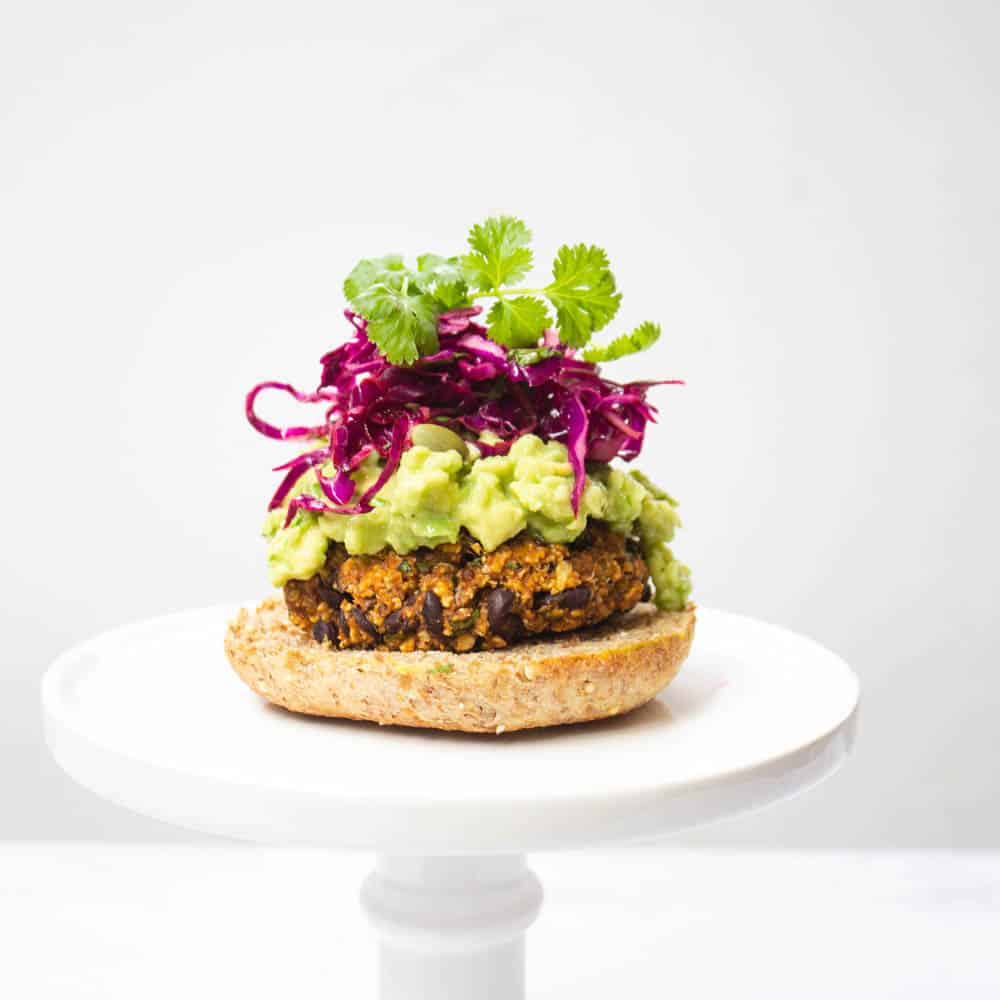 Veggie burgers have come a LONG way, this Sweet Potato and Black Bean Burger can attest to that. Full of flavor and texture, it's "meaty" and satisfying. I cannot take the credit for this creation, I found it in one of my favorite cookbooks, Love Real Food, by Kathryne Taylor.  True, I've added and subtracted a few ingredients but the inspiration is hers alone. These burgers have become a staple in my house:)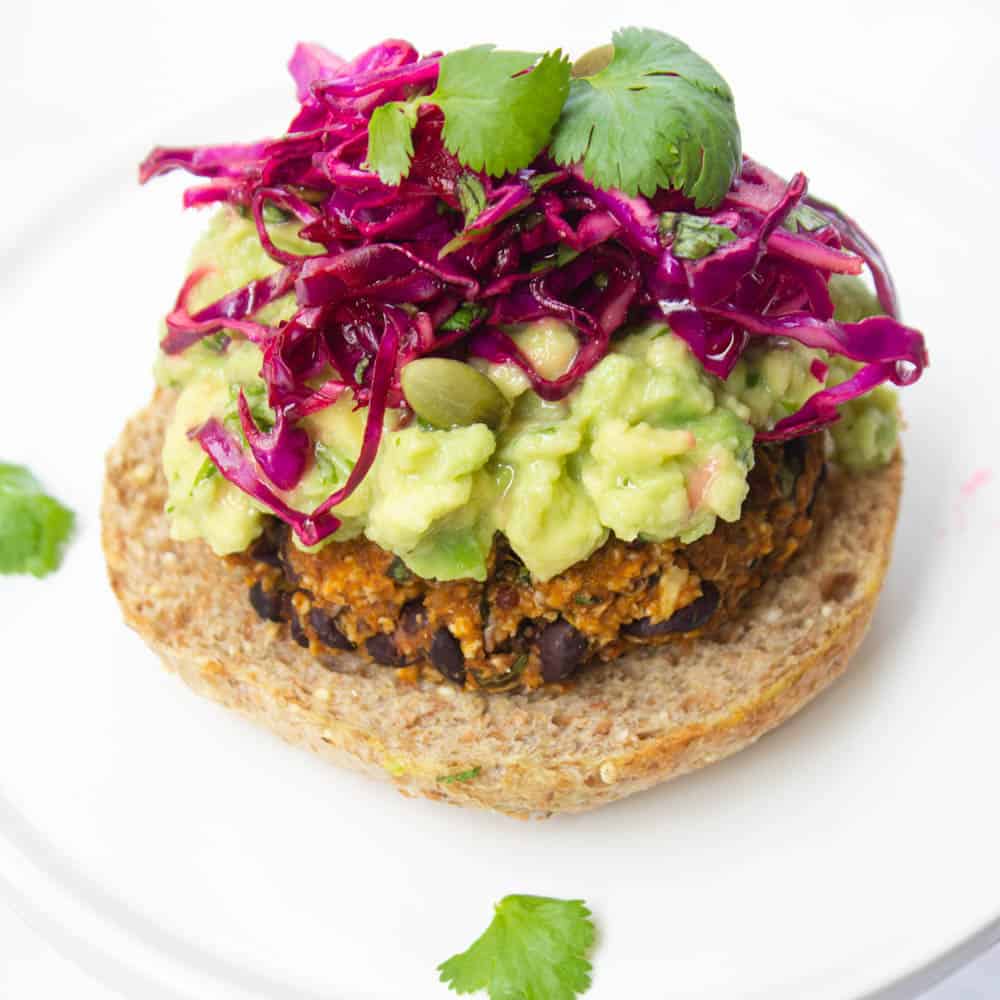 What's in this Sweet Potato and Black Bean Burger?
Toppings for a Sweet Potato and Black Bean Burger?
Any burger needs some exciting toppings and this one is no exception. I've used Kathryne's red cabbage slaw, which is super duper easy to make, and some guacamole with hot sauce – yum! Plus plenty of fresh cilantro, you can never have enough when there's sweet potato and limes in a recipe in my opinion.
The red cabbage slaw is simply a question of slicing the cabbage VERY thinly, no one wants to chew on a thick piece of rubbery cabbage. No problem if you've got a mandoline. Marinate it in lime juice, with a couple of cloves of grated garlic, add a sprinkling of pumpkin seeds, fresh cilantro, and a teaspoon of date syrup, stir it up, and hey presto, you're done. The slaw is also delicious in a veggie bowl, a sandwich, added to a salad, etc.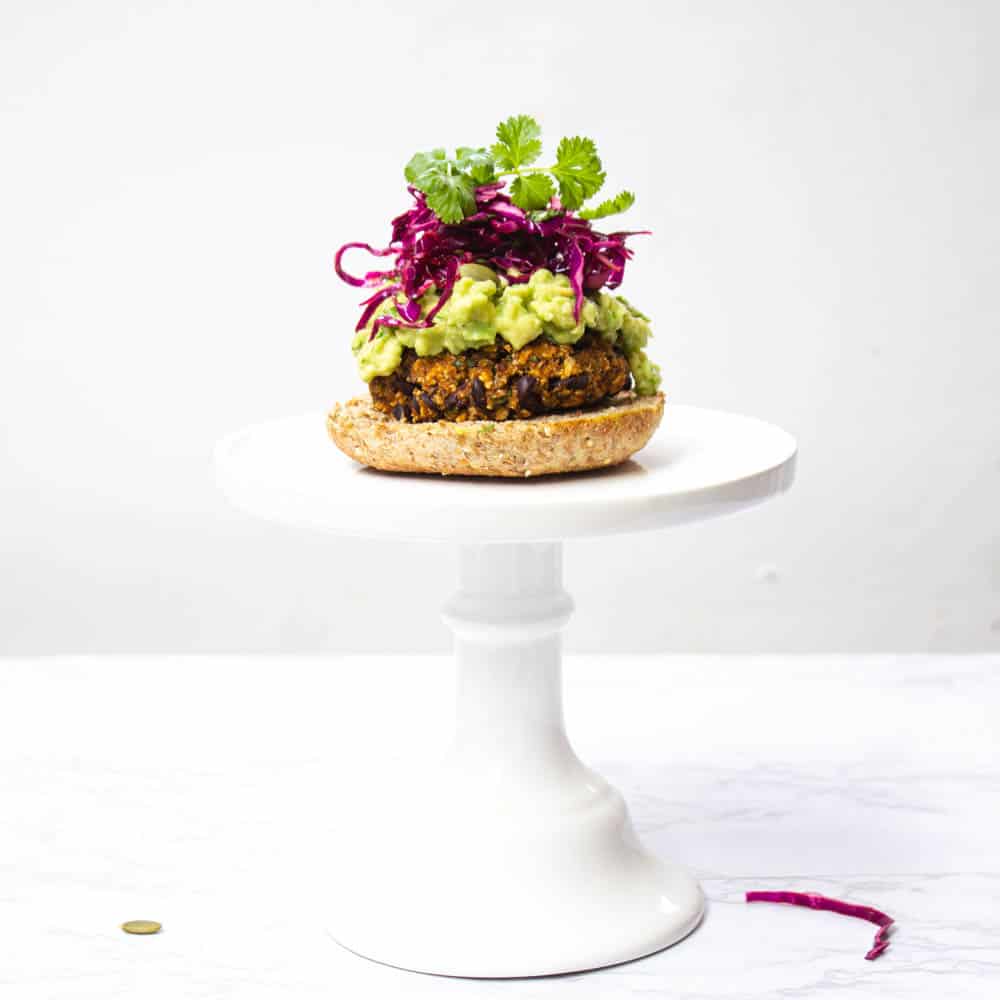 Print
Sweet Potato and Black Bean Burger!
A deliciously satisfying veggie burger.
2 medium sweet potatoes – COOKED
1/2 cup quinoa – COOKED (I find it very convenient to use the Whole Foods frozen ready cooked quinoa for this)
1, 15 oz can black bean
1/2 cup red onion, diced
1/3 cup chopped cilantro
2 cloves garlic, minced or grated
Juice and zest of a lime
1 teaspoon paprika
1/2 teaspoon red pepper flakes
2 teaspoon ground cumin
1 teaspoon ground chili powder
1 teaspoon Dijon mustard (optional)
1 cup cooking old fashioned cooking oats – use a blender to blitz, leave a little texture, you don't want it like flour.
Red Cabbage Slaw
1/3 cup pumpkin seeds
4 Red cabbage, very finely sliced
1/3 cup fresh cilantro
1 clove garlic
Zest and juice of 2 limes
1 teaspoon date syrup
Instructions
Preheat the oven to 400F and line a baking sheet with parchment paper.
In a large bowl combine together the cooked sweet potato flesh (no skin), quinoa, black beans, onion, cilantro, garlic, paprika, red pepper flakes, cumin, mustard if using, lime zest and juice, and chili powder.

Mash well together with a potato masher, then sprinkle over the blitzed oats. Stir to combine until the mixture holds together when you shape into a patty.

The mixture makes approximately 8 patties. Use your hands to smooth and flatten out any rough edges. Place them on a baking sheet lined with parchment paper, leaving a few inches of space around each patty.

Bake for 15 minutes, carefully flip and then bake for a further 15 minutes.

While the burgers are cooking, prepare the slaw. Toast the pumpkin seeds in a small skillet, stirring often until the seeds are just turning color on the edges. In a bowl combine the cabbage, lime juice, cilantro, garlic, date syrup, and pumpkin seeds. Toss well, then set aside and allow to marinate.
I hope you love these burgers! If you whip them up let me know how it worked out for you, share a picture on Instagram and I'll repost it on my stories. Please do leave a comment and rate the recipe!! 
Looking for another burger? Try this one;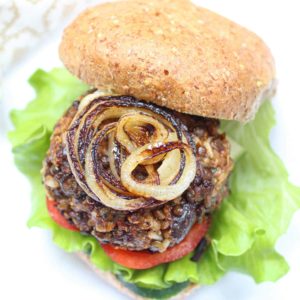 As an Amazon Associate, I earn from qualifying purchases, as such I get commissions for purchases made through links in this post.