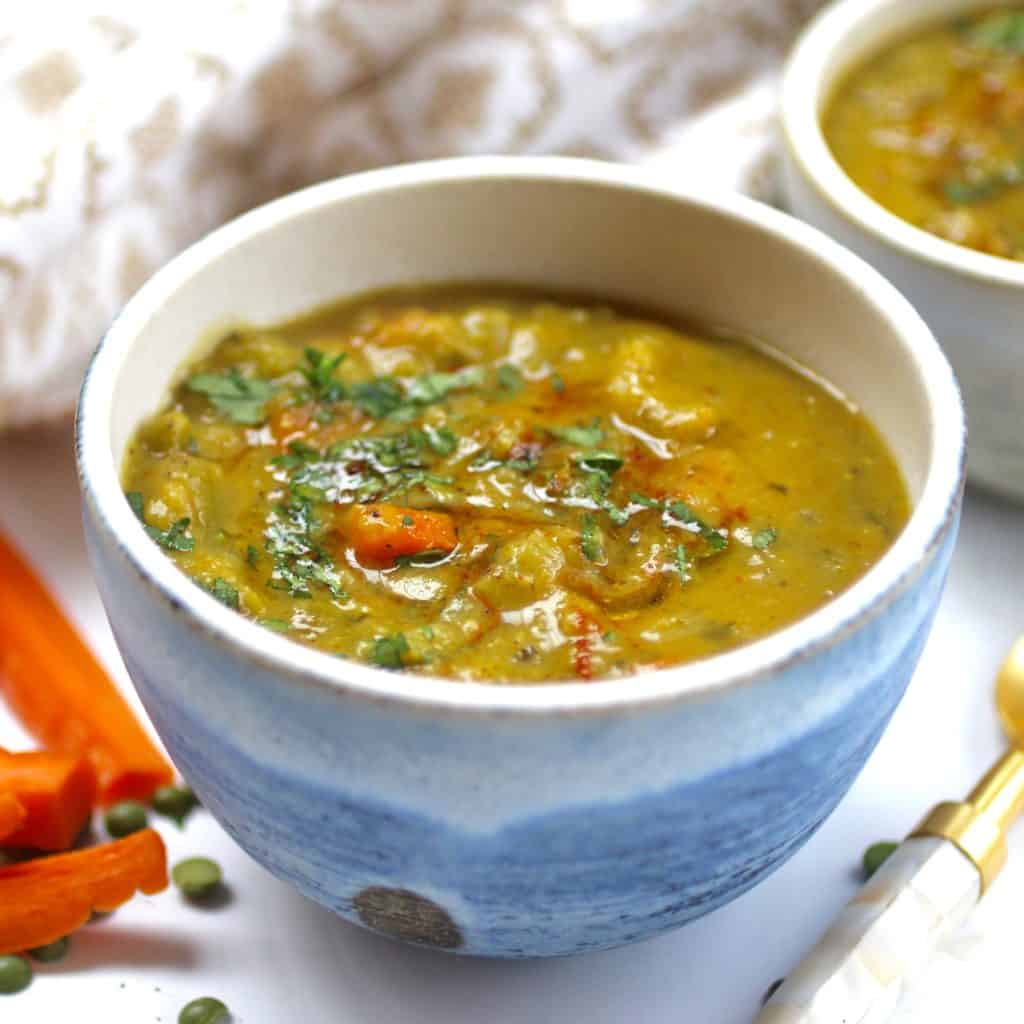 This glorious soup was my first official Vegan lunch of the year and it was a winner! Let me tell you I did not miss the ham, but instead added some smoked paprika which gave it a sort of meaty taste except without any fat and cholesterol:) Split peas are loaded with fiber (I used an organic Whole Foods 365 brand costing $2.99 for 16 oz) the daily value of fiber was 48% per 1/4 cup. Wow! Next time I'm going to make a double batch, it tasted soooooo good I could eat this soup endlessly. Really.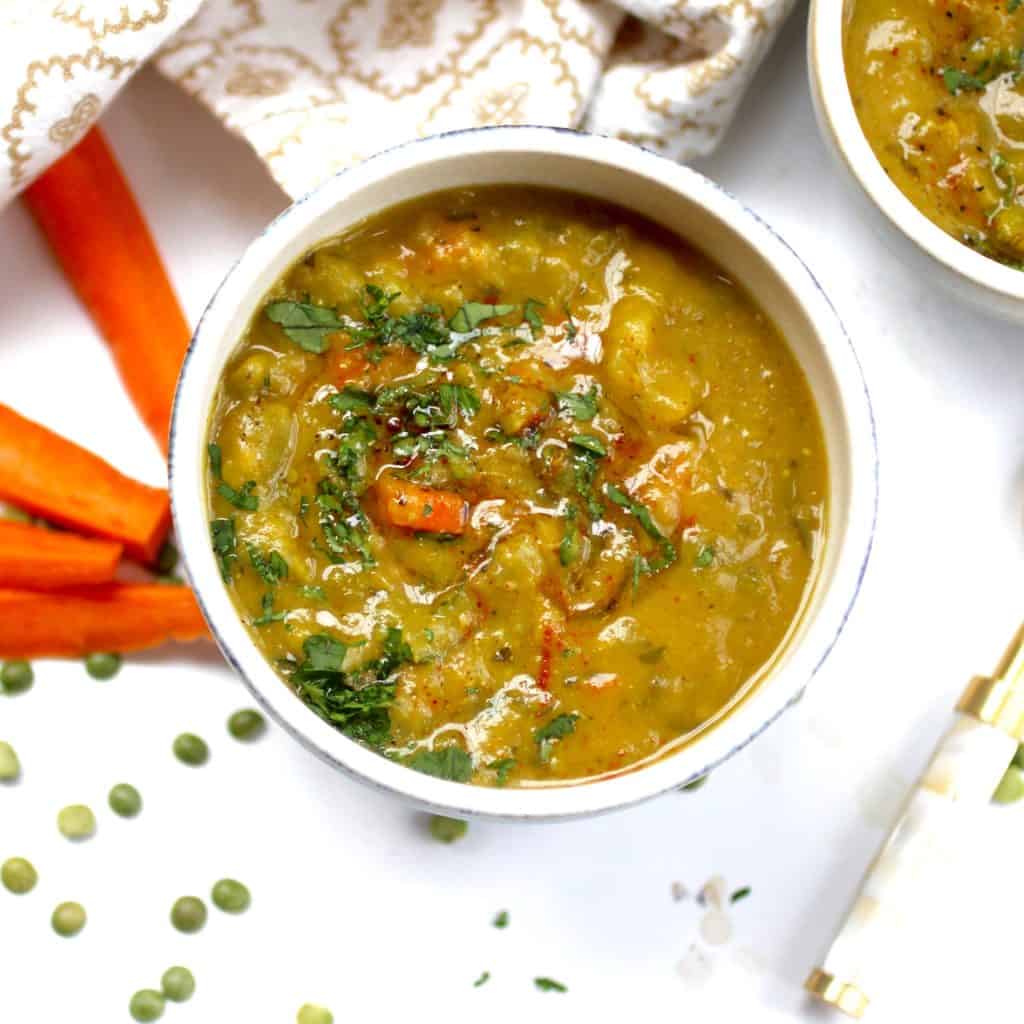 I think there were two secrets to its success. First the seasonings, I didn't shy away from using quite a few spices, secondly pureeing only a quarter of the soup produced some "meatiness" from the chunky vegetables and "al dente" split peas. It was satisfying, in flavor and texture.
As I've said before I'm thrilled to be on this Vegan adventure but for it to last it has to taste wonderful and look gorgeous. Perhaps I'm shallow but eating something just because it's "good for me" won't last. I need taste and looks, this soup delivered in both departments.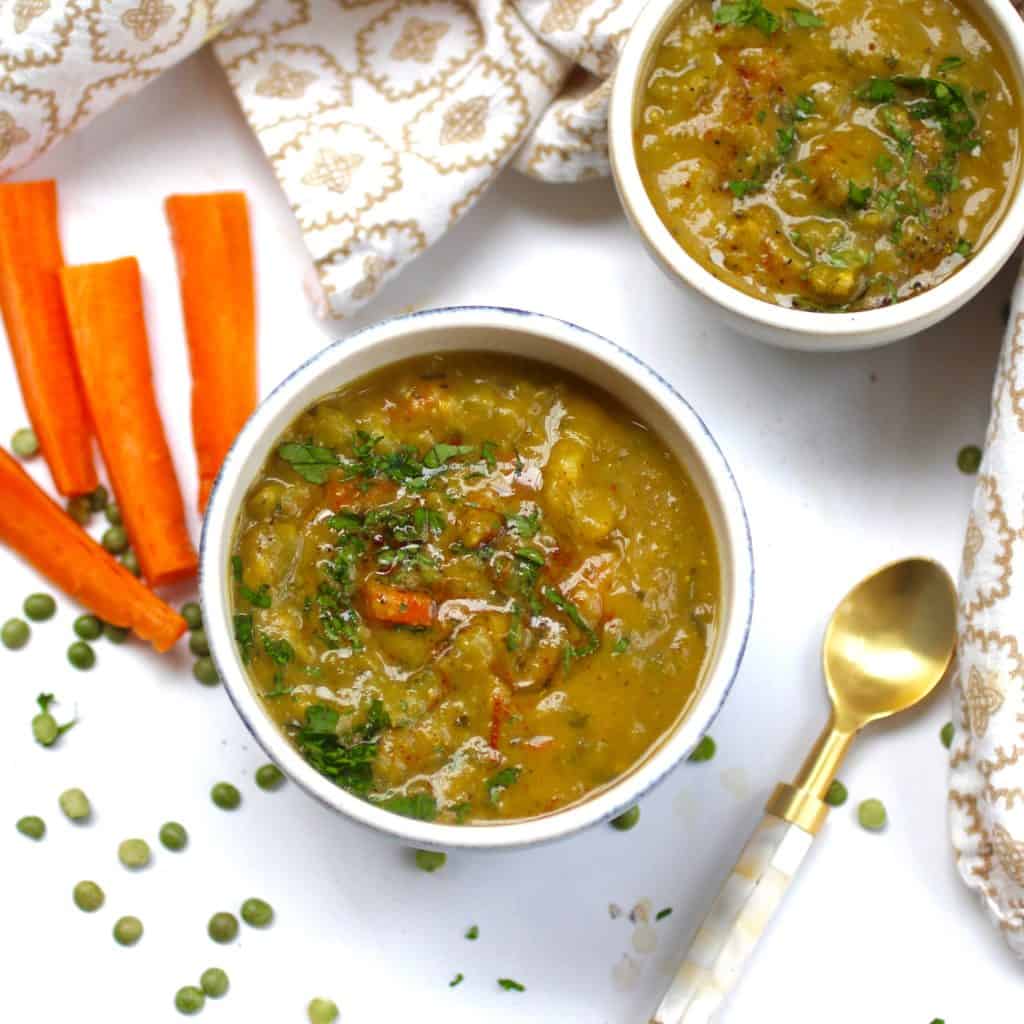 Print
Split Pea Soup
3–4 tablespoons vegetables stock
1 large onion, peeled and diced
3–4 sticks of celery, diced
3 carrots, peeled and diced
1 medium potato, skin on, diced
1 handful of fresh parsley, finely chopped
1 1/2 cups organic split peas
1 teaspoon freshly ground black pepper
1 1/2 teaspoons ground cumin
1 teaspoon turmeric
1 teaspoon smoked paprika
1 teaspoon Zatar (optional)
1 teaspoon Herbes de Provence
4 – 5 cups organic vegetable broth
2 bay leaves
Juice of 1/2 lemon – more to taste
Instructions
Heat 3-4 tablespoons vegetable stock in a heavy bottomed saucepan, when warm add the diced onions, cook on medium to low heat for approximately 10 minutes or until just turning golden. Keep an eye on them and stir from time to time.
Add the celery, carrots, potato and parsley to the pan, cook for a further 5 minutes.
Add the split peas, black pepper, cumin, turmeric, smoked paprika, Zatar if using, and Herbes de Provence. Stir well, sniff the aroma, it will smell magical!
Add the broth and bay leaves, bring to a boil, turn down to a simmer and partially cover the pot with a lid. Allow to slowly simmer for 45-50 minutes, until the veggies and split peas are cooked. You want a little "bite" to the split peas, don't allow them to become completely mushy.
Remove from heat, remove about 1/4 of the soup and puree it, then add it back to the main soup and stir well. Add a little more black pepper and the juice of half a lemon, taste and add more lemon juice and pepper if desired.
As I mentioned, next time  I cook this I'm making a double (or triple batch). Split pea soup freezes well and what a treat it would be to come home to this after a busy day needing a little bit of Vegan comfort food. It's like a great big hug in a bowl.