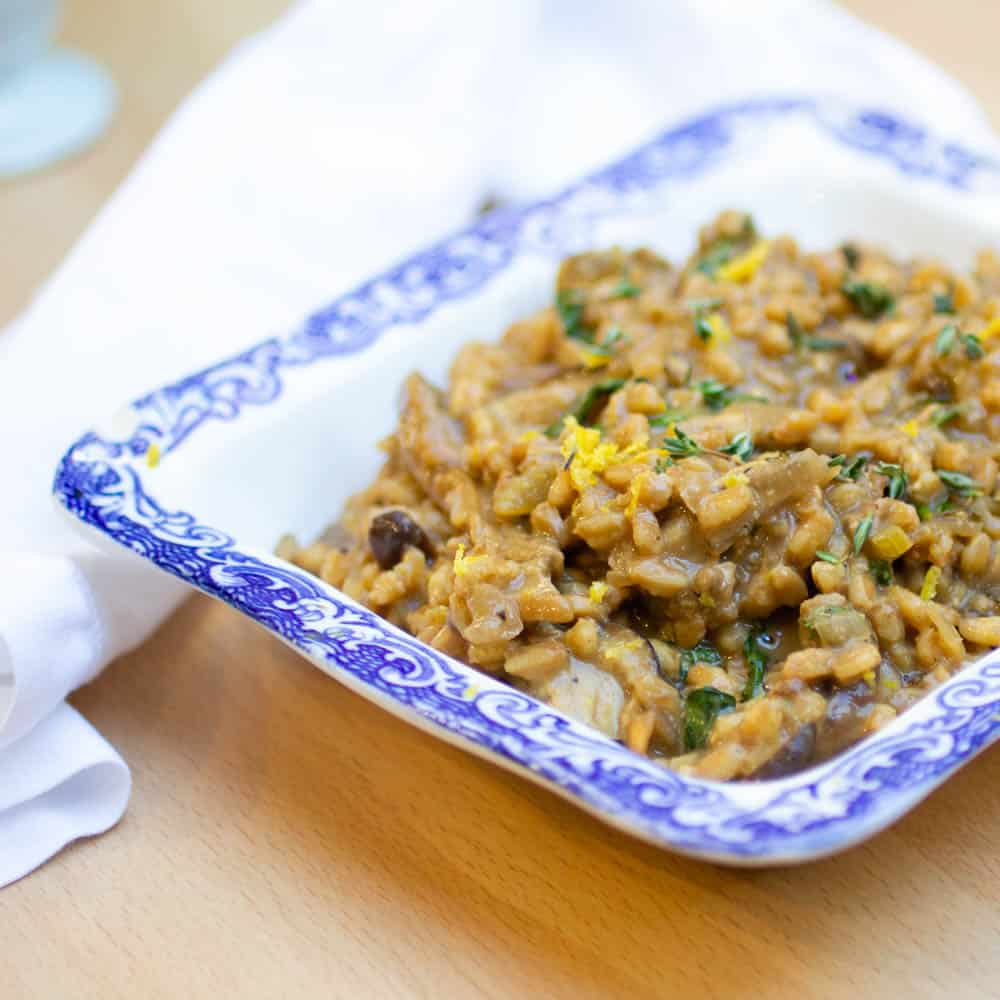 What is a more comforting Fall dish than Mushroom Risotto? This one is decadently "creamy" and bursting with flavor from the layers of mushrooms, cashew cream, Tamari, herbs, and citrus. Serve this to vegans and carnivores alike and they will be licking their bowls clean!
I think people can be intimidated by the word "risotto" but really it's just a question of stirring stock into a grain. It couldn't be easier, and contrary to belief it doesn't take long to cook, 30 minutes tops!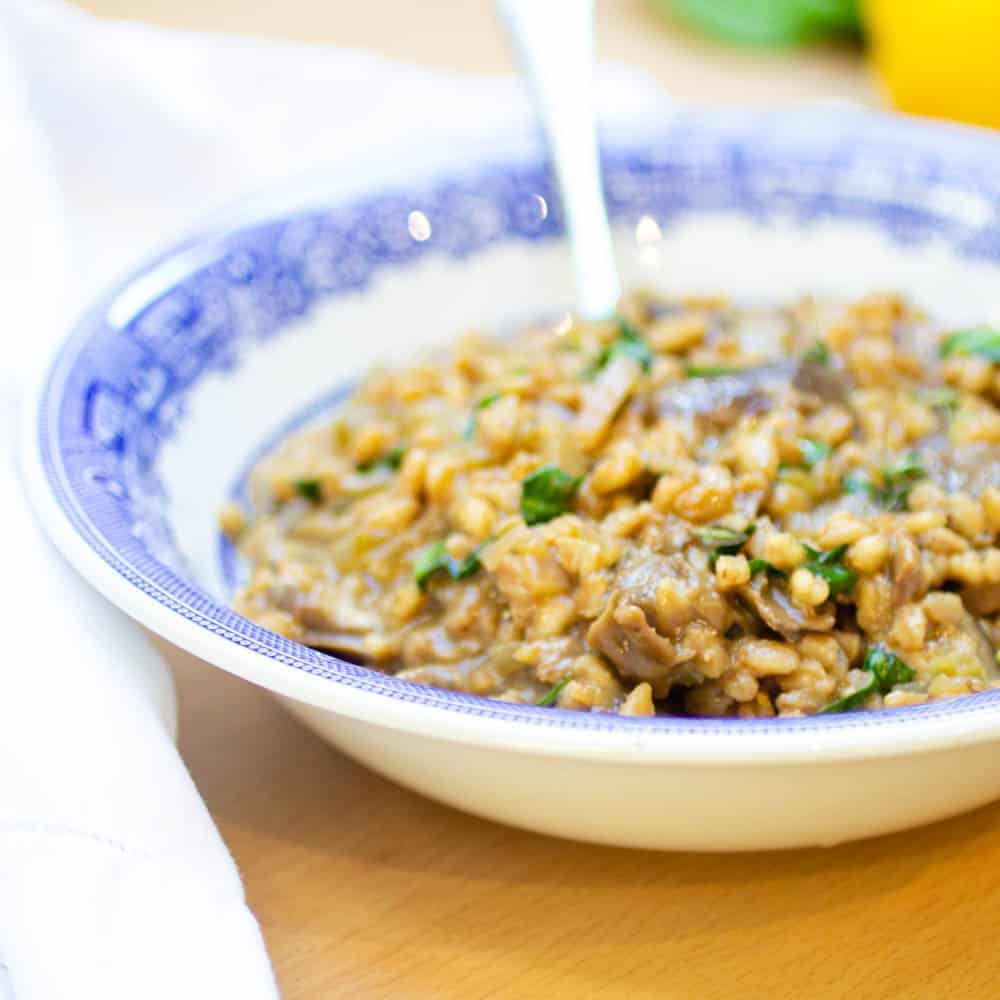 What grain can I use for Mushroom Risotto?
I've used Farro in this recipe as it's chewy and satisfying. It's also stellar on the nutrition front, being higher in protein and fiber than brown rice. You could however use:
brown rice
quinoa
farro
barley
Using a different grain will result in VERY different cooking times. You will also need to adjust the amount of stock. Quinoa for example needs less, barley a little more.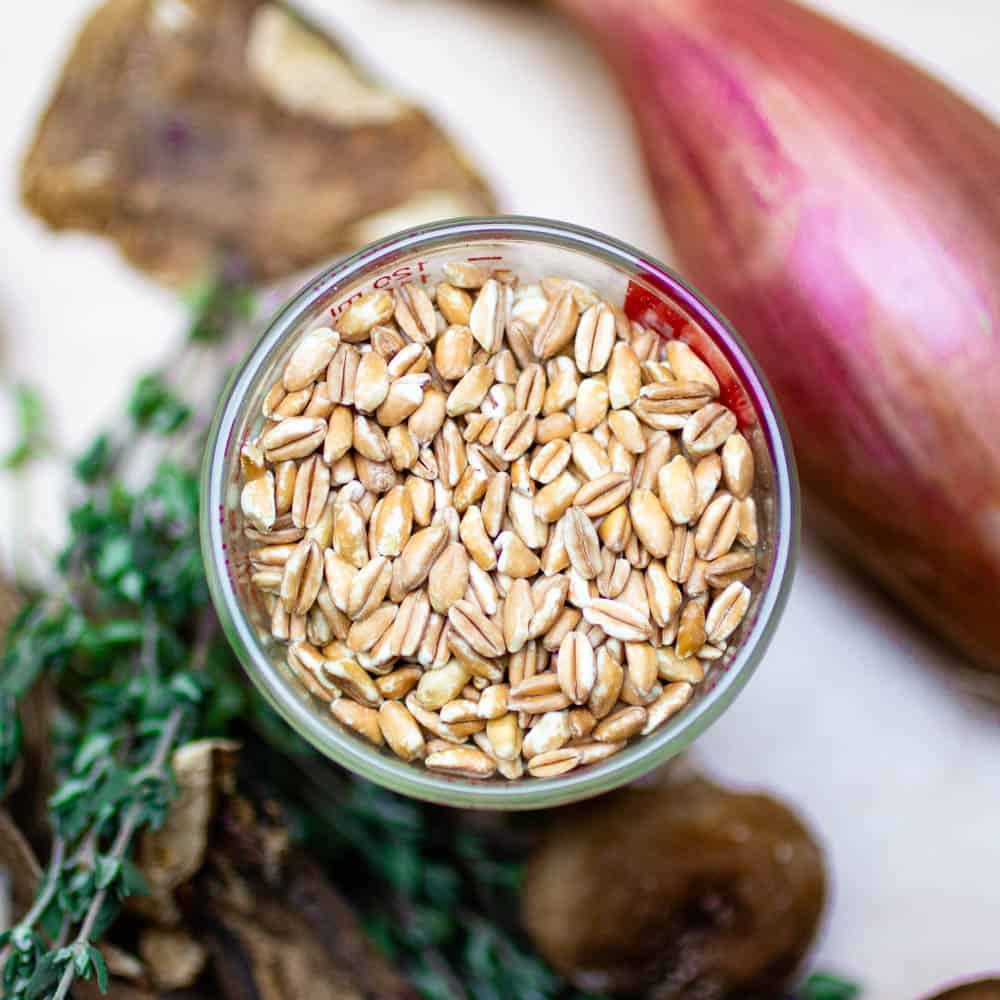 What type of mushrooms?
I like to use at least 2 different types of mushrooms AND incorporate some dried ones. Dried Porcini are delicious and produce a fantastic soaking liquid which adds to the depth of flavor when used as stock. This is a wonderful opportunity to use more exotic varieties than the standard white button mushroom.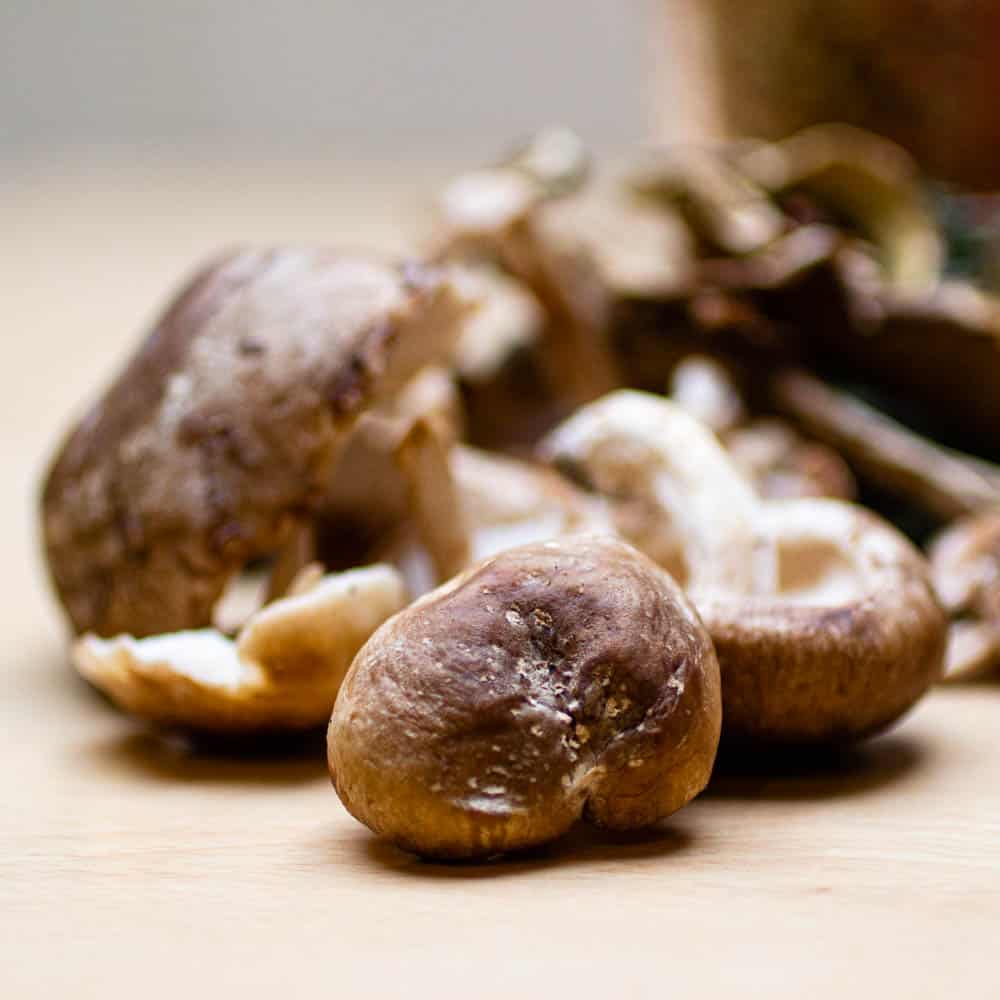 Other ingredients for Mushroom Risotto:
White Wine: A dry white wine really imparts a lovely flavor. However if you don't drink or just don't want to buy a bottle of wine, please don't worry, using the dried mushroom stock and a really good veggie stock will work beautifully.
Low-Sodium Vegetable Broth: The best veggie stock is homemade. If that's not an option, store-bought is fine, just check the sodium levels on the nutrition label as sometimes they can be very high.
Shallots and Leeks: There's something about a combination of shallots, leeks, and mushrooms that work deliciously well together.
Cashew Cream: This is responsible for the deeply delicious "creaminess" of the dish. I always try to have a batch of cashew cream on hand in the fridge.
Other flavor boosters: Dijon mustard, fresh thyme, lemon zest and juice, Tamari. When cooking without added salt, oil, and sugar, it's so important to layer the flavors for a really satisfying dish. These boosters help do the job!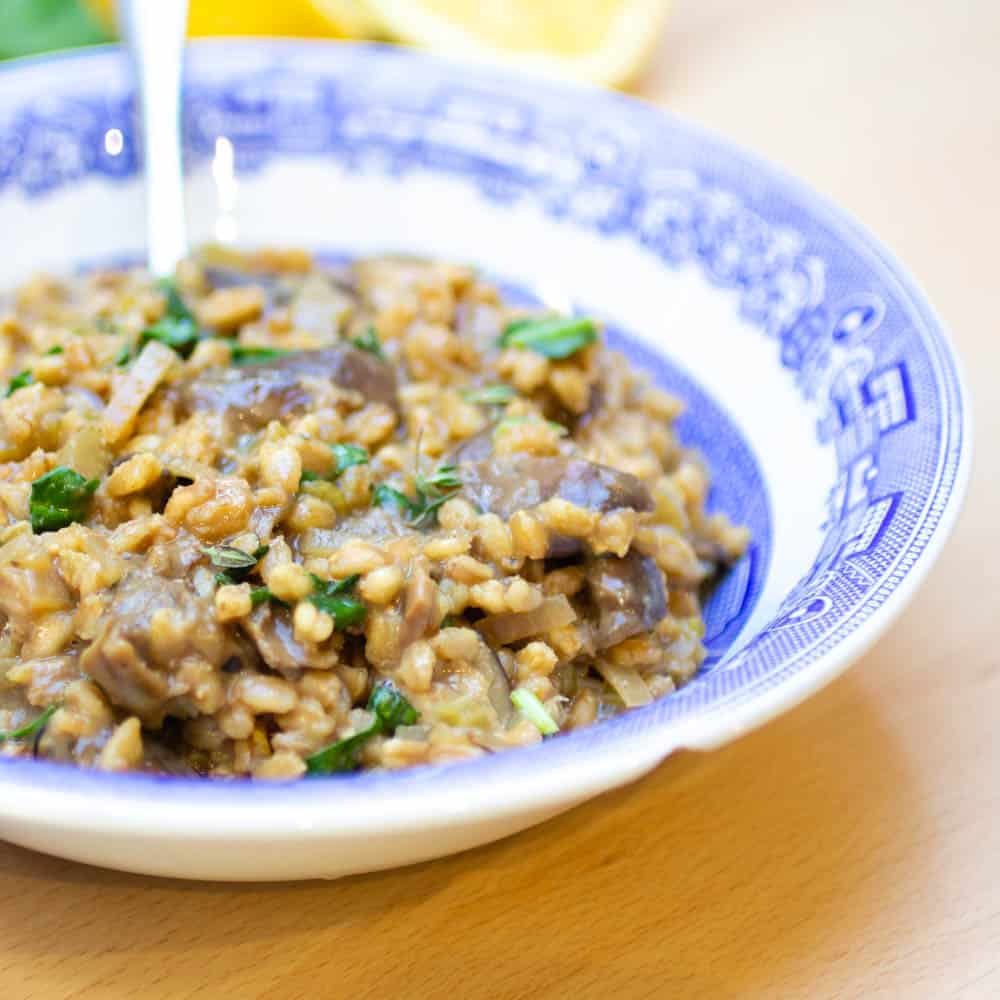 This lovely mushroom risotto is:
Creamy
Comforting
Deeply flavorful
Deliciously savory
Easy peasy to make!
Other questions!
1. How do you clean and prepare mushrooms?
Very simply wipe them with a slightly damp paper towel. The reason we don't wash them is they'll soak up the water, then they'll be mushy.
2. How long will it keep in the fridge?
The risotto will happily sit in the fridge for up to 4 days. You can gently reheat it in a pan adding a little extra stock to loosen it up if necessary.
3. What type of wine?
I would suggest a nice dry Sauvignon Blanc or Chablis.
4. What equipment do I need to make risotto?
A nice large heavy pan, braiser, or Dutch oven is perfect.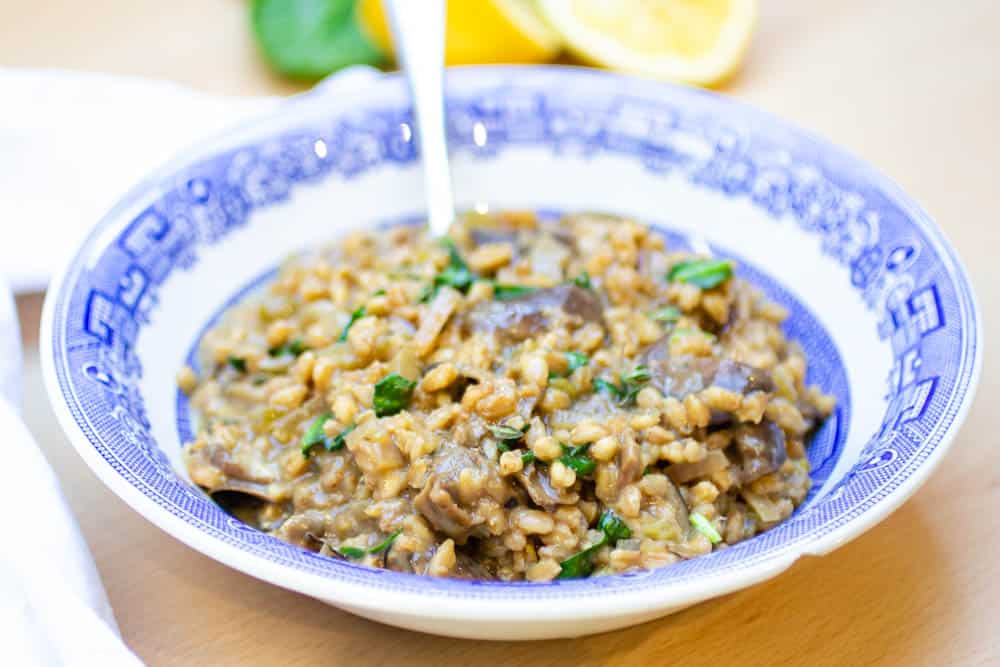 Looking for other delicious Fall dishes? Try these!
I hope you love this Mushroom Risotto! If you do make it, please take a picture and share it on Instagram and I'll repost it on my stories. I'd love to hear from you, please leave a comment and rate the recipe! Thanks so much and happy cooking:)
Print
Mushroom Risotto
Author:
Prep Time:

40 minutes

Total Time:

40 minutes

Yield:

4

servings

1

x
Category:

main

Method:

stove top

Cuisine:

Italian

Diet:

Vegan
1/4 – 1/2 cup good-quality vegetable stock
2 shallots finely sliced
6 cloves of garlic, minced
2 small-medium leeks, thoroughly washed finely chopped
1 1/2 teaspoons Herbs de Provence
1 teaspoon black pepper
3 sprigs of fresh thyme (more for garnish)
Dried mushrooms (porcini, shiitake, chanterelle etc) soaked RETAIN THEIR SOAKING WATER FOR STOCK
2 packets mixed mushrooms (or your favorite) sliced
1 teaspoon fresh thyme leaves
1 cup dry white wine
1 1/4 cups farro
2–3 cups good quality low sodium vegetable broth
2 – 3 tablespoons Cashew Cream
1 tablespoon low sodium Tamari
2–3 tablespoons of Nutritional Yeast (optional)
1/2 teaspoon Dijon mustard (optional)
Juice and zest of a lemon
1 cup frozen garden peas OR baby spinach OR baby kale
Finish with lemon zest, black pepper, and fresh thyme – lemon slices
Instructions
In a medium bowl soak the dried mushrooms in boiling water. Set aside.
In a large pan heat 1/4 cup vegetable stock, add the shallots and cook on medium heat until softened, you may need to add a little more stock if the pan becomes dry. Add the garlic, leeks, Herbes de Provence, black pepper, and thyme. Stir well and cook for about 2-3 minutes more.
Drain the soaking mushrooms PLEASE RETAIN THE SOAKING WATER FOR  THE STOCK! Coarsely chop the soaked mushrooms. Add to the pan along with the sliced fresh mushrooms, sprinkle over a little more fresh thyme.
Add the farro, stir well to combine.
Pour over 1 cup dry white wine, let it bubble away for a moment or two,
Start adding the mushroom and vegetable stock about 1/2 a cup at a time. Stir well and allow it to be absorbed before adding more. Continue until all the stock is used up.
 By now the grain should be tender, if not continue adding stock, stirring, and cooking until you reach the desired consistency.
Add 2-3 tablespoons of the cashew cream, taste after each addition to determine if you need more.
Stir in the Tamari, Dijon mustard and Nutritional Yeast if using
Taste again. Add the juice and zest of a lemon and sprinkle over more fresh thyme leaves and black pepper if desired.
Serve!
Keywords: Mushroom Risotto
Pin it for later!