Thank Heaven for one pot, deliciously satisfying, stick to your ribs, comfort food like this Three Bean Vegan Chili.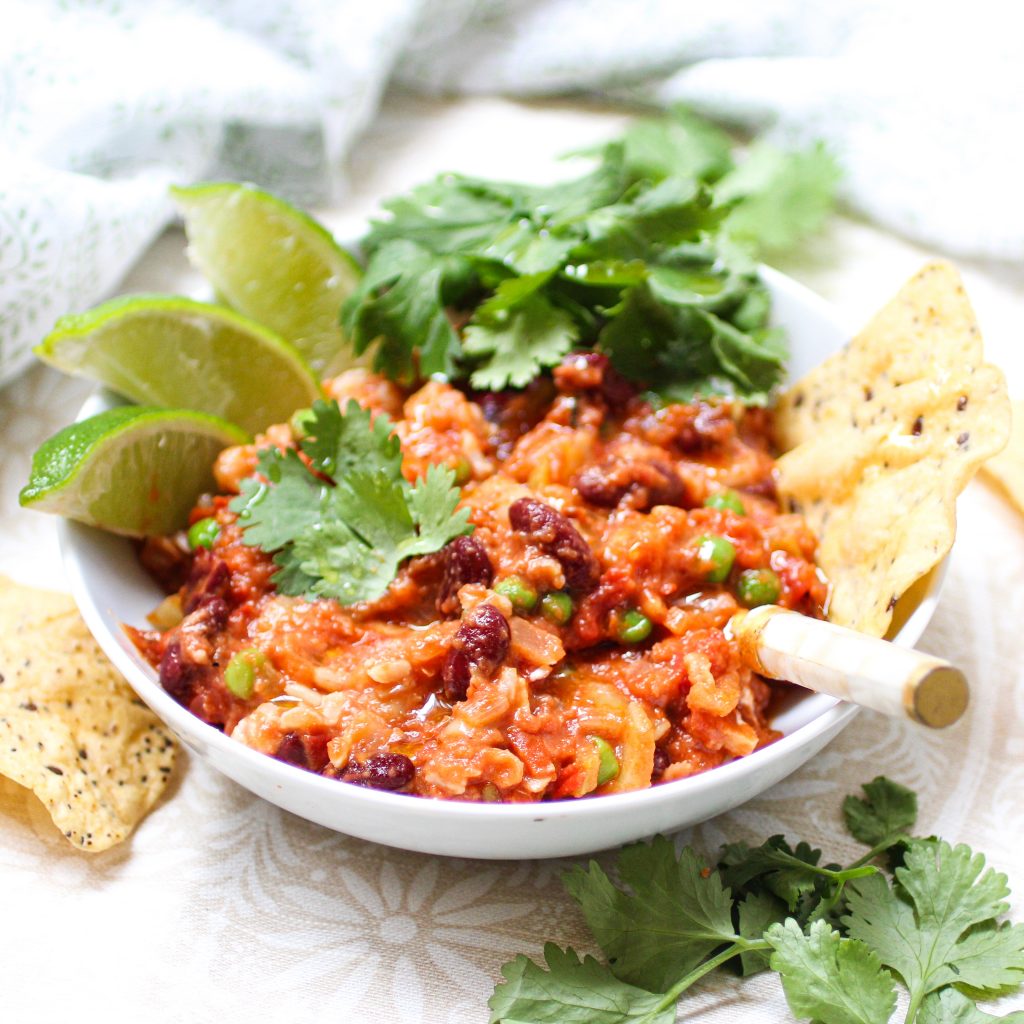 This Chili the quintessential crowd pleaser that can be stretched a long way when accompanied by rice and various toppings such as vegan sour cream, shredded "cheese" and tortilla chips. Even a hardcore carnivore isn't  going to mind or frankly notice this is vegan as there's so much flavor, heat and "meatiness" from the beans. This has become a staple in my kitchen and I hope it will be in yours.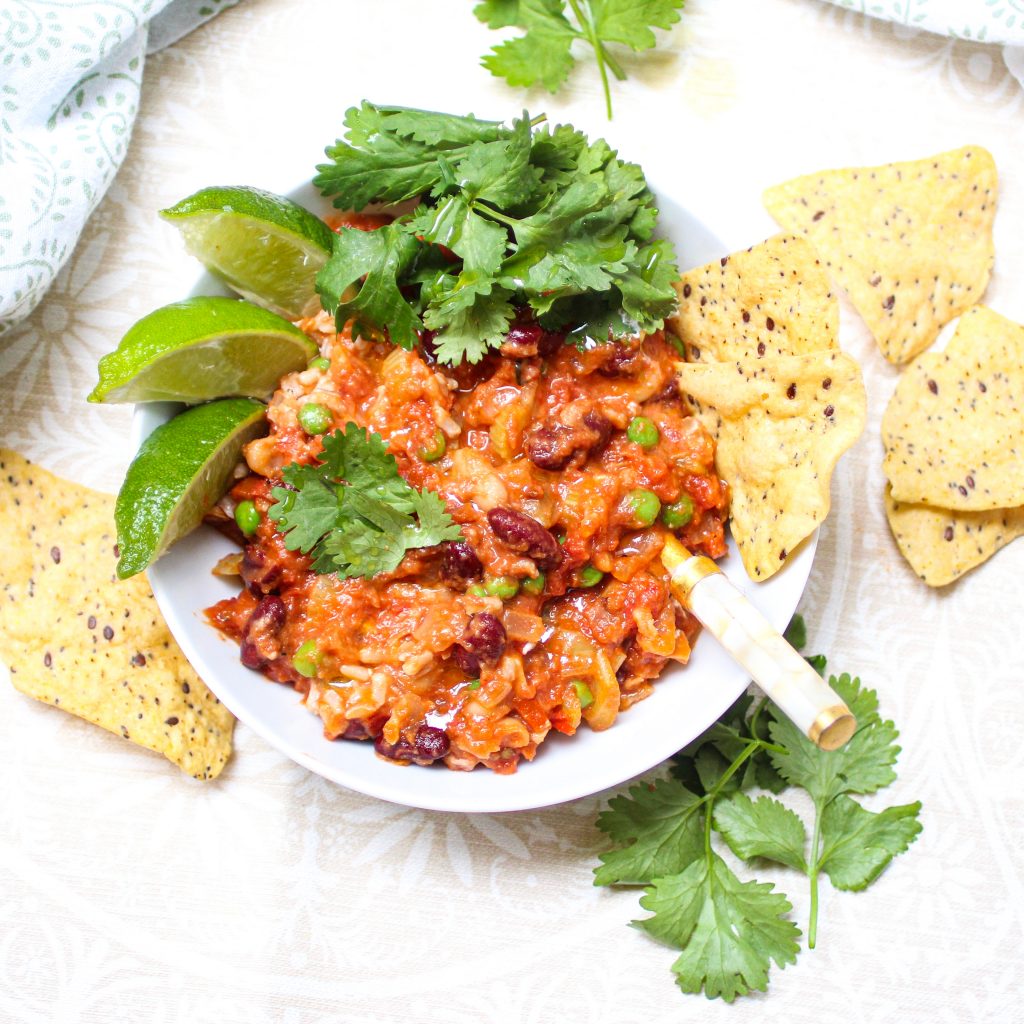 5 Reasons to Love Three Bean Chili
This dish is hugely amenable and super easy to whip up, it practically cooks itself and is ready for the table in about 45 minutes from start to finish.
It's one of those wonderful "cupboard staples" recipes, if you've got a half way decent pantry you'll probably have all you need.
There's plenty of leeway with this, if you don't have three types of beans just use two or even one. You don't have ground coriander or cumin? use smoked paprika. Don't like cilantro? use parsley – you get the idea.
It gets better with time. You can make this a day or two in advance and leave it sitting happily in the fridge, the flavors deepen and everything just gets better.
It's a protein filled dish with all the beans. Isn't it fantastic that you just don't need the meat to fill your protein quota with a dish like this!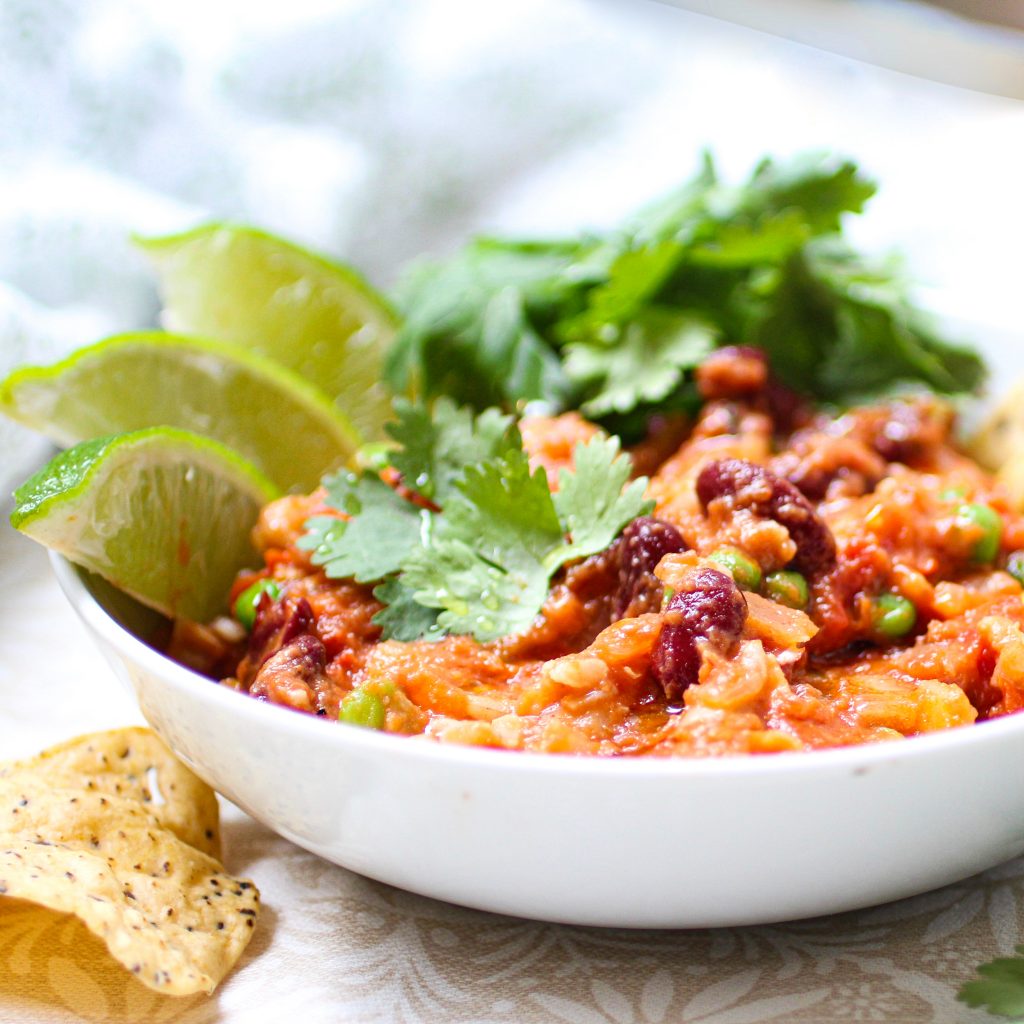 Spice up your Chili
The layers of flavor is everything in this dish, it takes it from blah to wow. Heat is important in a chili of course, and you can go has hot as you like or tone it down for more sensitive tastebuds. I've found adding cumin, coriander and surprisingly, a little cinnamon can add a depth and complexity of flavor that's both comforting and satisfying. Adding lime juice at the end of the cooking process adds some liveliness and lifts the whole dish. I've also used cilantro which I'm told is a love it or hate it herb, if you happen to hate it use parsley!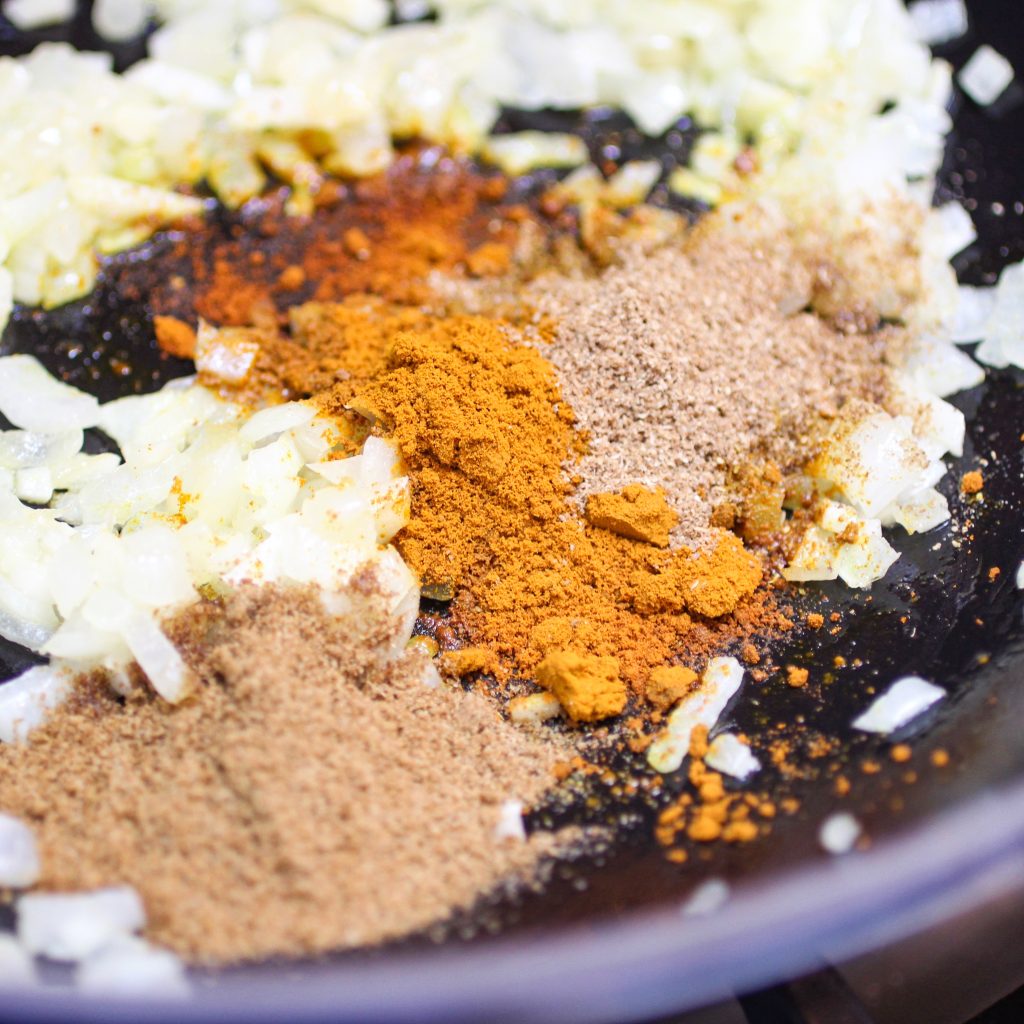 What about the toppings?
Why not try:
Tofu sour cream
Chopped tomatoes
Chunks of avocado
Salsa
Shredded lettuce and sliced green onions
Guacamole
Lemon wedges
Tortilla chips
More fresh cilantro or parsley
Print
Delicious Three Bean Vegan Chili
3–4 tablespoons vegetable broth
1 onion, diced
2 ribs celery, diced
1 jalapeno pepper, diced
3 cloves garlic, minced
1 green pepper, diced
1 red pepper, diced
1 tablespoon chili powder
2 teaspoons cumin
1 teaspoon coriander
1/2 teaspoon cinnamon
Kosher salt and freshly ground black pepper
15 oz can of cannellini beans, drained and rinsed
15 oz can of dark kidney beans, drained and rinsed
15 oz can red kidney beans, drained and rinsed
1, 28 oz can of crushed tomatoes (fire roasted if you like heat and can find them)
1 cup vegetable stock
1 cup frozen peas
1 lime
Fresh cilantro, more lime wedges and tortilla chips if desired.
Instructions
Heat the vegetable stock in a Dutch oven or stock pot, when hot add the onions, stir well and cook for about 5-7 minutes until translucent.
Add the diced celery, jalapeno pepper, garlic, green and red peppers. Stir well and saute for a further 5 minutes.
Add the chili powder, cumin, cinnamon, coriander, salt and black pepper, stir well and cook for 1-2 minutes.
Add the beans and tomatoes, stir well, then add the stock. Combine well.
Bring to the boil, turn down to a simmer and partially cover the pot. Cook on a simmer for about 25-30 minutes. At this point add the frozen peas, they will cook quickly in the heat of the chili. Squeeze the juice of a lime into the chili and stir to combine.
If the chili looks a little dry or thick add a couple more tablespoons of stock, if it's too sloshy thicken it up by using a potato masher to mash it up a little until the texture is just how you like it.
Serve with lime wedges, tortilla chips and fresh cilantro sprinkled over the top if desired.
Looking for more vegan comfort food to nourish and restore?
Sweet Potato and Chickpea Curry
Potato, Fennel and Tomato Stew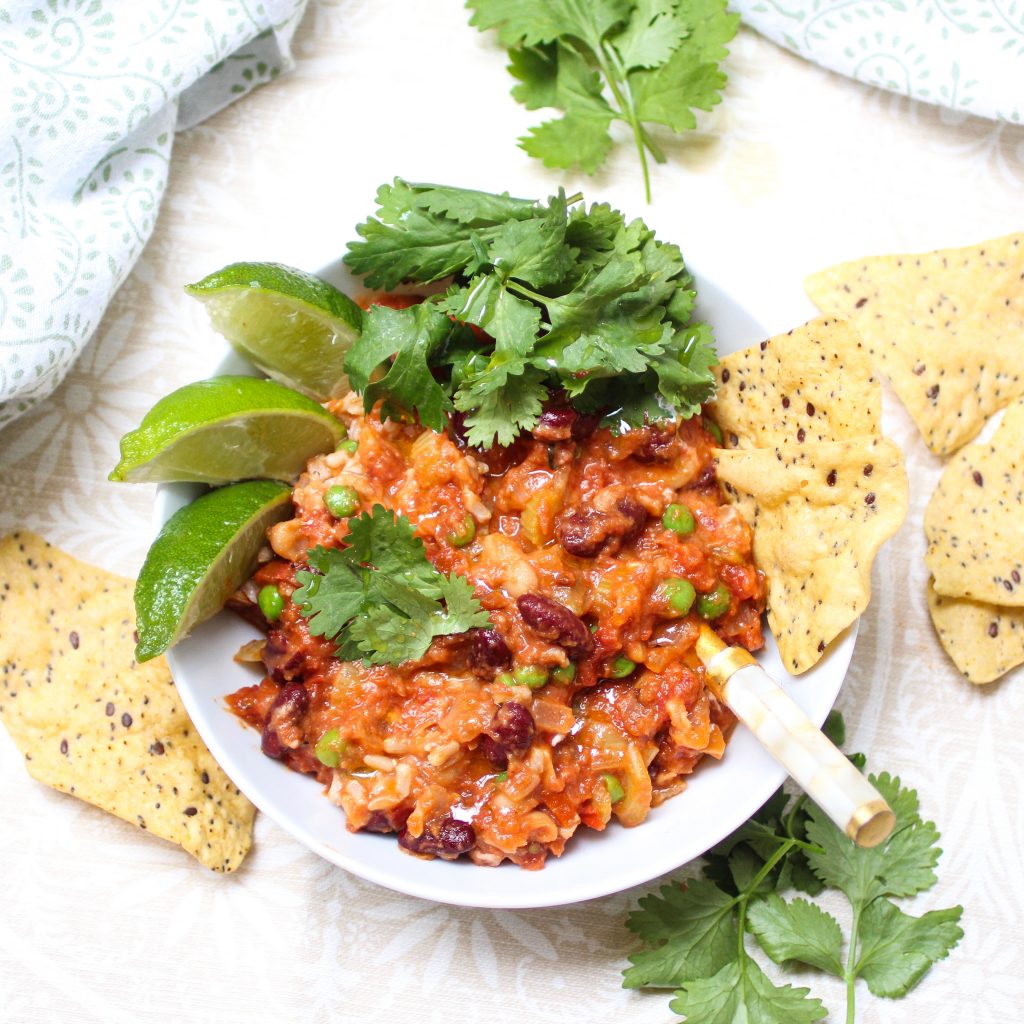 Did you make this recipe?
Don't forget to Pin it!