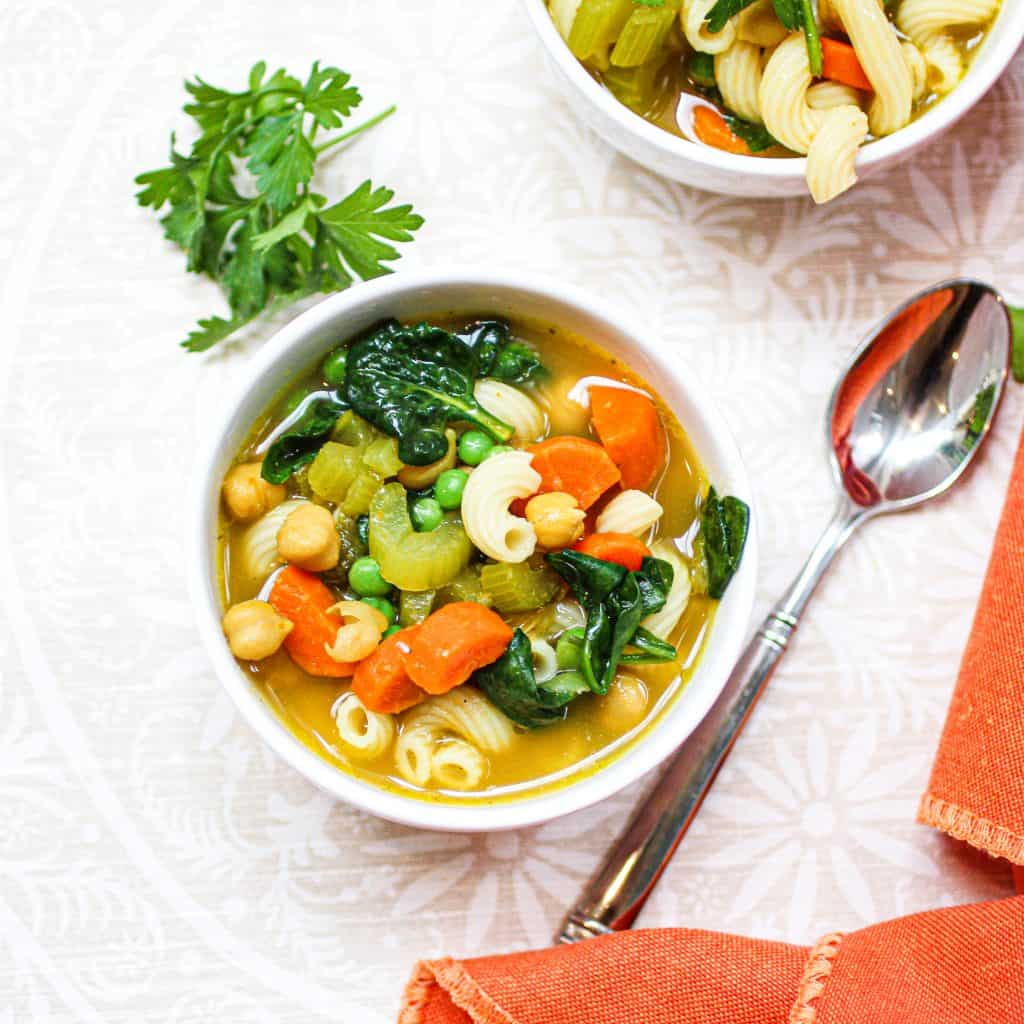 This Chickenless Noodle Soup is a deliciously nourishing vegan version of the all time classic. With a beautifully rich and flavorful veggie broth laced with turmeric, Bragg's liquid aminos and lemon juice and hearty chickpeas standing in for the poor old chicken, this delectable soup will warm your bones and keep your heart healthy. It's the perfect bowl of goodness when you're feeling a little delicate and you need to give yourself a big metaphorical hug. This soup does that, it gathers you up and lets you know all will be well.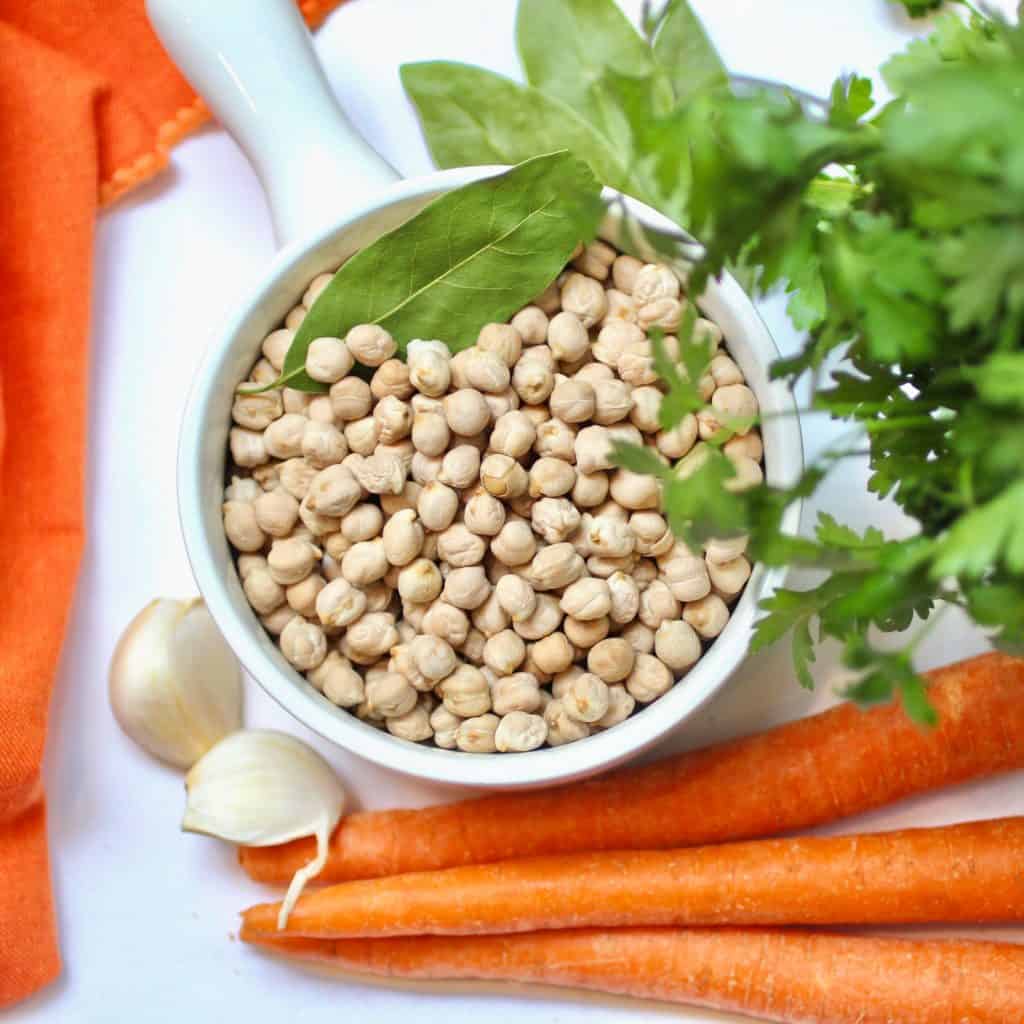 The chickpeas add fiber and fiber is king in the health food world. We are told that getting enough fiber in your diet is an essential step to combat heart disease and cancer. Clocking in at 12 grams of fiber per cup chickpeas are in a class of their own. My mother still asks if I "get enough protein" with my "strange" diet (I'm in my 50's!!!!) the answer of course is a resounding yes, especially with this soup, chickpeas are full of protein – 14 grams per cup. You can of course cook your own but if you're lazy like me you reach for a couple of cans, just make sure you drain and rinse them thoroughly. I have to say they do add a "meaty" feel to the soup – in the best possible vegan way.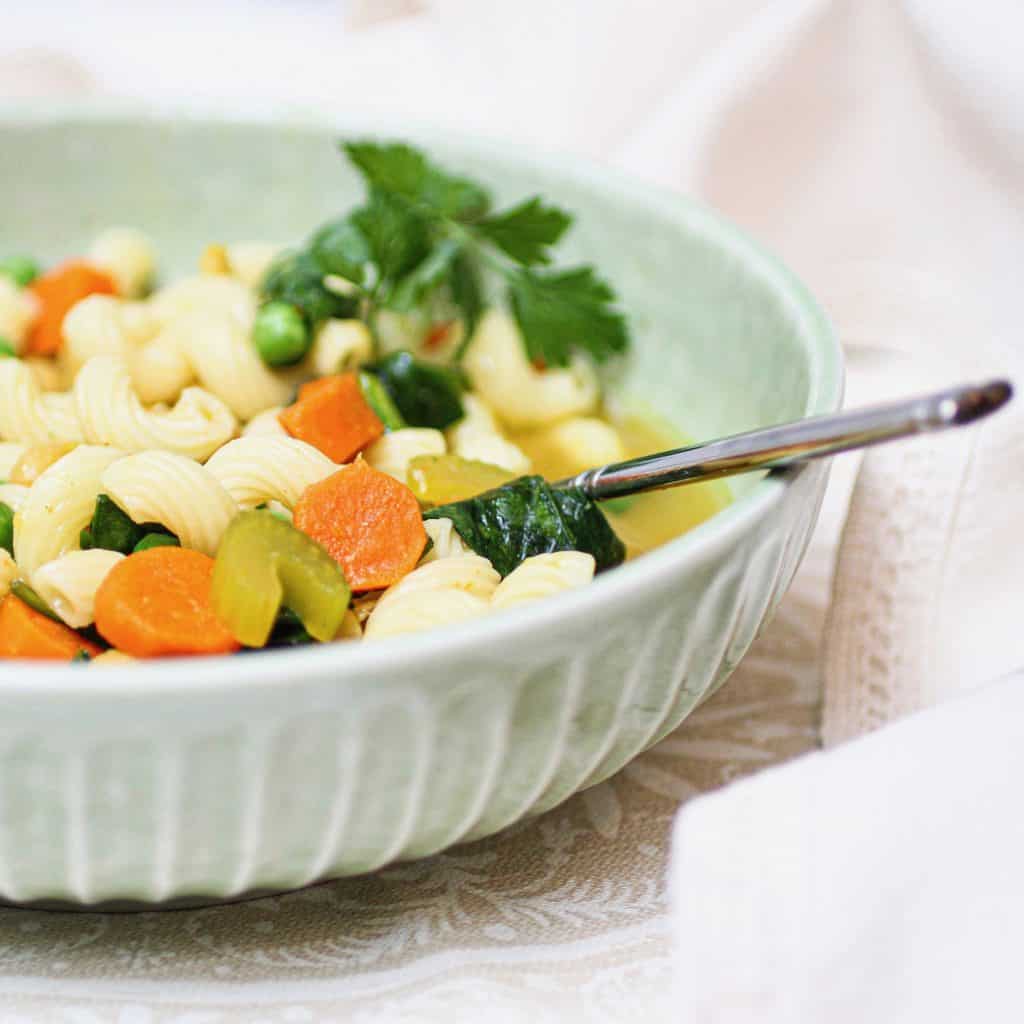 What type of noodles?
The classic egg noodles used in Chicken Noodle Soup clearly contain eggs so that wasn't going to work for me. I tried orzo in my first batch and it was pretty good but I wanted the noodly vibe so I went with some twirly whirly pasta I found at the supermarket. I had been keeping some Gilgi pasta for just this dish but an anonymous member of my family had polished it off the day before.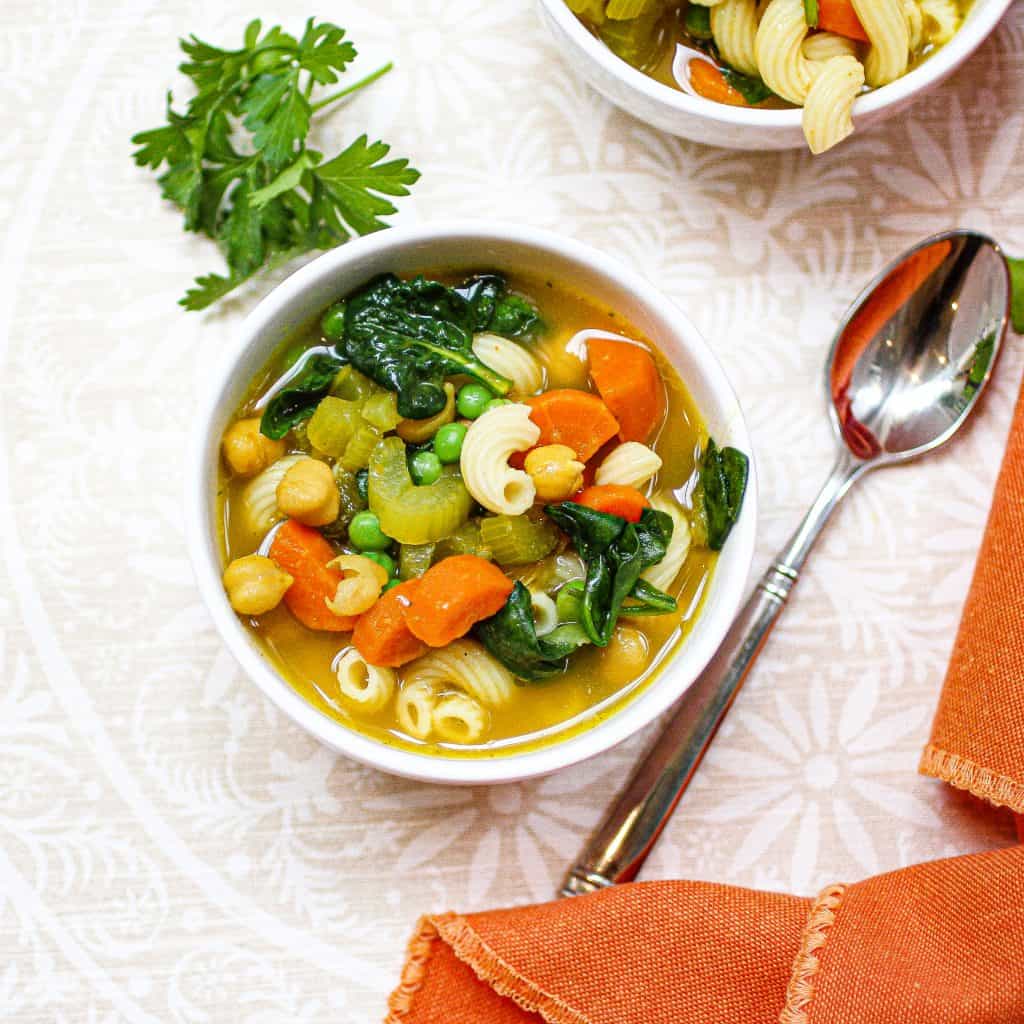 Print
Chickenless Noodle Soup
Vegan version of the all time comfort food, which tastes even better without the chicken.
6 cups best quality vegetable stock, homemade if possible (recipe HERE)
4 sticks of celery, large dice
4 carrots, peeled and cut into a large dice
2 garlic cloves, minced
2, 15 oz can garbanzo beans (chickpeas), drained and rinsed
1 bay leaf
1 teaspoon freshly ground black pepper
2 teaspoons Bragg's Liquid Aminos (delicious but optional)
1/4 teaspoon ground turmeric
1/4 teaspoon ground cumin
1 sprig fresh rosemary
1 box baby spinach – about 5 oz
1 cup frozen peas
Juice of a lemon
1 cup Eggless Noodles or twirly whirly pasta if you prefer
1 tablespoon finely chopped fresh parsley
Instructions
Bring a pan of water to the boil for the eggless noodles or pasta. Cook according to the package directions. I like to cook them separately from the soup and add them at the end, this way they don't get over cooked and mushy.
In another pan heat the vegetable stock, add the celery, carrots, garlic, garbanzo beans, bay leaf, pepper, Bragg's Liquid Aminos (if using), turmeric, cumin and rosemary. Bring to a boil, turn down to a simmer and partially cover the pot.
Allow to simmer away until the vegetables are just tender. Remove from heat. Discard the rosemary. Add the spinach and peas which will cook in the heat of the soup.
Add the juice of a lemon to the soup, stir well and then add the noodles/pasta, stir to combine. Ladle into bowls and garnish with a little finely chopped parsley.
Savor and enjoy.
Looking for more soup to warm you up? Here are a few of my favorites:)
Roasted Carrot Soup with Cashew Cream