The flavors of these Baked Chickpeas will transport you straight to the sun drenched shores of the Mediterranean.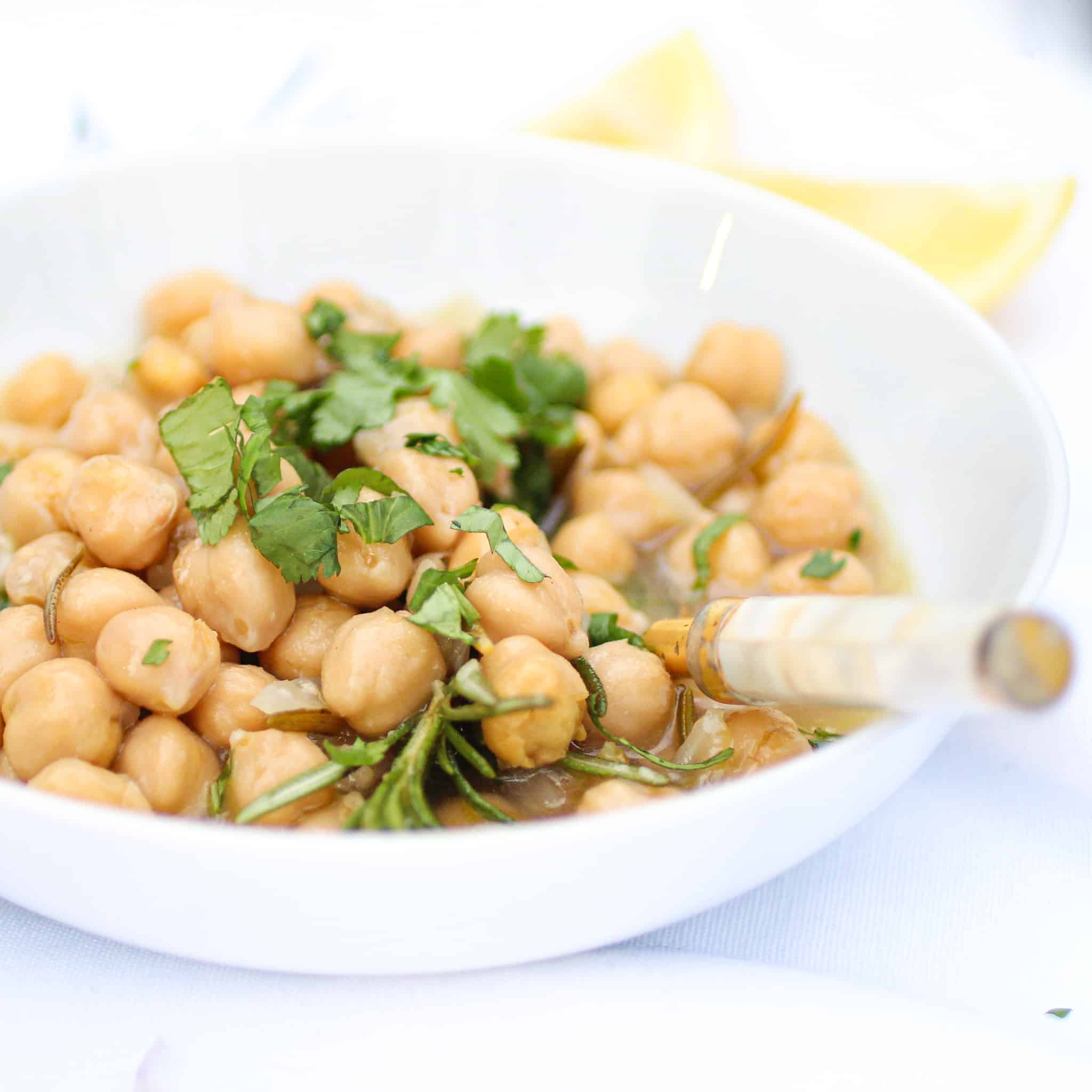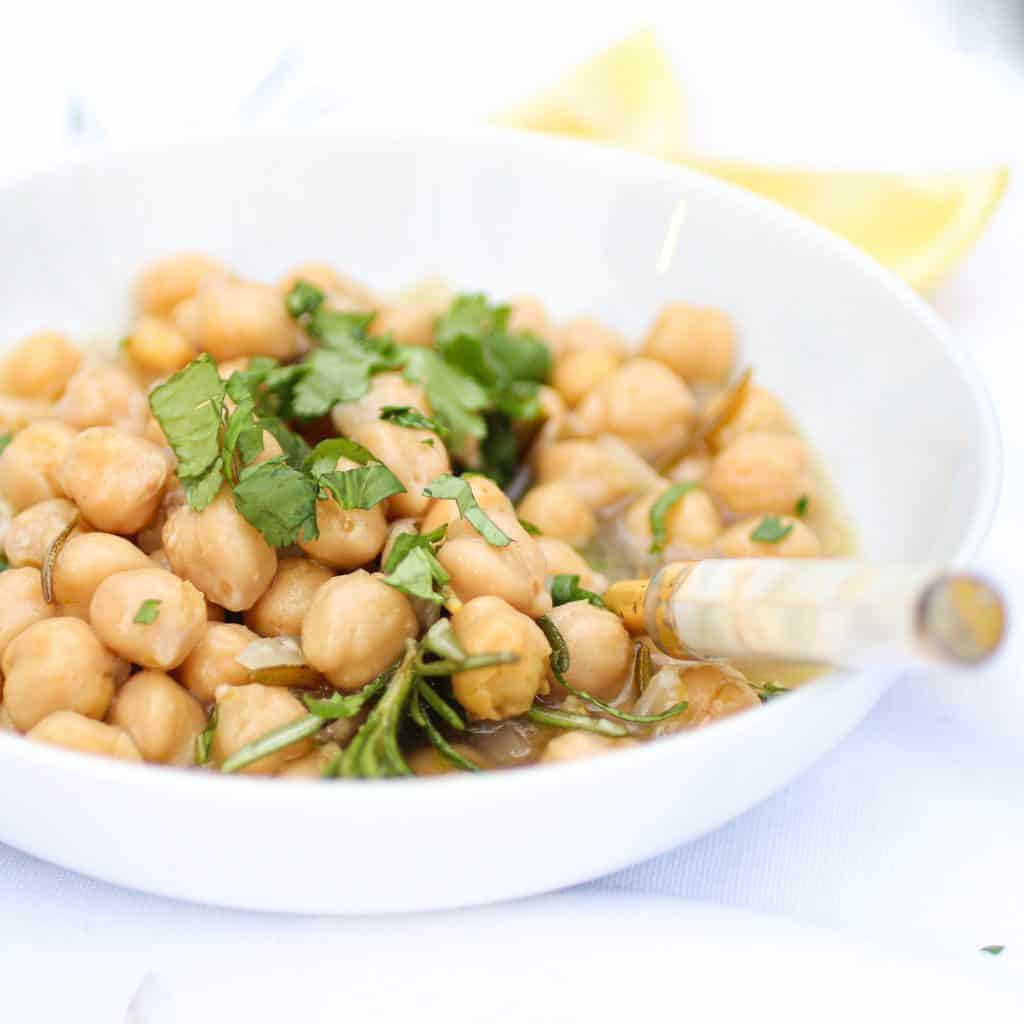 This is a deceptive recipe, on paper it doesn't look sensational but just wait until you've tasted these Baked Chickpeas. The ingredients are straightforward but immensely powerful and flavorful in their own right. They are the essence of the Mediterranean.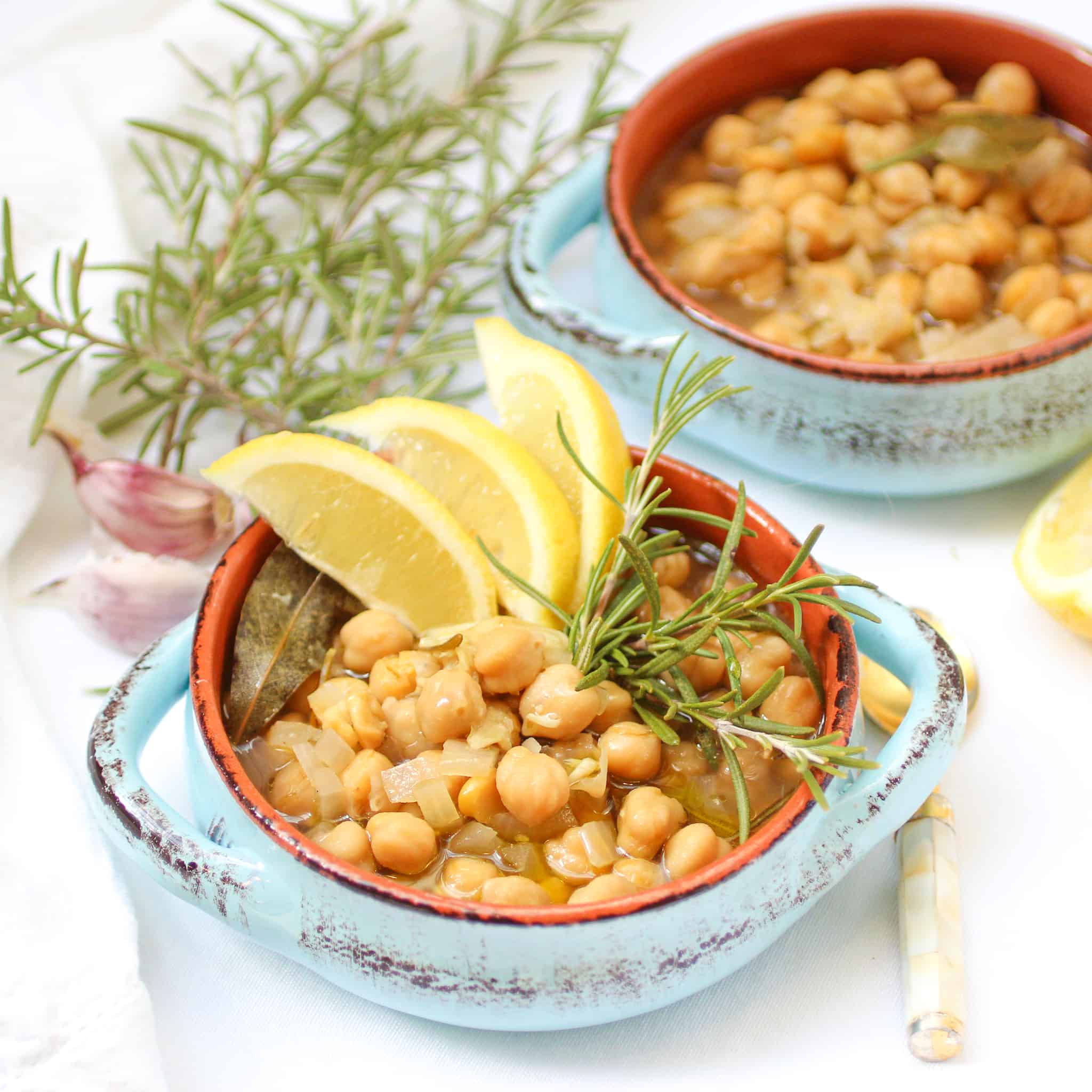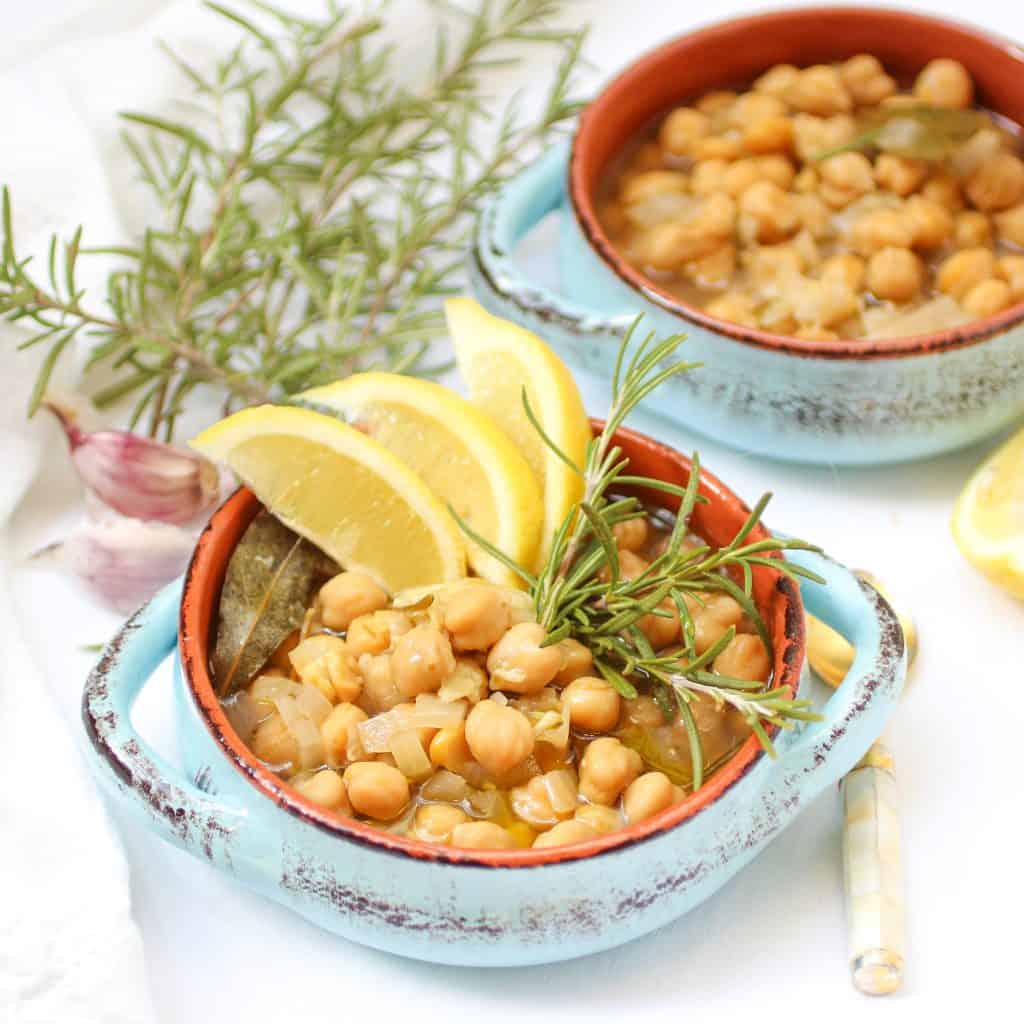 What's the deal with the ingredients?
Chickpeas. Filled with plant protein, they're "meaty" and satisfying.
Garlic. I used half a bulb, it sweetens during baking and permeates the dish. Quite Heavenly.
Fresh rosemary. An ancient and legendary herb. Dating back over 5000 years the story goes that Mary, the mother of Jesus, as she fled Egypt, supposedly sheltered next to a rosemary bush.  When she threw her blue cape on the bush to dry, the white flowers turned to blue.  Hence the name "rose of Mary."
Lemons. You can't conjure up an image of the Mediterranean without including lemons! Full of Vitamin C their flavor lifts and enhances almost any dish.
Red onions. So often overlooked, onions contain calcium, potassium, vitamin C, folate and phytochemicals, which help boost the immune system.
Tomatoes: Optional but a nice touch if you're inclined. Filled with vitamin C, potassium, folate, vitamin K and a major dietary source of the lycopene, an antioxidant which is said to fight cancer and heart disease.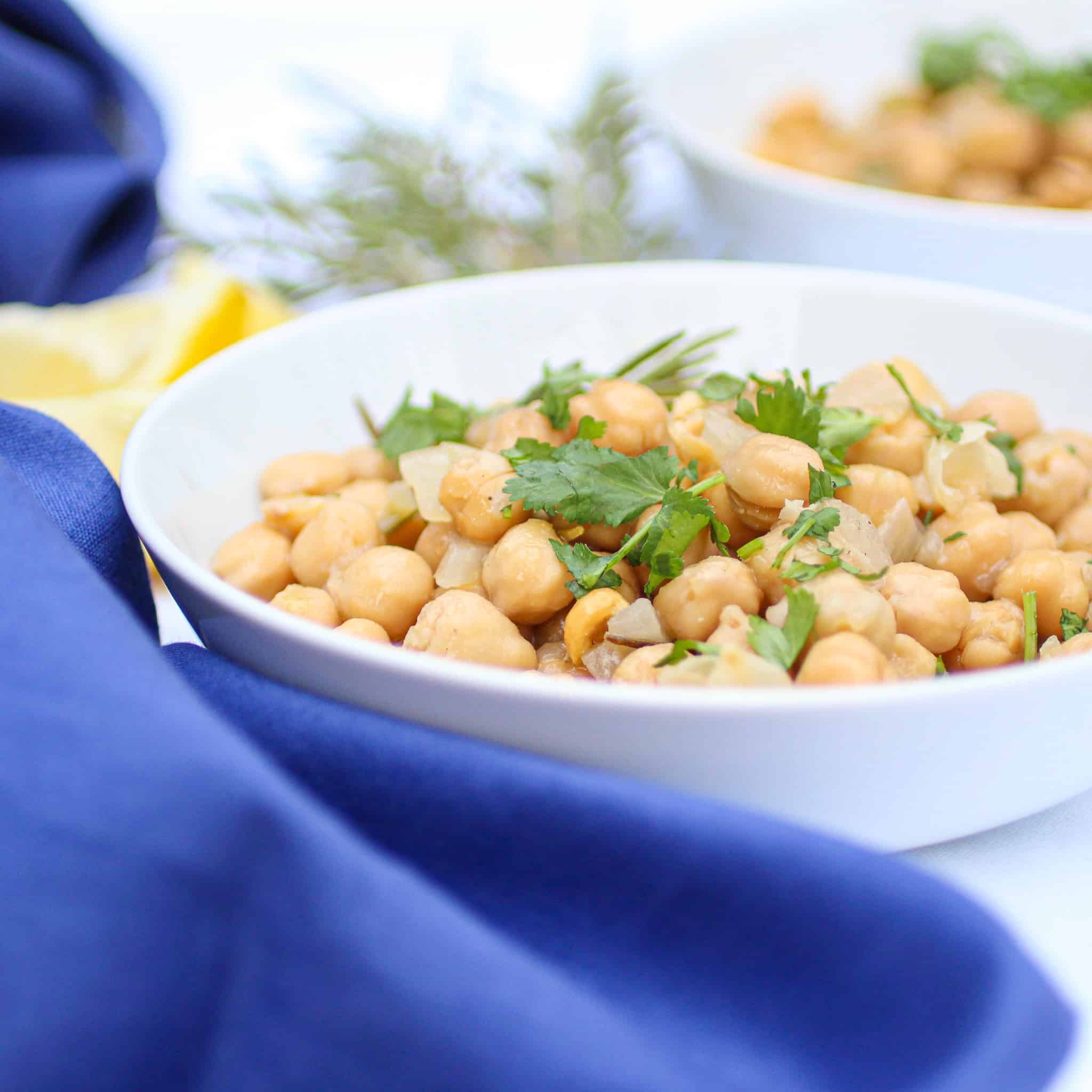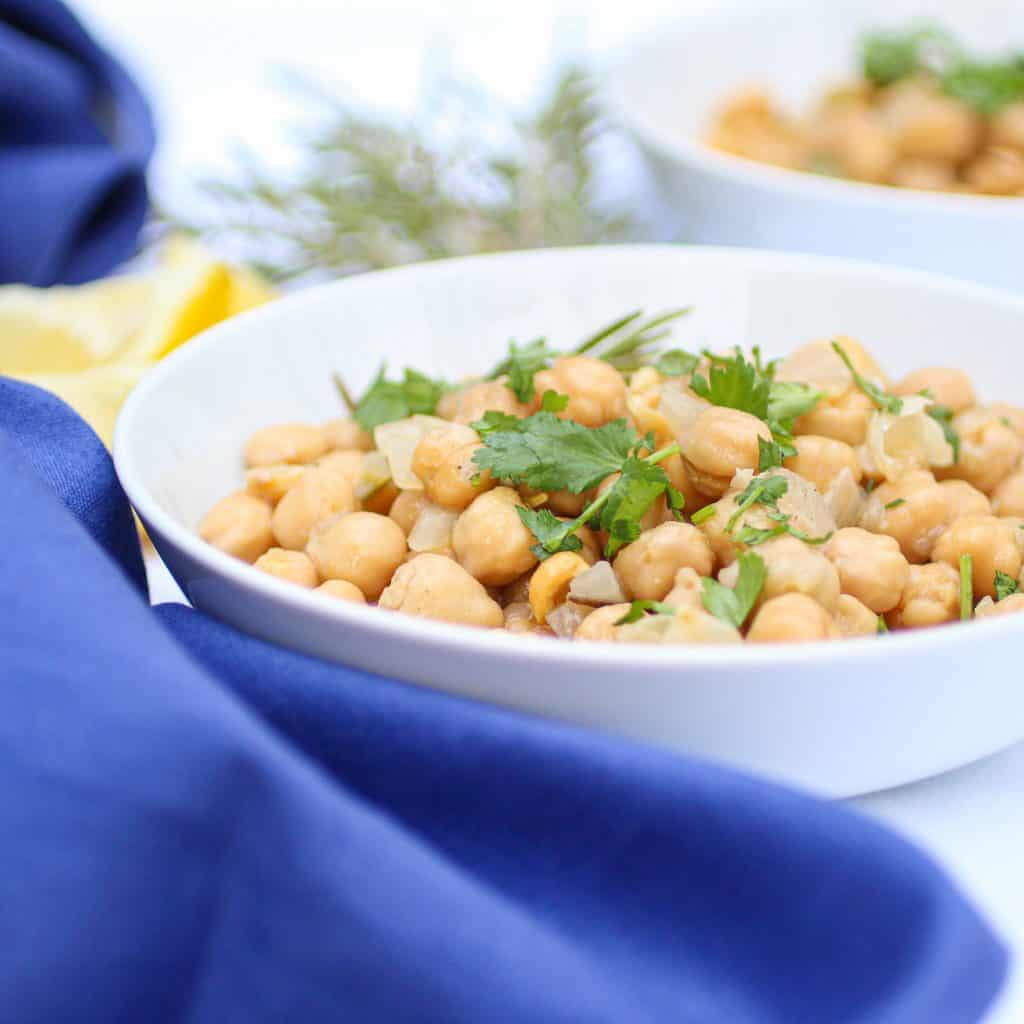 This recipe comes not from my kitchen but from the Blue Zone Cookbook.
These now renowned areas of the world are unique for their inhabitants longevity. Two areas are situated in the Mediterranean, Sardinia and Ikaria, Greece. I'd like to live in either one. Totally GORGEOUS. This recipe is from Greece:)
I couldn't help but make a double batch of these Baked Chickpeas adding crushed tomatoes to one batch which was also lovely.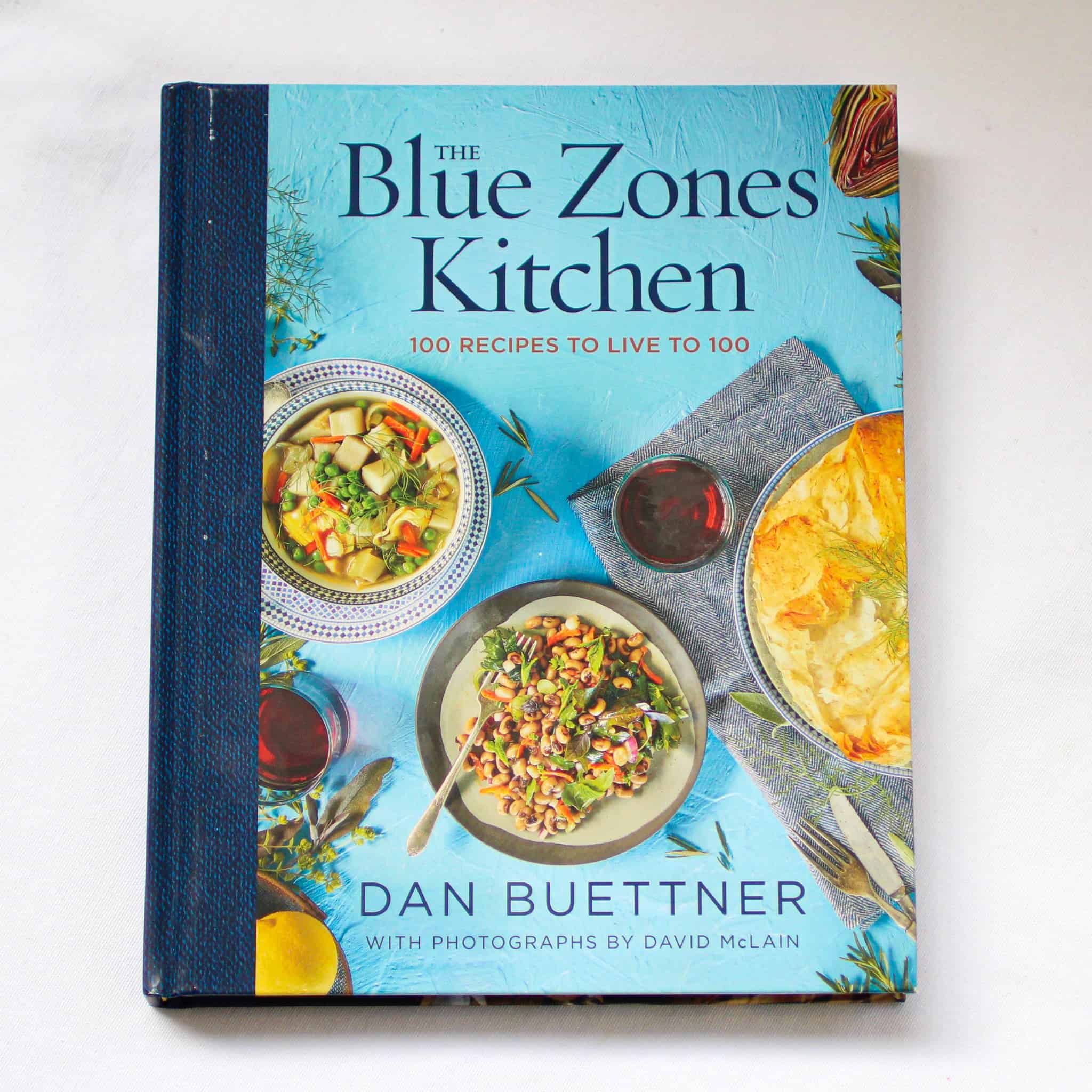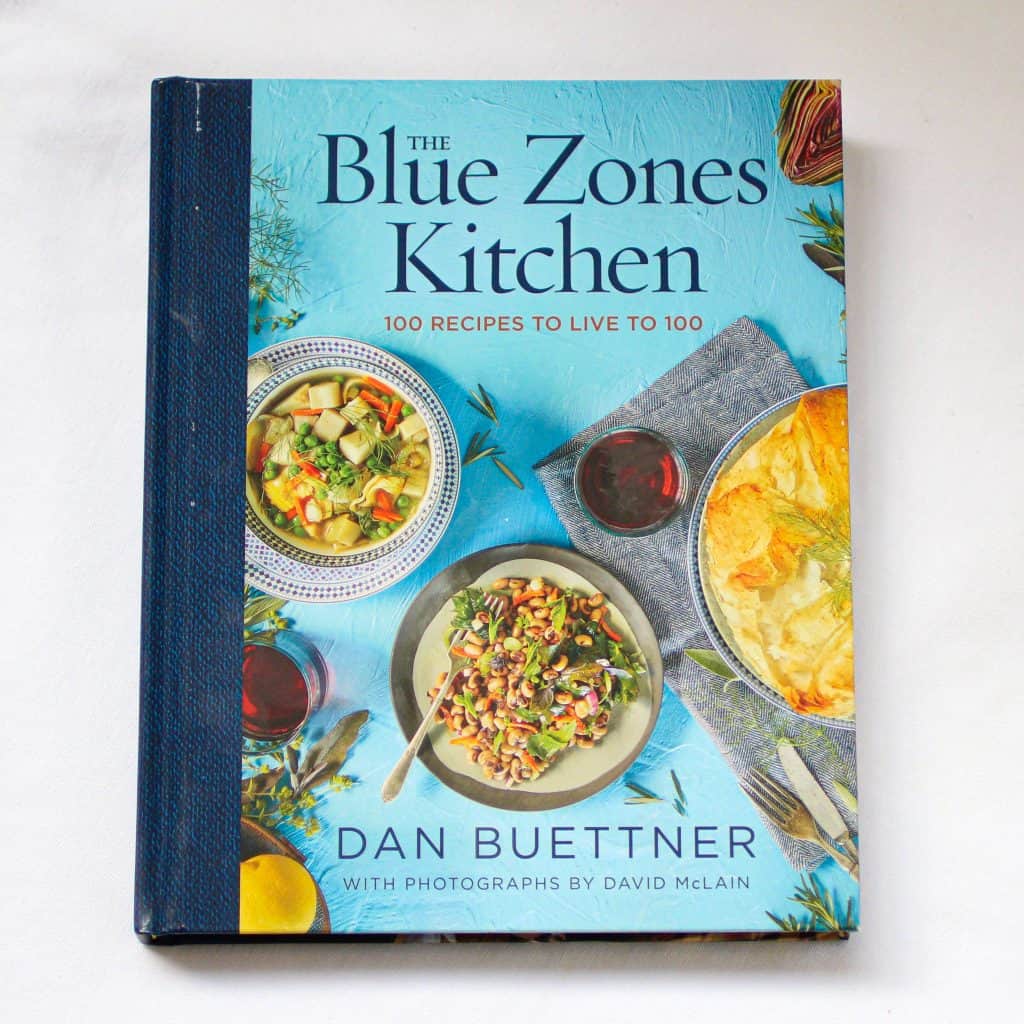 This is a beautifully inspiring book, there are so many deliciously healthy recipes I can't wait to try! I hope you love it as much as I do:)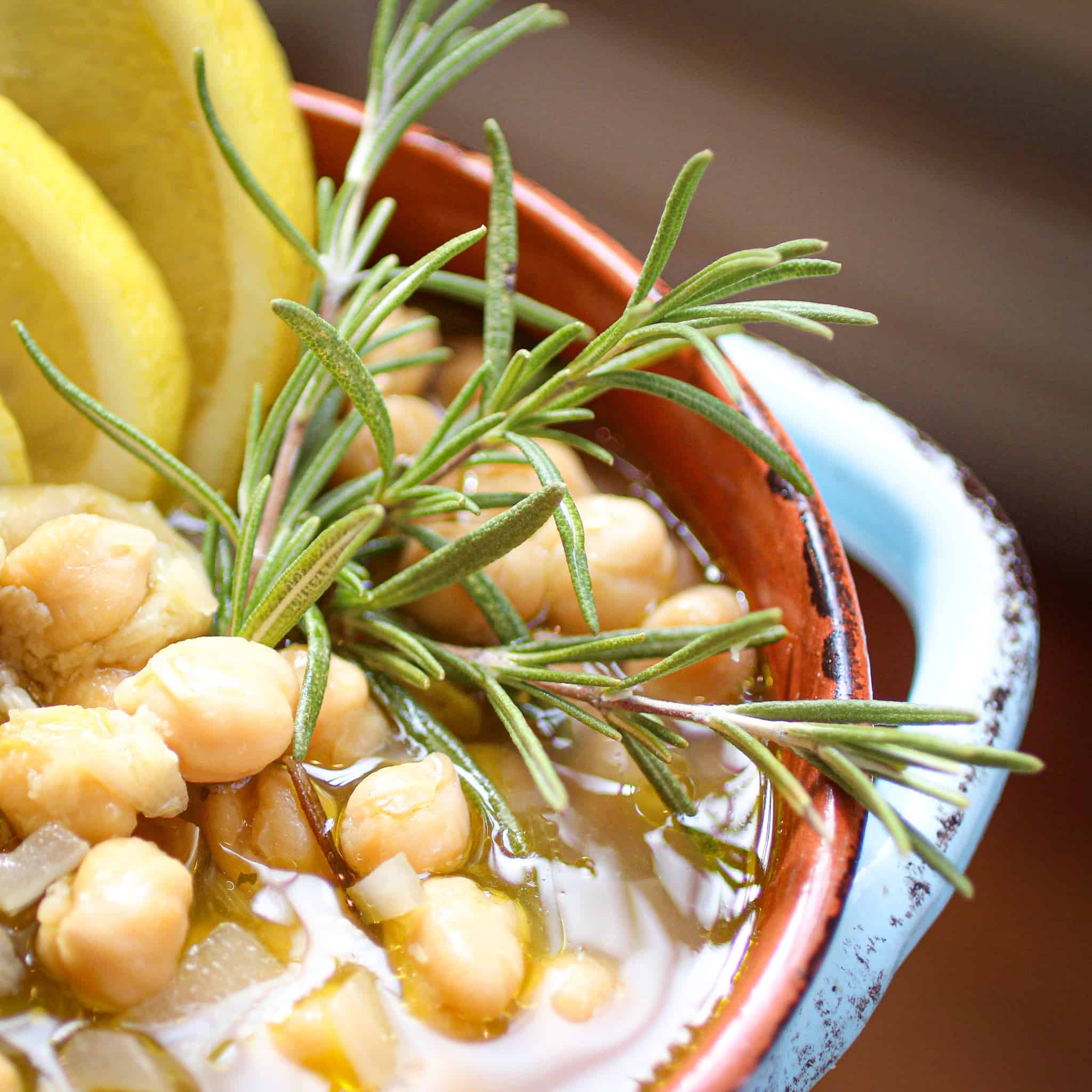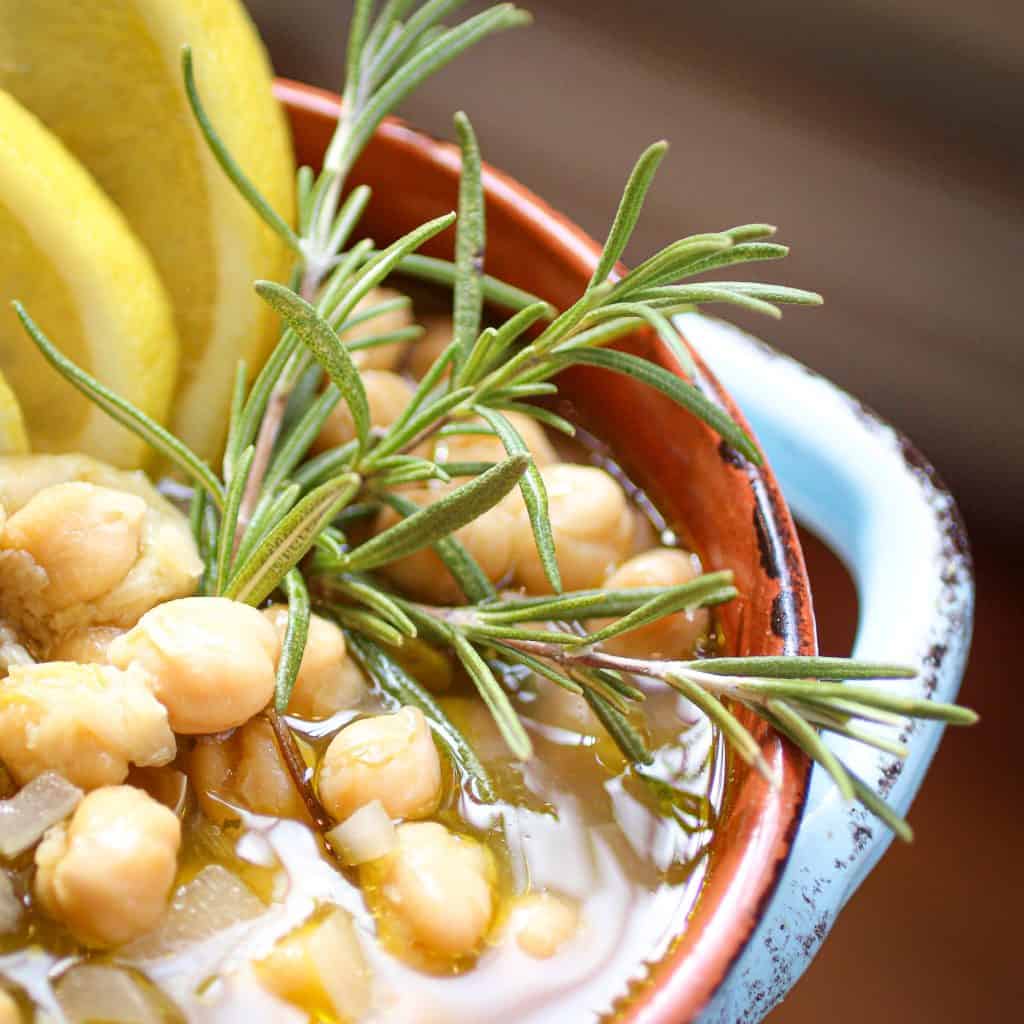 Print
Baked Chickpeas
A hugely flavorful rustic dish from the shores of Greece. Based on the recipe Baked Rosemary Chickpeas from The Blue Zones Cookbook.
Author:
Prep Time:

15 minutes

Cook Time:

1 1/2 hours

Total Time:

47 minute

Yield:

4

servings

1

x
4, 15 oz cans of chickpeas, drained and rinsed
1/2 bulb garlic, core removed, you can leave the skins on and the cloves attached then squeeze the baked garlic out of its skin when baked.
1 large sprig of fresh rosemary
1 red onion, peeled and finely diced
1 cup canned crushed tomatoes (optional)
2 tablespoons vegetable stock
1/4 cup maple syrup
Juice and zest of 2 lemons
Kosher salt and freshly ground black pepper to taste
Instructions
Preheat the oven to 425F
Bring 5 cups of water to the boil. Place the chickpeas in a Dutch oven or an oven proof dish. Pour the water over the chickpeas.
Add the garlic and rosemary. Stir to combine.
Pour a couple of tablespoons of vegetable stock over the red onions and massage until they're slightly softened then add them to the chickpeas. IF USING TOMATOES ADD NOW.
Drizzle over the maple syrup.
Cover the pot and bake for 1 hour. Stir well, add a little more water if it looks too dry.
Remove the lid and bake for a further 30 minutes.
Remove from the oven, top with lemon juice and zest and freshly ground black pepper.
Keywords: Mediterranean, chickpeas
Looking for more Chickpea Recipes?
Sweet Potato and Chickpea Curry
Cauliflower and Chickpea Curry
Don't forget to Pin it!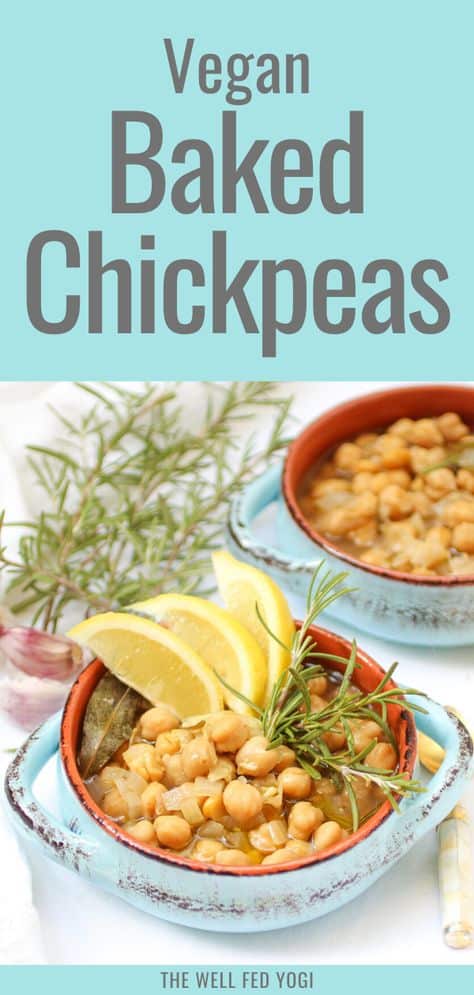 This post contains affiliate links, see Disclaimer Notice.