A Quick and Easy Vegan Pasta Salad everyone will love!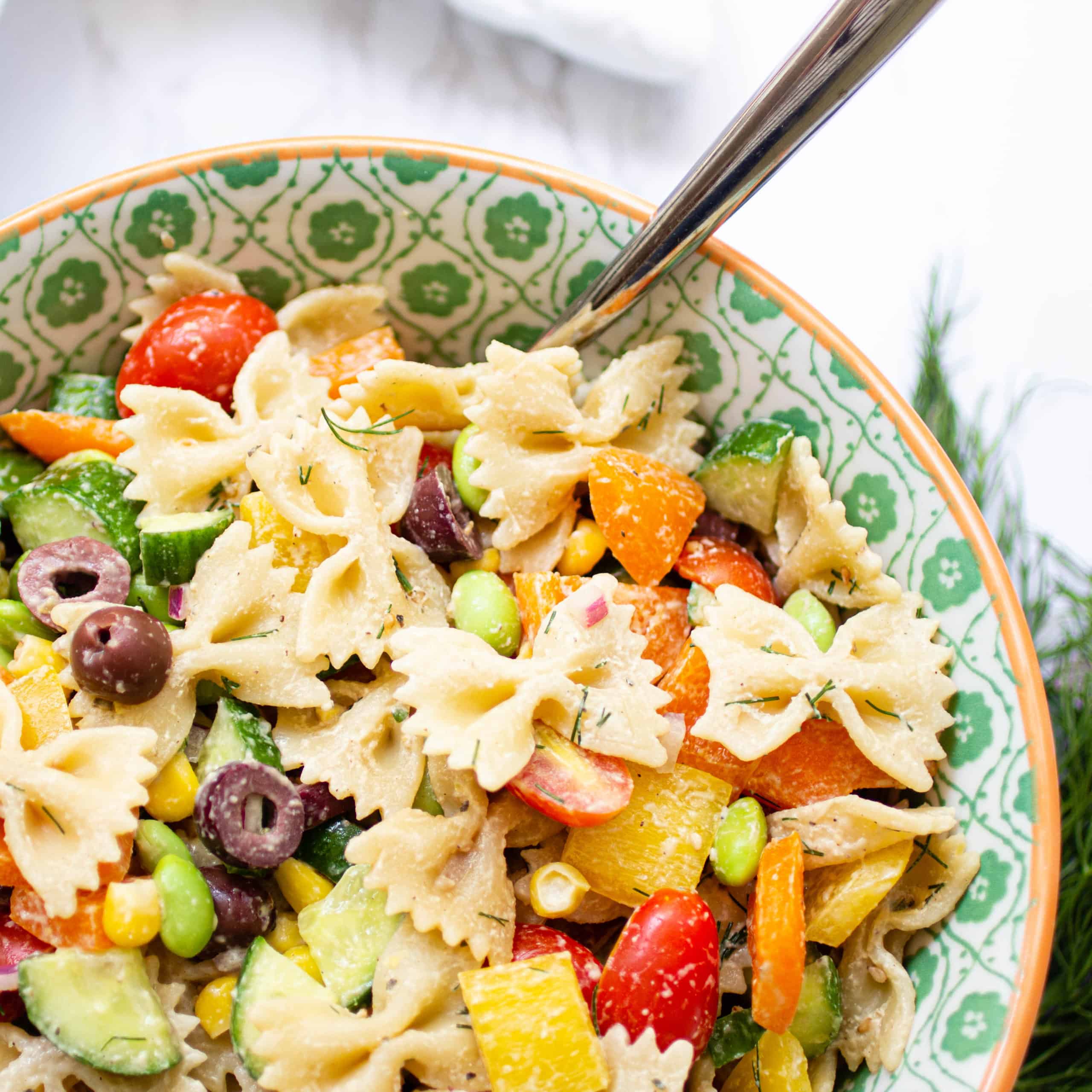 The reason they will LOVE this easy vegan pasta salad is the cashew jalapeno dressing, it's FABULOUS. This is a crowd-pleaser, plain and simple. Kids adore pasta, we enjoy our veggies, and everyone loves a "creamy" dressing with a little kick! It's customizable so you can use the veggies you love and leave out the ones you don't:)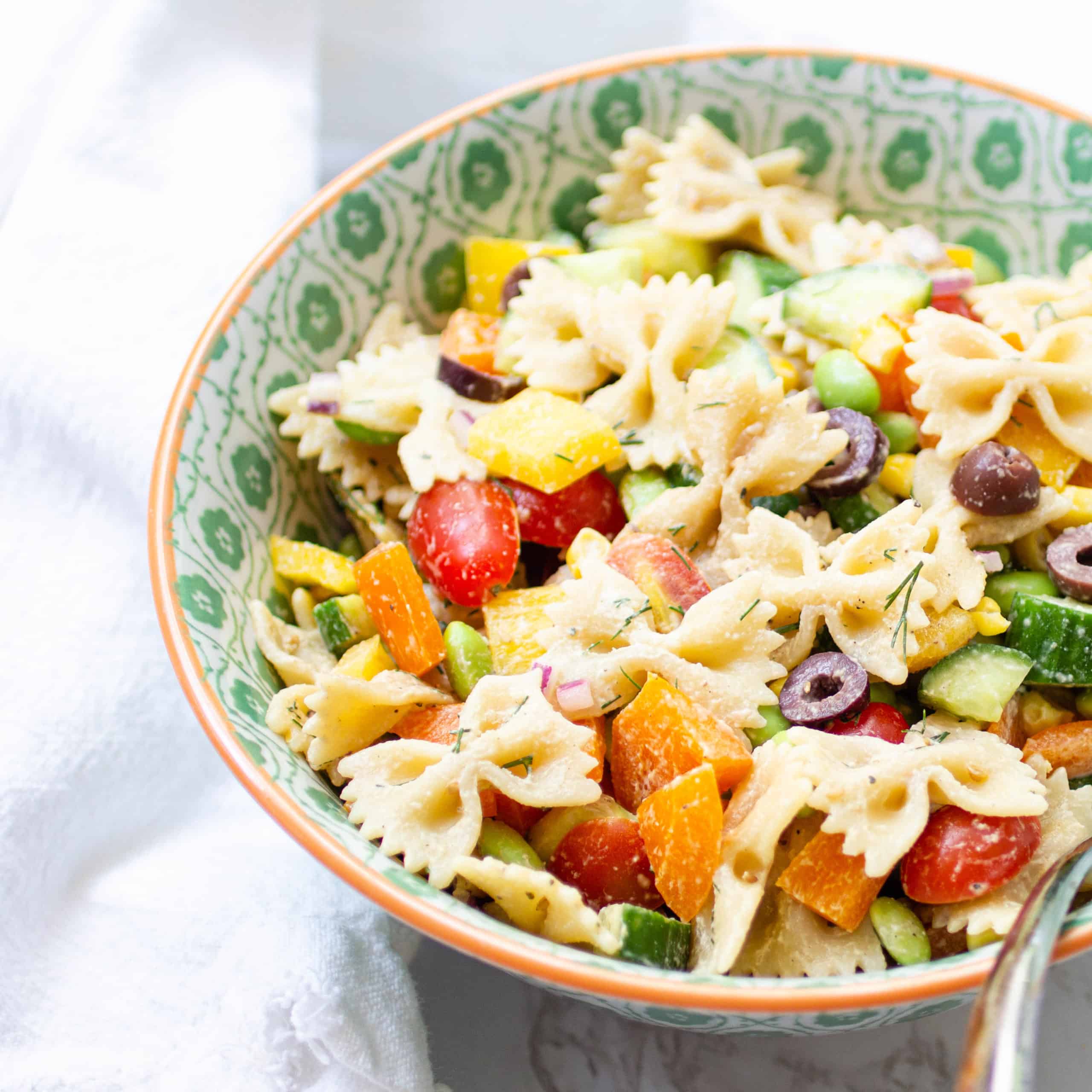 As with most salads, fresh herbs really do make such a difference. I used dill which was lovely, but parsley, cilantro, basil, or chives would all work beautifully. You can bump up the flavor more by adding plenty of lemon zest and juice just before serving. If you're going for a salty vibe, add plenty of olives and/or capers.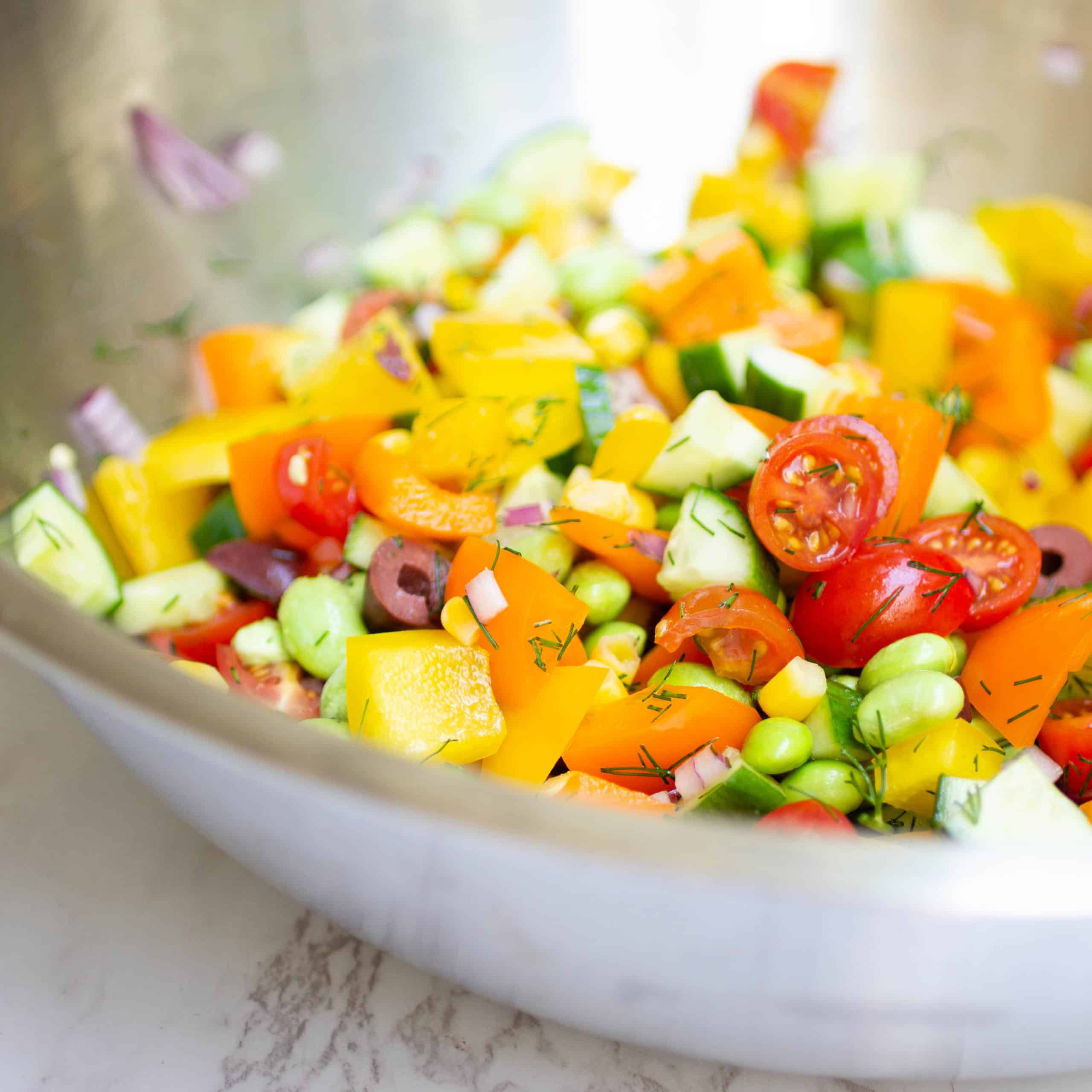 To make life easy I've included some frozen corn and edamame (you could use garden peas if you prefer). Frozen vegetables are super helpful to have on hand, they cook in a minute and add nutrition, flavor, and texture.
As far as the pasta is concerned, use your favorite. There are so many fantastic brands and types to choose from. You could be adventurous and use a black bean or red lentil or opt for a healthy brown rice variety.
If you're looking to amp up the protein and fiber in the salad, add a drained and thoroughly rinsed can of chickpeas or cannellini beans.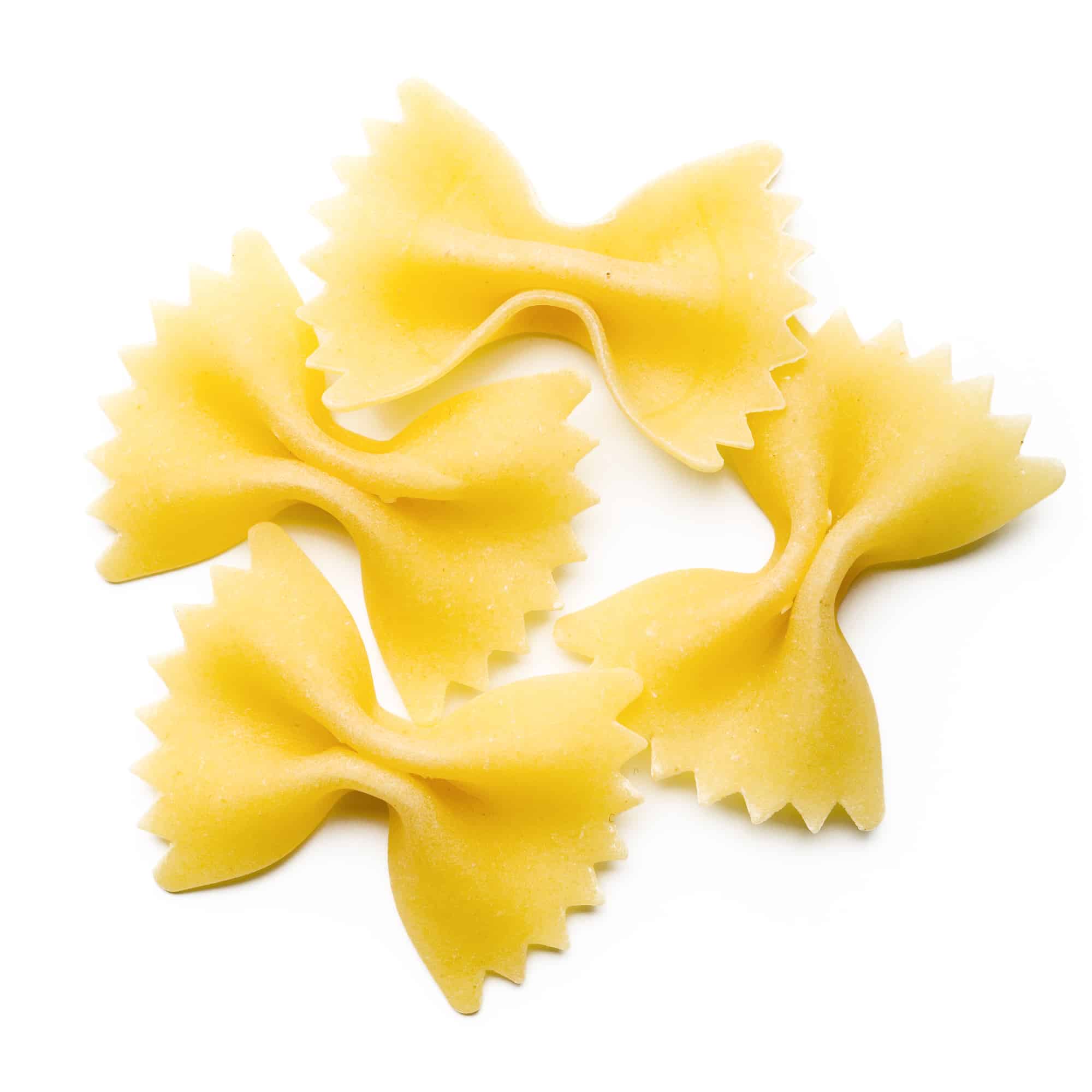 How do you make this Easy Vegan Pasta Salad?
Simple!
Soak the cashews in some boiling water while you're chopping the veggies and cooking the pasta.
Place all the veggies in a large bowl.
Drain and rinse the cashews, place them in a high-speed blender with a deseeded jalapeno pepper, a splash of date syrup, garlic, a few sprigs of cilantro, the juice and zest of a lemon, a pinch of black pepper, and 1 cup of water. Blitz until smooth.
Add the cooked pasta to the prepared veggies, pour over the dressing and toss to combine. Add more lemon juice, fresh herbs, and black pepper – hey pesto – dinner is served!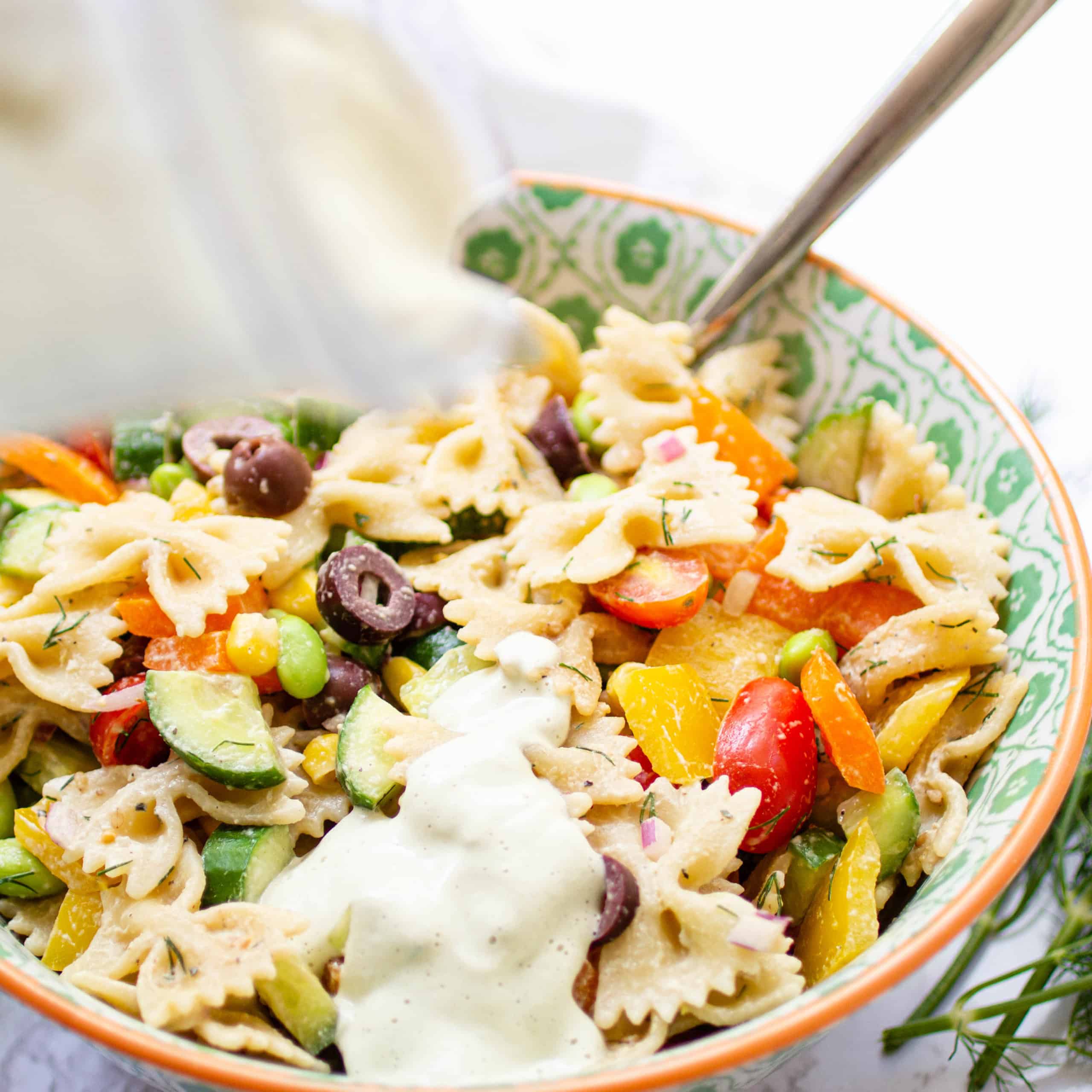 How long will the salad keep?
Up to three days in the fridge. Add a little lemon juice and more herbs to give it a lift before serving. Sadly this does not freeze well.
What equipment do I need?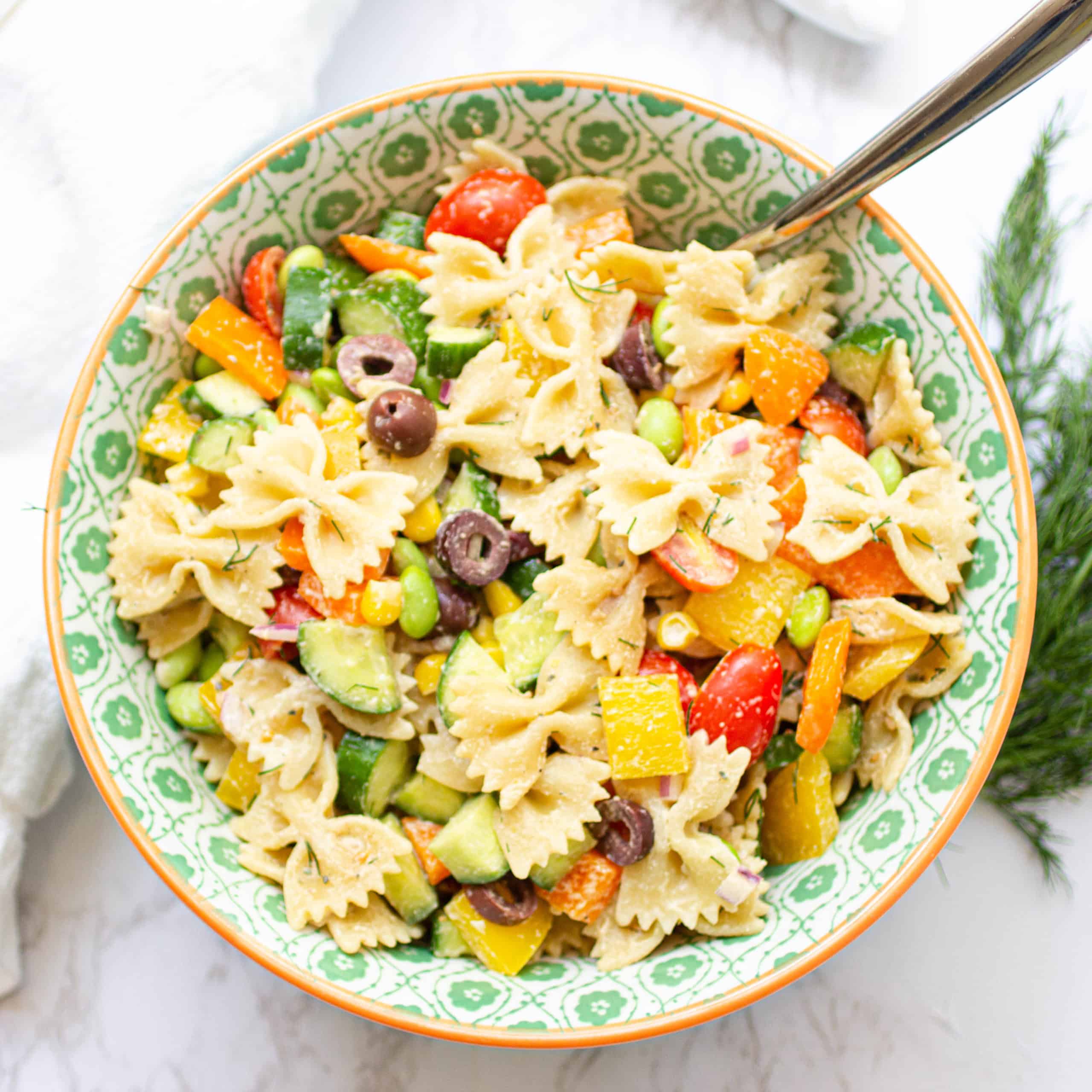 I hope you love this Easy Vegan Pasta Salad! If you do make it please take a picture and share it on  INSTAGRAM and I'll repost it on my stories. I'd love to hear from you, please leave a comment and rate the recipe! Thanks so much and Happy Plant-Based Cooking! 
Print
Easy Vegan Pasta Salad
A delicious, easy vegan pasta salad.
For the dressing:
1 cup raw unsalted cashews
Zest and juice of a lemon
1 jalapeno, halved and deseeded
Pinch of freshly ground black pepper
1 small clove of garlic, grated
1 tablespoon Date Syrup
2–3 sprigs of cilantro – optional
For the salad
1 package of your favorite pasta
1 English cucumber or 3–4 Kirby cucumbers, diced
1 cup cherry tomatoes, halved or quartered depending on their size
1 orange bell pepper, diced
1 yellow bell pepper, diced
1/2 cup fresh herbs of your choosing, dill, basil, parsley, cilantro, finely chopped
1/3 cup black or green or a combination of pitted olives, halved
1 cup frozen edamame – thawed
1 /2 cup frozen corn – thawed
1/4 – 1/3 cup red onion, diced
1, 15 oz can chickpeas or cannellini beans, drained and rinsed
Instructions
Place the cashews in a bowl, pour over boiling water until covered. Set aside.
Cook the pasta according to the package directions.
Chop the vegetables and place in a large bowl, add the herbs and the beans if using.
To make the dressing, drain and rinse the cashews, place in a high-speed blender with the halved and deseeded jalapeno pepper, zest, and juice of a lemon, date syrup, grated garlic, a pinch of pepper, and cilantro if using. Add 3/4 cup of water and blitz until smooth. Add another 1/4 cup of water if the dressing is too thick. Taste and add more pepper, lemon juice, or date syrup if necessary.
Add the cooked pasta to the bowl and stir well. Pour in some of the dressing, combine and add more dressing if necessary.
Taste, add more lemon juice, black pepper, and a sprinkling of fresh herbs.
Place in a pretty bowl and serve!