Looking for a delicious low-carb veggie dish? This 15 Minute Cauliflower Rice is your answer!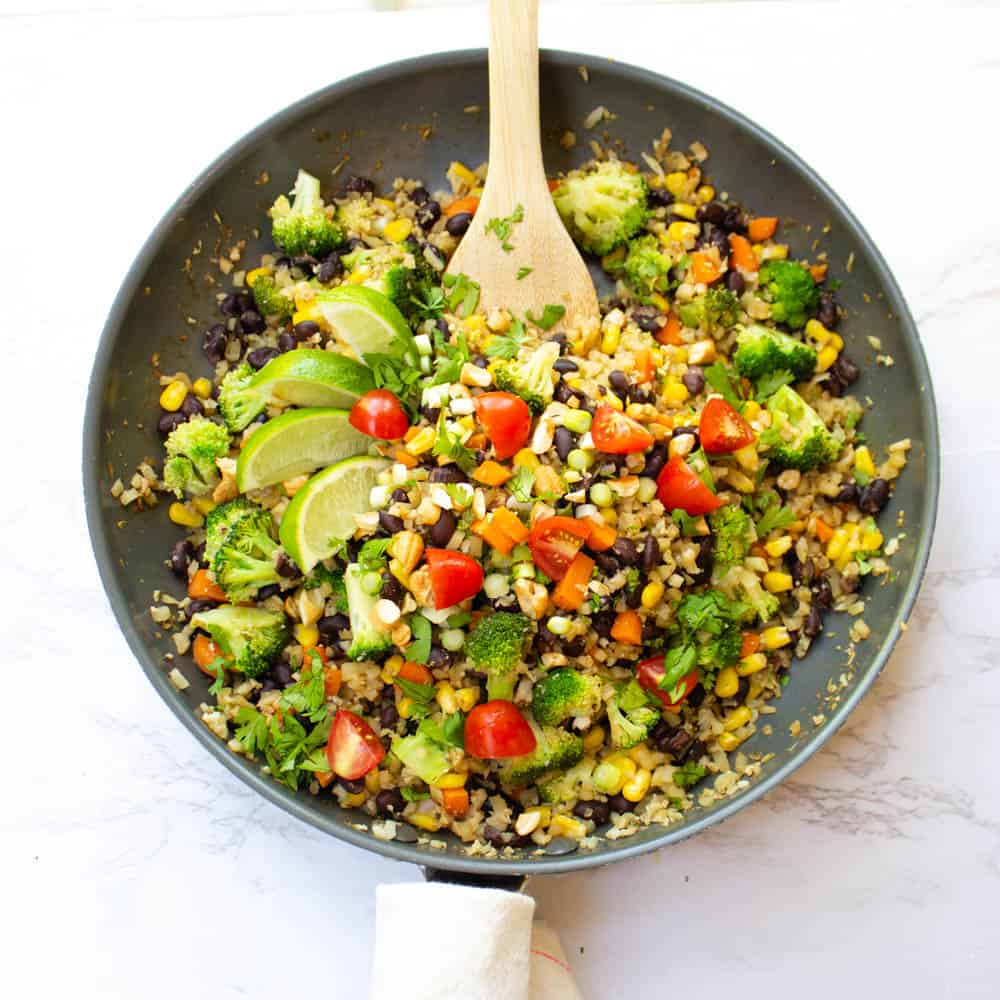 What a treat when you find a recipe that's delicious, very quick to make, and super-duper good for you:) This 15 Minute Cauliflower Rice tastes just as good as take-out fried rice, you can barely tell the difference! It's become a weeknight staple that can be relied upon to come up trumps every time I make it. It's particularly appealing as it's low in carbs and high in protein, and very satisfying but doesn't leave you with a heavy feeling like so many rice dishes are apt to do.
This post is all about making delicious Cauliflower Rice in 15 minutes!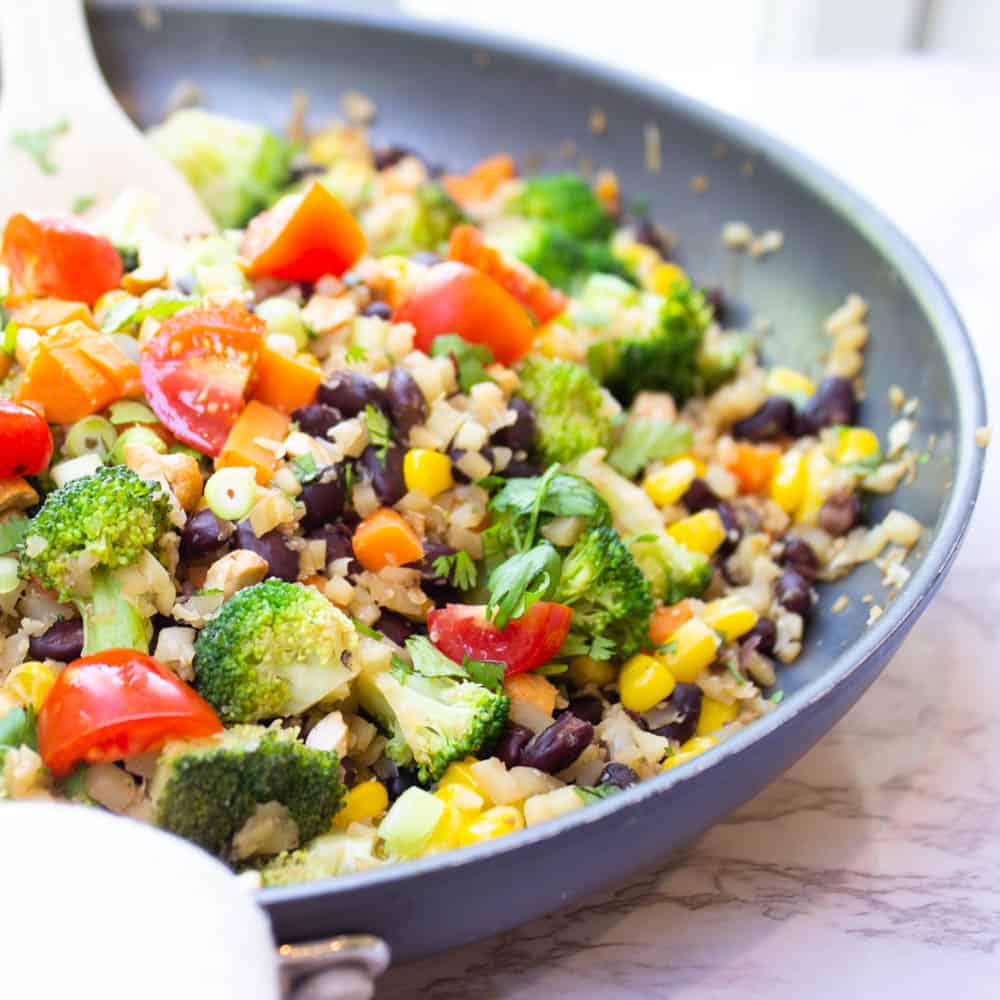 Of course, you can make your own cauliflower rice by blitzing the florets in the Food Processor. For a tutorial on this, watch this video.
If, however, you want to cut down on time, I highly suggest you purchase some Frozen Cauliflower Rice which seems to be available in most supermarkets these days. It makes for such a quick fix and way less washing up:)
What's in Cauliflower Rice?
All the good stuff! Really it's a question of adding the vegetables you have in your fridge. Anything goes. Toss in what you have and what you love. Here's what I used, but think of this as a suggestion and don't be constrained. Fresh herbs and citrus, however, will always add freshness and flavor so try to include them whenever possible.
Adding a can of beans or lentils is a great idea as it provides an easy source of protein.
cauliflower
broccoli
carrots
tomatoes
black beans
corn
garden peas
fresh cilantro
limes
chopped cashews
green onions
spices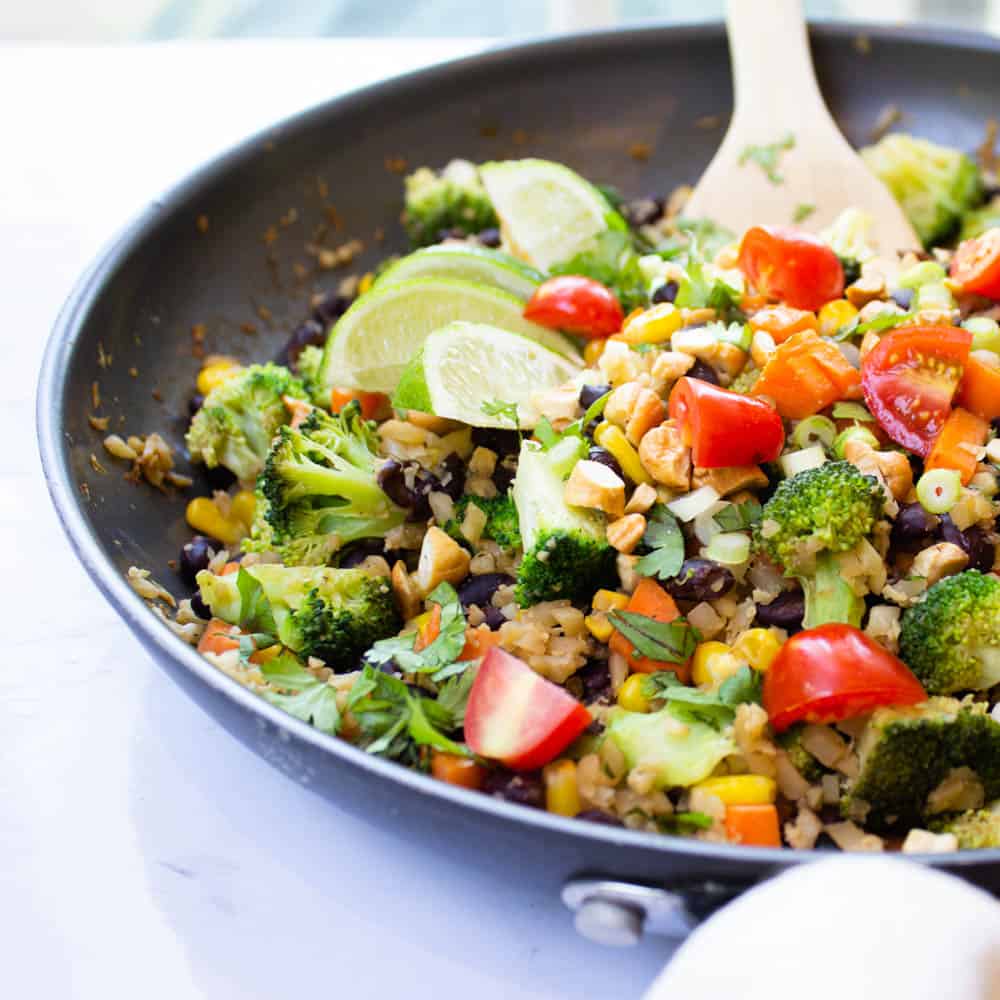 How do you make Cauliflower Rice?
It couldn't be easier! You just toss everything together in the pan, give it a good stir and add your seasonings. Squeeze over some lime juice and sprinkle over some herbs. That's it! Quick, delicious, and simple!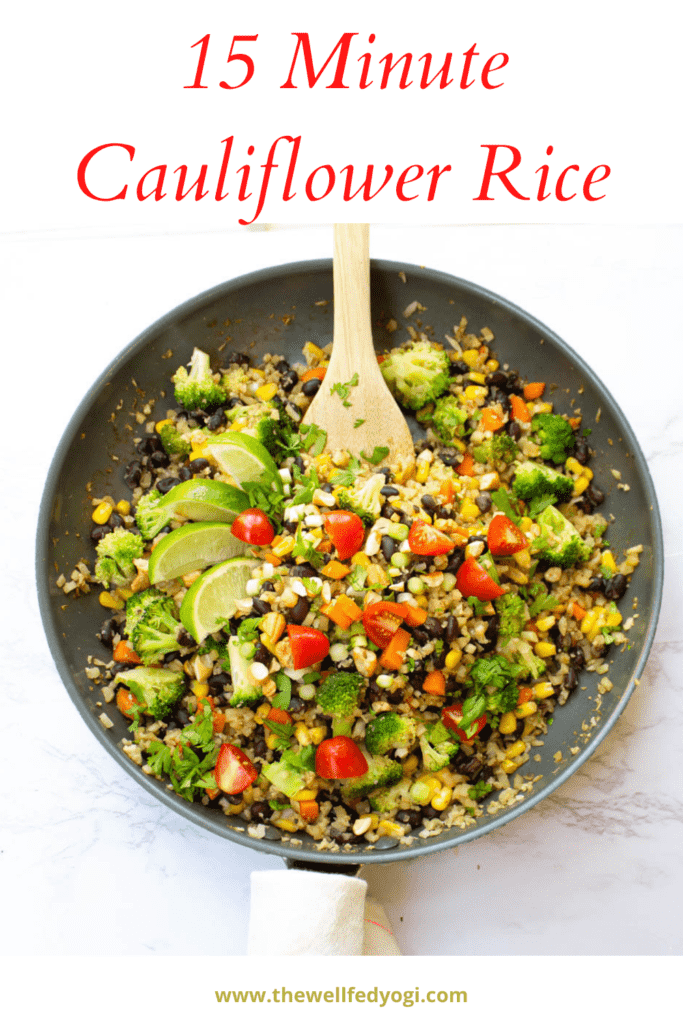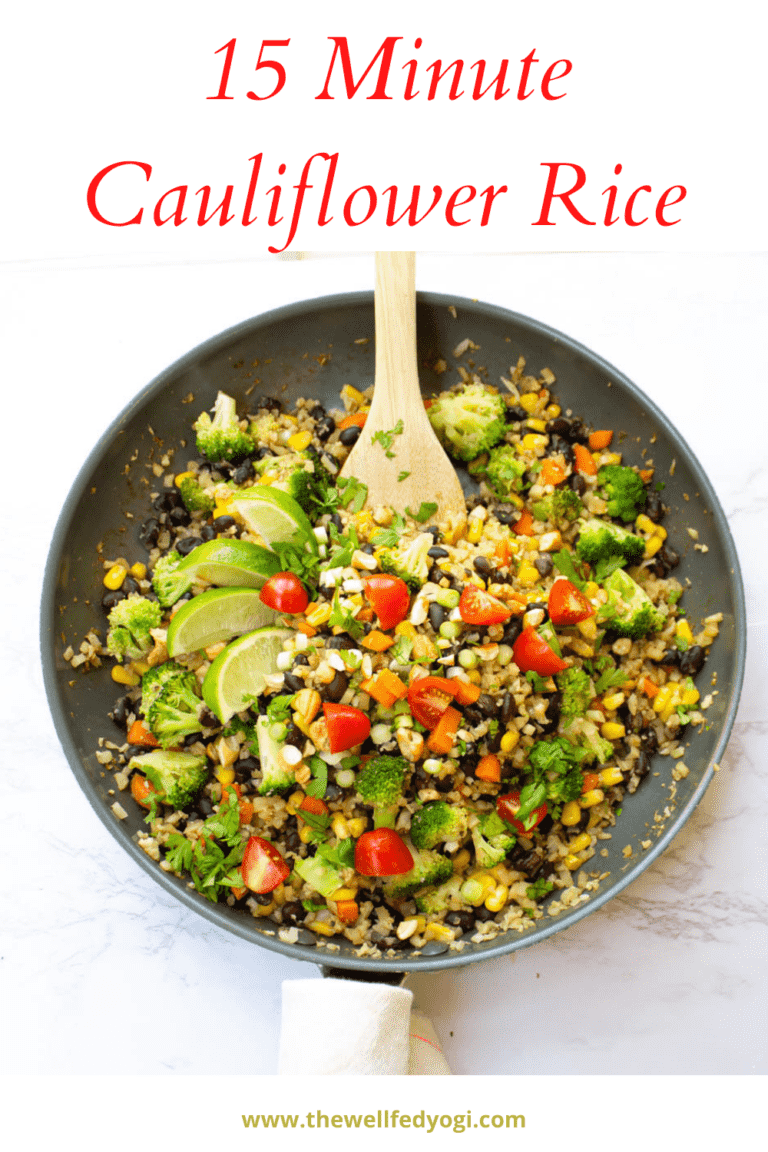 What equipment do I need?
Print
15 Minute Cauliflower Rice
1 packet frozen riced cauliflower
2 tablespoons reduced sodium Tamari
2 tablespoons rice wine vinegar
1 tablespoon date syrup
1/4 teaspoon black pepper
1 tablespoon fresh ginger, peeled and grated
1/4 cup low sodium vegetable stock
1 bag pre-cut broccoli florets
1 large carrot, peeled and grated
1, 15 oz can black beans, drained and rinsed
1 1/2 teaspoons dried garlic powder
1 1/2 teaspoons dried onion powder
1/2 cup frozen corn
1/2 cup frozen garden peas
2 green onions, thinly sliced
1 cup quartered cherry tomatoes
1/3 cup cashews, roughly chopped
Fresh cilantro
Lime wedges
Instructions
In a small bowl, whisk together Tamari, rice vinegar, date syrup, grated fresh ginger and pepper; set aside.

Heat 1/4 cup vegetable stock in a large skillet or wok over medium /high heat. Add frozen riced cauliflower, broccoli florets, carrot, beans, garlic powder and onion powder and cook, stirring constantly, until vegetables are tender, about 3-4 minutes.
Stir in corn, peas, green onions, and Tamari mixture. Cook, stirring constantly until heated through and the cauliflower is tender about 3-4 minutes.
Serve immediately, garnished with quartered cherry tomatoes, roughly chopped cashews, lime wedges, more sliced green onions, and fresh cilantro if desired.
Keywords: 15 Minute Cauliflower Rice
I hope you love this 15 Minute Cauliflower Rice! If you do make it, please take a picture and share it on Instagram and I'll repost it on my stories. I'd love to hear from you, please leave a comment and rate the recipe! Thanks so much and happy cooking:)